The New York Times actually has a decent story.
Here's the biggies on what the Lower Basin States of the Colorado River Compact — California, Arizona and Nevada — have agreed to, and the four Upper Basin states of New Mexico, Colorado, Utah and Wyoming have tentatively signed off on.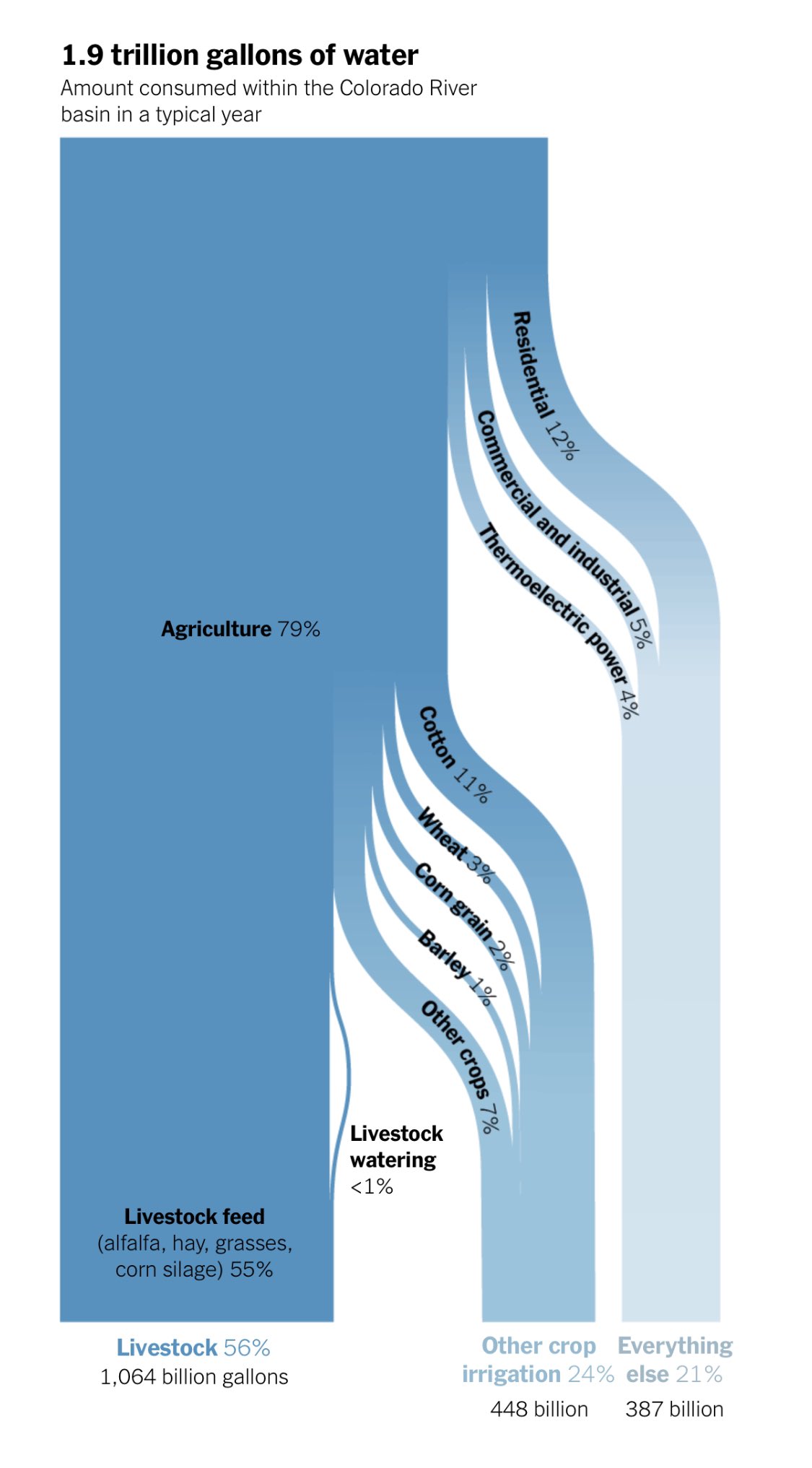 First, this is a three-year deal. It merely postpones a long-term rewrite of the Compact by three years. Neoliberal John Fleck is probably doing huzzahs and hosannas somewhere. Don't follow his hype.
Second, the 3 million acre-feet of cuts? That's total over the three years. It's not bad, but, it's the minimum that needs to be done permanently in the Lower Basin. See Science Magazine from last year for what really needs to be done at a "minimum." But, they're not going to make a permanent deal until they get at least a bit of Upper Basin help.
Third, it doesn't really address the elephant in the room. Aridzona can bitch about Saudi people buying up land there and irrigating alfalfa for Arabian horses — or Chinese beef. But, that doesn't excuse Aridzonans, or Californians on the west side of the river, from doing it themselves.
Fourth? While NOAA notes El Niño effects can be relatively weak in summer, that expected El Niño is already projected to be parking a dry high over the Southwest this summer. Hope you enjoy all the snowmelt because it's possible there won't be much of a monsoon season this year.
Fifth? Follow the money. Federal "bribery" achieved what Basin states couldn't last year.
Fifth, part 2? BuRec's threat to void current appropriation percentages in the lower Basin? Surprised California apparently thought that was real, given BuRec's fake banhammer last summer.

That said, that problem is not just on the Colorado. Look at what New Mexico does on southern New Mexico stretches of the Pecos and Rio Grande. Irrigation-driven dairy farming is wrecking Western water.
That's not to excuse irrigation-driven beef ranching, or the nostalgia of the likes of Jonathan Thompson. Nor is it to ignore ongoing PR by the National Cattleman's Beef Association pretending that sustainable beef is OK in our climate change world. (I ran into a guy on Medium making that claim, and now I wonder if he was a paid psyops.)
Finally, all of this ignores American Indian water rights issues, namely Navajo water rights claims on which the Supreme Court could rule later this month.