Roberto de Heredia has been extradited back to Australia.
A former TV host who was accused of attempting to blow up a prostitute and her boyfriend has been extradited to
Australia
after almost 20 years on the run.
It sounds like a Hollywood blockbuster and it is one crazy story.
In the 1990s, Roberto de
Heredia
was a presenter on the Foxtel Television Shopping network. He was friends with Brett Boyd, a bodybuilder and part-time model in Sydney.
In June 1998, Mr Boyd opened a
Parcel
that was addressed to his girlfriend Simone Farrow, a sex worker and Penthouse Pet.
Packed with 50 bolts, gunpowder and other shrapnel, the parcel exploded in the couple's Belrose home.
Mr de Heredia, then 29, is alleged to have planted to
Parcel Bomb
after Mr Boyd failed to repay an $80,000 loan.

He committed suicide in 2008 after struggling to recover from the injuries and accept the loss of his career.Mr Boyd lost his left eye and right thumb, suffered facial scars and partial deafness as a result of the explosion.
Mr de Heredia was arrested and charged with one count of attempted murder and in 1999, just a month before his trial was due to begin, police allege he fled to Bali on a stolen passport.
Police found his car abandoned and smeared with his own blood in Kings Cross, there were fears he had been murdered and then speculation he faked his own death.
Brett Boyd suffered from injuries as a result of the parcel bomb. Photo / News Limited
Three weeks earlier, Mr de Heredia survived an attempt on his life when he was shot three times outside his Botany home.
He reportedly embarked upon a new life in Spain as a foreign exchange trader, but was arrested travelling to visit family in Britain after British authorities discovered his secret identities.
Mr de Heredia was arrested at London's Gatwick Airport on April 27 and was extradited to Australia on
Sunday
morning. He is expected to face Parramatta Bail Court this afternoon.
Following the parcel
Bomb
, Farrow left Australia and went to California to become a pop star and model, using the name Simone Starr.
The Sunday Telegraph reported she recorded a few songs but they were never picked up by a major label.
In 2009 she was arrested and jailed after pleading guilty to playing a part in smuggling the drug ice into Australia. According to the Sunday Telegraph, the drug was disguised as bath salts.
Before Mr Boyd's suicide, friends reported the part-time model had "gone downhill".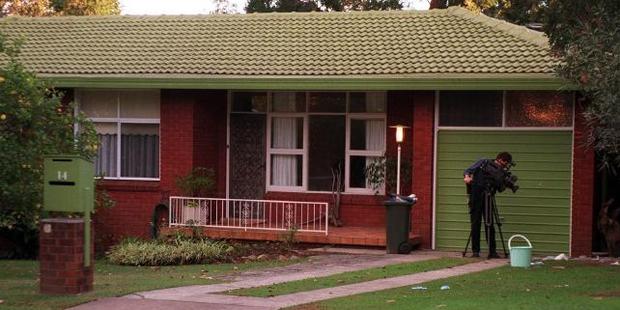 Scene at the Belrose home of male model Brett Boyd who was seriously injured when he opened a letter bomb. Photo / News Corp Australia
In 2008, the Daily Telegraph reported Mr Boyd was in fear of his life and he escaped death a second time when he was shot at twice by an unknown person.
At about 5am on Sunday, detectives from the Northern
Beaches Local Area
Command arrived in Sydney with Mr de Heredia, who was taken to Surry Hills Police Station and charged with attempted murder.
Northern Beaches Local Area Commander, Superintendent Dave Darcy said the charges had followed a complex and protracted investigation.
"The arrest of this man - some 18 years after the alleged offence - demonstrates the lengths my officers will go to ensure matters are appropriately investigated," Superintendent Darcy said.
"I'd like to congratulate them on their perseverance and professionalism. Arrests like this powerfully demonstrate to victims of violent crime that we are determined to bring offenders before the courts, irrespective of how challenging the investigation may be."