People gather at a memorial for victims of attacks in Brussels. Photo / AP
THE BOMBERS
- One suspect in the bombings at the
Brussels
airport has still not yet been identified - the man on the run.
- One of the two airport suicide bombers, Ibrahim El Bakraoui, was a 29-year-old
Belgian
born in Brussels. He was identified based on a fingerprint.
- He left a will on a computer found in a rubbish bin in the Schaerbeek neighbourhood. A note from El Bakraoui said he felt increasingly unsafe and feared landing in prison.
- The second airport suicide bomber has been identified as a suspected bombmaker for last November's Paris attacks, Najim Laachraoui, whom they have been searching for since last week.
- The third airport suspect, who wore a pale coat and a dark hat, is also not yet identified and is being sought by police.
-That suspect took flight and left behind a big bag at the airport before the two explosions. Belgian prosecutor Frederic Van Leeuw says that bag turned out to have the heaviest load of explosives of all and blew up later when the bomb squad was there due to the instability of the explosives.
- Ibrahim's brother, Khalid El Bakraoui, 27, blew himself up at the Maelbeek subway station.
- Turkish President Tayyip Erdogan says Ibrahim El Bakraoui was detained in June and deported to the Netherlands last July from Turkey, and Belgium subsequently ignored a warning that the man was a militant. It was not clear when Bakraoui was handed over to Belgian authorities. Erdogan's office said he was later released by Belgian authorities as "no links with terrorism" were found.

THE NETWORK
- Belgian state broadcaster RTBF, citing sources it did not identify, said Khalid El Bakraoui had rented an apartment that was raided last week in an operation that led authorities to top Paris attacks suspect Salah Abdeslam.
- A Belgian official working on the investigation told AP that it is a "plausible hypothesis" that Abdeslam was part of the cell linked to the Brussels attack.
- Abdeslam was arrested last Saturday in the Brussels neighbourhood where he grew up, a rough place with links to several of the attackers who targeted a Paris stadium, rock concert and cafes last November.
- A lawyer's assistant says a judicial hearing in Brussels for Abdeslam has been postponed for a day to tomorrow, apparently because of heightened security concerns.
- Laachraoui was a suspected accomplice of Abdeslam.
- Laachraoui is believed to have made the suicide vests used in the Paris attacks. A French police official said that Laachraoui's DNA was found on all of the vests as well as in a Brussels apartment where they were made.
THE MANHUNT
- Belgian authorities say several people possibly linked to deadly attacks on Brussels are still on the loose. That is why the country is keeping the terrorism threat level at its highest level, which means there is a danger of an imminent attack.
- Belgium's chief prosecutor says investigators have found 15kg of TATP explosives at the house which the suspects in the Brussels attacks left from for the airport.
- Van Leeuw said one person detained in one of the raids remains in custody and is under questioning.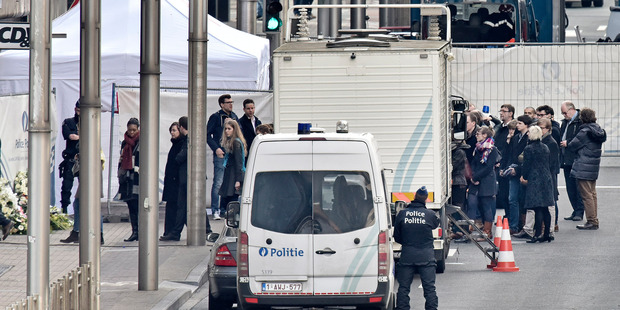 People visit the closed area at the metro station Maelbeek in Brussels. Photo / AP
THE CITY AND COUNTRY
- Belgians are holding a moment of silence to honor at least 34 people killed in unprecedented Islamic extremist attacks on Brussels.
- Government offices, schools and residents marked the moment in a mood of anxiety and defiance.
- The country is holding three days of national mourning for the victims. In addition to those killed, over 200 people were wounded in the attacks.
- Brussels airport is going to remain closed at least until Sunday.
- Airport spokeswoman Florence Muls says authorities want to maintain a security perimeter until late Friday to continue their investigation into the attacks.
- Every day the airport is closed, some 600 flights are being cancelled or diverted to other airports close by.
- The Belgian football federation has called off an international soccer friendly match against Portugal next week
Get more trending information on
Jokpeme News - Europe,US,Middle East,UK,Asia,Africa, Latin America,Entertainment & World News