The makeshift coffin had holes drilled in the sides to help it sink. Photo / Jono Searle / News Corp Australia
Three New Zealanders have been charged with murder in an apparent grisly double homicide being investigated by Australian police.
Shoved in a metal box, shot in the head, then dumped in a dam - that's the terrifying scenario police fear missing Queensland friends Cory Breton and Iuliana Triscaru endured when they disappeared from the Logan area south of Brisbane on January 24.
The remains of two people were found on Thursday inside a metal box submerged in a dam in the Logan suburb of Kingston.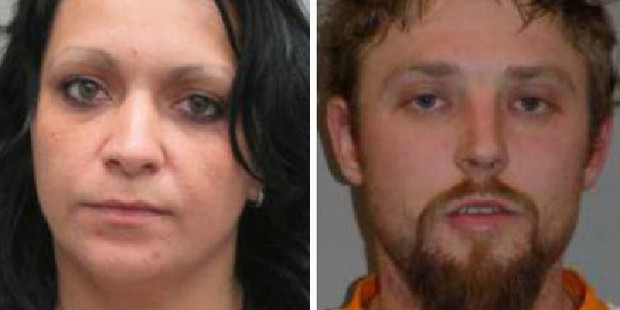 Iuliana Triscaru and Cory Breton had gone missing in Logan, south of Brisbane, in January. Photo / Queensland Police Service / Supplied
The bodies haven't been identified but it's believed the remains are those of 28-year-old Mr Breton and Ms Triscaru, 31.
The pair haven't been seen in over two weeks and six people appeared in court yesterday morning charged with their murders.
Other media have reported they include three born in New Zealand - Davy Malu Junior Taiao, 21, Stou Daniels, 21, and Webbstar Latu, 31.
The others charged are Trent Michael Thrupp, 22, Tuhirangi-Thomas Tahiata, 24 and Ngatokoona Maretti, 36.
The discovery of the box was a grim end to an investigation which quickly escalated following the discovery of a third person, Lelan Harrington, at a Logan address on Tuesday afternoon.
Harrington, 23, had been missing since January 25 but within hours of his discovery police established a crime scene in bushland off the dead-end Mudgee Street in Kingston, as well as at his residence.
Detectives with guns drawn also arrested three people - two of whom have since been charged with two counts of murder - in a targeted intercept on the Gateway Motorway in Brisbane's south on Wednesday evening.
Detective Inspector Dave Hutchinson says it's believed Breton and Triscaru were probably murdered somewhere near the dam.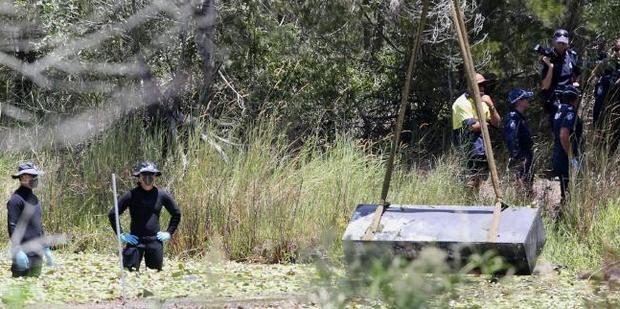 The pair had been beaten, tied up and stuffed in the box before it was driven to the creek. Photo / Jono Searle / News Corp Australia
"(A murder scene) is yet to be determined but we believe it was probably - probably - in that Mudgee Road area," he said.
A motive for the pair's alleged murder remains unclear, but it appeared likely drugs were involved.
The victims and all six suspects were part of a loose social group, police say.
Mr Hutchinson refused to speculate on the information that had led to yesterday's developments but did confirm Harrington wasn't a suspect.
The five men and one woman charged with the crime have been remanded in custody and will reappear in court next month.
Police are also keen to speak to two more men, a 32-year-old from Crestmead and a 25-year-old from Kingston, who they believe have knowledge of the alleged crime.
"They will know who they are ... we would encourage them to come and see us now," Mr Hutchinson said.
Anyone who may have seen or picked up two fluorescent yellow ratchet straps from Third Ave in Marsden on the morning of January 25 is being urged to contact police.
It's believed the straps were used to tie the box to a green Toyota Hilux utility, which was then driven to the suspected murder scene.
"To them it's just a couple of ratchet straps, to us it's an integral part of the investigation."
Get more trending information on
Jokpeme News - Europe,US,Middle East,UK,Asia,Africa, Latin America,Entertainment & World News