Democratic presidential candidate Sen. Bernie Sanders smiles as he greets attendees during a campaign stop at the University of New Hampshire Whittemore Center Arena. Photo / AP
Curtis and Susan Abel trudged carefully through the snowy parking lot of the school where they had just voted, both satisfied that they made the right decision. Curtis, 80, cast his ballot for Bernie Sanders. Susan, 79, opted for Hillary Clinton.
"I guess we canceled each other out," Susan Abel said with a smile.
"It's just, everybody's voting their heart today."
After months of seemingly endless exposure to the presidential candidates - seeing their town halls, receiving their mailings and watching their ads - New Hampshire's famously fickle voters in both parties finally got a chance Tuesday to weigh in.
Here, at a precinct in a picturesque New England village, a steady stream of Democrats, Republicans and independents took their turn to vote.
It was time, they said, to tune out the noise and go with their gut. Even if their gut eluded them until the very moment it was time to vote.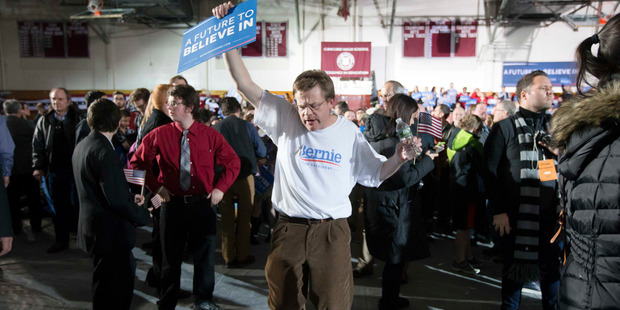 A supporter of Democratic presidential candidate Sen. Bernie Sanders dances during a primary night watch party. Photo / AP
"We've been back and forth," said Kurt Woetzel, 71, a retired business owner who showed up with his wife, Suzanne.
The Woetzels, who said they have lived here since 1969, said this was the hardest choice they've ever faced in a primary. They said they narrowed it to Marco Rubio and Ted Cruz, and finally picked Cruz in part because they worried about Rubio's halting performance in the last debate.
Cruz's "values match up with ours," Curtis Woetzel said.
"We are evangelical Christians. That's one of his labels."
The scene was pure New Hampshire, a mixture of winter and politics. Voters strolled past neighbors who hoisted campaign placards, and walked into the gymnasium of Hopkinton Middle/High School, where piles of ski bags were stacked against the walls.
Ed Ferrero, a 53-year-old sales manager, walked into the school without having made a final decision. He had narrowed his options into two seemingly disparate choices - the self-described Democratic socialist Sanders and Republican Ohio Gov. John Kasich, who calls himself a conservative but who has appealed to many centrists here.
"I like the message on both sides," said Ferrero, who described himself as one of New Hampshire's much-courted independent voters.
"I see similarities, the positiveness of what can be, one from a conservative side and one from a liberal side. I was really torn, really torn."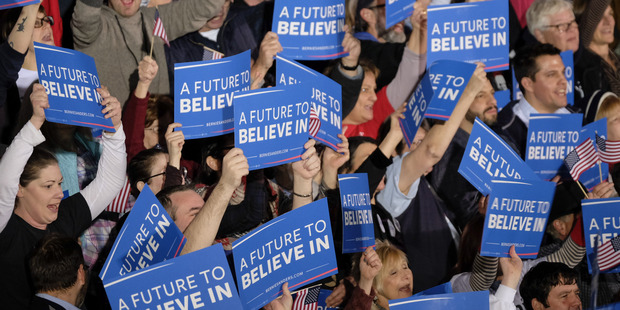 Supporters of Democratic presidential candidate, Sen. Bernie Sanders cheer as the election results are displayed on a large television monitor. Photo / AP
Ferrero, impressed during Saturday's Republican debate that Kasich "rose above" the bickering, said he decided in the polling station that Kasich fit a middle-of-the-road mold. So he voted for the governor.
A short while later, two friends, both young mothers, cast their ballots and explained why they had voted for different Democrats.
Becky Whitley, 35, said she supported Clinton because of her years of advocacy for women's rights. "She has an incredible record on children," Whitley added.
Her friend, Joy Malcolm, 36, said she voted for Sanders because he seemed like more of an outsider.
"I was into someone who didn't have as many 'ins,' "she said.
Asked how she explained her preference for a 74-year-old longtime politician, she responded: "He doesn't come across that way." That was a common theme among Sanders supporters.
Even some who thought Clinton was more experienced - or would have a better chance to beat the Republicans in the general election - felt a tug to go with the candidate they believed in.
Clinton "will have a better chance in November, frankly," said Tom Meehan, a 68-year-old psychiatrist, after voting for the Vermont senator.
"But I decided to vote for who I wanted rather than worry about November."
Clinton voters said they knew she stood a chance of losing in New Hampshire. But they showed up to vote for her anyway, hoping that the campaign against Sanders has made her a better candidate moving forward.
"He has made her more articulate," said Susan Saviteer, who, along with husband Peter, voted for the former secretary of state.
"He forced her maybe a little left, forced her to address some issues that she might not have otherwise. I love her position on guns, and I think she might not have come out so forcefully" if Sanders had not opposed her.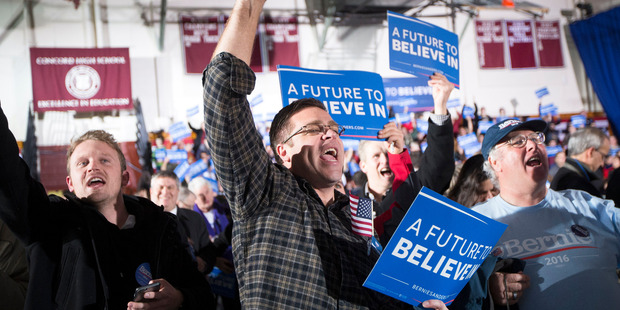 Photo / AP
New Hampshire's live-free-or-die credo has been fertile ground for the rise of this year's anti-establishment figures - Sanders on the left and Donald Trump on the right.
Some who turned out Tuesday said they could appreciate both men.
After leaving the Webster School polling place in north Manchester, Eugene Bowers Jr. said he had just cast his vote for Trump. "He doesn't have big money behind him," Bowers said.
"I'm sick of the way our elections are run in this country, and it's going to have to change."
When it was pointed out that Sanders has used his campaign to denounce the system of financing elections, he nodded.
"If the Republicans don't get Trump in there and Sanders is in [for the Democrats], I'm voting for Sanders," he said.
Richard Duckoff, a retired lawyer, voted for Clinton because "she can think on her feet."
But Duckoff said Trump has made a positive contribution to politics.
"I do feel that Trump has put an end to political correctness," he said.
"I don't think it's ever going to come back the way it was. The candidates are talking as though we're living in the Victorian era. . . . They're afraid to ruffle any feathers. If you're afraid to offend anybody, you're not going to really attract anybody, either."
Robin Simard, who works for a software company, said she had planned to vote for New Jersey Gov. Chris Christie but had not changed her registration to participate in the Republican primary.
"I ended up voting for Bernie," she said.
"Personally, I like Hillary, but there are too many questions - about stuff I can't really talk to you about."
Another woman, who declined to give her name, left the school after having voted for Sanders also. When asked why, she broke into song. ". . . all come to look for America," she said, singing a few bars of the Simon and Garfunkel song that was the background music for the breakout ad by the Sanders campaign.
Get more trending information on
Jokpeme News - Europe,US,Middle East,UK,Asia,Africa, Latin America,Entertainment & World News