Early Friday morning, President Barack Obama did something that he is all too accustomed to doing, making media appearances. Basking in the celebrity his office affords him, President Obama appeared on Good Morning America discussing many topics, including ISIS. After the bold move Russia made, causing many to question American policy, Obama needed to appear that his highly criticized ISIS strategy is still effective and workable. During the appearance, the President Obama made the bold claim that the terrorist organization is contained, hoping to provide viewers ease. Unfortunately, a couple hours later ISIS launched a senseless, cowardly, and devastating attack on the capital of our closest ally, France. That does not give much credibility to case for it being contained.
The situation is one that the public sees all too often, beyond just Foreign Policy. A press conference or media appearance with messaging from to adminstration, followed by a clear and decisive refute on the message by reality.
After the controversial and horrifying terrorist attack in Benghazi, the administration focused the message
on a video created by an idiot in California, when the video actually did not have any impact. Instead of providing the public with an account of what took place, officials chose to provide false narratives, placing greater importance on self perception rather than accountability and Leadership. In taking that path, the media eventually debunked the false narrative and exposed lapses in judgment
, especially by Democratic frontrunner Hillary Clinton. All too often our Foreign policy focused on self perception, when sound decision making, honest accountability, and strong leadership. Ever since World War II, the United States plays an essential leadership role in global affairs, but our current policy is leaving much to be desired.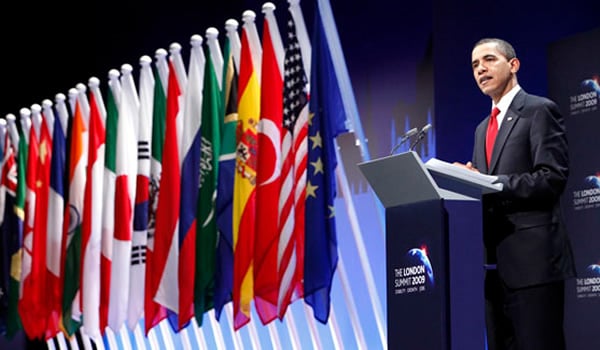 In addition to the leadership issues, the framework
in the approach is very questionable. In the recent
Democratic debate, progressive liberal long shot Bernie Sanders stated the position that the biggest threat to national security is not ISIS but Climate Change. A view that is consistent with the strong focus on climate change in place of dealing with the international terrorist organization.
While fighting the negative impacts of climate change is an acceptable goal to have, the terrorist fighting for their caliphate do not appear worried about clean water, fertile ground, or clear skies. They appear more worried about eliminating Christians, Jews, and fellow Muslims that do not support their cause.
After improper policy steps in Afghanistan and Iraq, which led to the creation of ISIS, the administration focused on negotiating a bad deal with Iran, a nation currently accused of sponsoring terrorism, and Cuba, a horrible oppressive regime. In shifting the focus towards rewarding oppressive regimes, the administration appears incapable of dealing with the real issue that will define the legacy of Obama Presidency, in regards to foreign policy. Recently, the administration admitted failure in efforts to recruiting and training a force capable of dealing with the threat, replacing it with a simple plan of launching sporadic airstrikes, allowing Russia to take a leadership position on the issue. The greatest leaders lead on the greatest issues of their time. Not from behind the backs of others, but out in front.
The failures of the past cannot be changed now, but we can make better decision going forward. President Obama stated that his strategy will be intensified in response to the terrorist attacks, but hopefully that goes beyond the recruiting of clearly unable to fight Syrians to topple Assad. We should commit to work with our allies in a more constructive and effective manner than holding talks that appear to do nothing about the issue. After inheriting two prolonged military campaigns and running on the antiwar platform, it is understandable for President Obama to show excessive restraint in deploying military personnel. But, there are other ways that we could support the effort rather than talking. Since Russia gained the ears of our allies and we are comfortable with leading from behind, why not support their position with airstrikes, ensuring that they focus on ISIS, not protecting Assad.
In the issue of the growing refugee crisis plaguing Europe and influential in the Paris attacks, the need to show caution in admitting Refugees is an important one. As many of these refugees are without proper documentation or using fraudulent ones, the need to improve our screening of them is a fair compromise. Obama claims not taking refugees or providing more scrutiny is against American values, but it is against our values to make Americans willing victims. The vast majority of the refugees probably aren't affiliated with ISIS or other groups, but all it takes is a handful. The calls for greater scrutiny for Americans seeking to exercise their constitutional rights is contradicted in not providing greater scrutiny for those entering who may have questionable ties. Many do not want the United States to be the world's police, but we also should be the world's patriarch either.
The focus of our foreign policy should not be rewarding our enemies or oppressive regimes, placing greater importance on side issues, or making Americans financially responsible for the world's troubles. It should be protecting our citizens first and foremost, and then protecting our interests and allies. While America is a compassionate force globally, we also need to get back to focusing on strong decisive leadership on the important issues of our time. That defines our legacies.