He hired Ed Catmull to have those computers do his bidding. Catmull, like many people at the time, was in awe of Star Wars, for its detailed special effects. Even if it meant leaving Schure and New York Institute of Technology, the place that had given him his start, Catmull had to take his dream job.
Ed Catmull joined Lucasfilm in 1979 and formed The Graphics Group as part of the computer division. He brought over some of his best men and immediately got to work. Lucas's wishlist was immense and daunting. He wanted the group to develop a non-linear editing system, a digital sound editing system, and to dive further into how computer graphics could revolutionize filmmaking.
For the next few years, the Graphics Group hummed along with Catmull leading the way. Lucas would come by often to see what "the guys" were working on. According to The Pixar Touch, Lucas demanded that no one gawk at him. He also wanted to be treated as if he himself was an expert on computer graphics and hated if anyone talked down to him.
By 1986, the Graphics Group had developed computerized effects for several Hollywood films, including Star Trek II: The Wrath of Khan and Young Sherlock Holmes, but the division was losing money. It was quite expensive to run a cutting edge computer graphics division. Catmull and company knew their time with LucasFilm was short and began figuring out a way they could strike out on their own. But they needed an investor. Luckily, the recently fired Apple CEO Steve Jobs saw something truly unique in the computer graphics division. Jobs bought the Graphics Group for five million dollars from LucasFim, giving him rights to the underlying technology used, and established an independent company named "Pixar."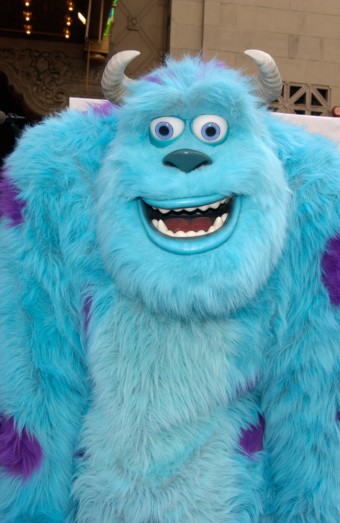 The name Pixar actually had been conceived several year earlier as the title for the computer component of the digital optical printer the group had developed. Like many of great ideas, the name was decided upon when eating. From Karen Paik's book on the beginnings of Pixar, To Infinity and Beyond:
"We always had a terrible history of naming things," admitted Alvy Ray Smith (founding member of the computer graphics division at LucasFilm and longtime partner of Ed Catmull). We could never name ourselves – We were always the 'the computer division.' But it came time to name the image computer we'd made. And one night Loren Carpenter, Rodney Stock, and I were at this greasy spoon in Ignacico, a town in Marin County. I grew up in New Mexico where Spanish is the second language, and the infinitive form of the verb always ends in 'er,''ir,'or 'ar.' I suggested 'Pixar,' an invented Spanish word meaning 'to make pictures.'
When Catmull and Alvy Ray Smith were looking for investors, they knew the most valuable asset they had was this Pixar Image Computer, so they named the company after it. As you can see from this, despite the common myth, Steve Jobs had nothing to do with naming the company Pixar.
Steve Jobs supported Catmull, Smith, and John Lasseter's vision of creating an animation studio, but he had his own agenda. He wanted to sell the very thing the company was named after, the Pixar Image Computer. He began marketing Pixar as a high-end computer system company and it worked — for awhile. The system was sold to government agencies, the medical research community, and other companies trying to establish their own 3-D computer model animations. One of those companies was Walt Disney.
Eventually, due to the extremely high price of the Pixar Image Computer and limited customer base, sales for the system began plummeting and Jobs panicked. He poured more and more money into the company, over $50 million in a five year span according to To Infinity and Beyond. Positions were cut and employees fired all in order to save the company.
The dream to make the first full-length computer animated movie was still there, but it was being threatened by financial ruin and Jobs was very seriously considering shutting the company down, particularly as his other major business at the time, NeXT Inc, was also functioning as little more than a great way to rapidly burn through millions of dollars (though with the help of Apple, Jobs would manage to make some good money on this one too, eventually). Pixar wasn't saved by Apple, though, but by John Lasseter.
John Lasseter was first and foremost an animator who believed that power of computer animation would create never-before-seen story telling. His career actually started at the Walt Disney Company – as a skipper on the Jungle Cruise ride at Disneyland. Soon, he became an animator at the studios, but he would be fired due to his obsession with computer animation and his reluctance to let it go when asked by his superiors. In 1985, he found a home with LucasFilm's computer division. Catmull hired Lasseter as an "Interface Designer" because he wasn't officially allowed to hire an animator.
In order to properly sell the Pixar Image Computer, Jobs wanted examples of what the advanced machine could do. He allowed Lasseter to lead a team in producing short films to promote the product.
Luxo Jr., a short computer animated film with desk lamps, premiered at the annual computer technology convention SIGGRAPH in 1986. It was a hit. Later that year, it was nominated for an Academy Award. Needless to say, it was a pretty good example of what Pixar, as a hardware system and company, could do, and Lasseter was able to convince Jobs to keep the company going, focusing on making TV commercials and animated shorts for other companies, which would in turn help market their computer system.
As Lasseter built up the animation division, he brought in contracts from companies like Tropicana, LifeSavers, and Listerine, with Pixar producing ad campaigns for them. It became clear the future lay at the feet of animation, not hardware. In 1990, Jobs sold the hardware division to raise money to this end.
Even then, the company lost $8 million dollars in 1990. Finally, in March of 1991, Jobs fired half the staff and claimed he'd shut down the company if all employee stock shares weren't given to him. This ended up working and he really did shut the company down, but then started a new company with the same name and remaining staff, but without employees getting shares this time.
As one of the aforementioned co-founders of Pixar, Alvy Ray Smith, said in The Second Coming of Steve Jobs,
Pixar failed nine times over by normal standards, but Steve didn't want to fail so he kept writing the checks. He would have sold us to anybody in a moment, and he tried really hard, but he wanted to cover his loss of $50 million.
A year later the small (and still cash-strapped) company received its biggest commitment yet, a three picture, $21 million dollar deal with Walt Disney Studios. Under this agreement, in 1995, the movie Toy Story was made. In the interim, Jobs still shopped the company around as there were a few companies interested, including Microsoft, but he decided to stick it out to see how Toy Story would do… well, as it turned out.
Thanks to Toy Story, when Steve Jobs took Pixar public, it became the biggest initial public offering in 1995, even bigger than Netscape. Because Jobs had taken back employee shares in 1991 and gave them to himself, this resulted in him becoming a billionaire, with a net worth of about $1.5 billion. And the rest, as they say, is history.
---
This article has been previously published on Today I Found Out.
Featured image courtesy: Pixabay