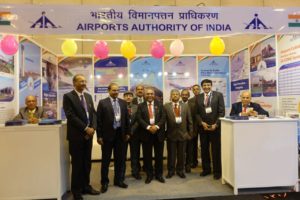 Airports Authority of India (AAI) recently participated in the World ATM Congress (WATMC) 2018, held at IFEMA, Feria de Madrid, Spain.
This is world's largest international Air Traffic Management (ATM) exhibition and conference attracting thousands of delegates each year.
AAI showcased its achievements and initiatives, through a stall in the conference which was inaugurated by AK Dutta, Member (ANS), AAI in presence of other AAI delegates.
Conceived by the Civil Air Navigation Services Organization (CANSO) in partnership with the Air Traffic Control Association (ATCA), World ATM Congress brings together the world's leading product developers, experts, stakeholders in aviation.
This is the sixth year of WATMC.