Officially, France prohibits any form of boycott against Israel. In 2015, the Court of Cassation confirmed a 2013 decision regarding the illegality of boycotts and the call for boycotts in France. Under the law, in 2013, BDS France was fined €28,000 (USD $30,000) by a local French court, after a call made in 2010 by 14 activists to boycott Israeli products in a supermarket. In addition, each of the 14 activists was fined €1,000.
However, according to a report recently released by NGO Monitor, the French government continues to fund NGOs openly hostile to Israel and to fund NGOs that support and promote boycott campaigns against Israel.
The French government's financial support for boycott campaigns embraces:
The Made in Illegality campaign -- which includes The Platform of French NGOs for Palestine, International Federation of Human Rights (FIDH), as well as the French Union La CGT. France's financial support goes beyond the French government's November 2016 decision to support labeling products produced in the settlements and instead supports the boycott of such products.
The campaign's goals include "prohibiting the import of settlement products," "excluding the settlements from their bilateral agreements and cooperation with Israel," and "excluding companies which are active or located in the settlements from public markets and public procurement procedures..."
The French government (Agence Française de Développement, AFD) provided the Platform of French NGOs for Palestine with €46,560 in 2009, €199,000 from 2011-2014, and €225,000 from 2014-2017. The Council of Île de France Region provided the Platform with €62,000 in 2013, €22,000 in 2014, and €20,000 in 2015. Claude Léostic, President of The Platform, was denied entry to Israel, and compared Israel to Nazi Germany: "...The people of France resisted the Nazi barbarians... But you have been suffering for more than 40 years, as incredible as it seems in this modern world, and that came after the Nakba..."
According to NGO Monitor, "40% (€225,000) of The Platform's 2014 project "Mieux agir pour le respect du droit en Palestine" (Improved Action for the Respect of Rights in Palestine) was funded by the French government (AFD). This project was partnered with Ittijah. In 2010, the head of Ittijah, Amir Makhoul, was sentenced to nine years in prison for spying for Hezbollah during the 2006 Lebanon war. The Platform of French NGOs for Palestine and Ittijah were also partners on a project supported by the French government (€43,560 from AFD) in 2009, while Makhoul was still the head of the organization.
Catholic organizations are also extremely active members of the Platform of French NGOs for Palestine and open supporters of boycott, divestment and sanctions (BDS). Among these Catholic organizations are: Secours Catholique-Caritas France (SCCF); La Cimade; Pax Christi France; Comité Catholique contre la Faim et pour le Développement–Terre Solidaire (CCFD).
These Catholic organizations are heavily subsidized by French government and distributes grants to various anti-Israeli NGOs. The Israeli Alternative Information Center (AIC), for example, received €14,950 in 2013 from the Commission nationale consultative des droits de l'homme (National Consultative Commission for Human Rights). The AIC also received also €19,970 in 2013, €4,975 in 2015, €12,960 in 2016 via CCFD-Terre Solidaire.
The FIDH, an international human rights organization with a budget of €6.6 million in 2015, is supported financially by the French government and other EU governments. FIDH also openly supports BDS campaigns. Its secretary general, Shawan Jabarin, elected in August 2016, is also the General Director of Al Haq, a Palestinian organization extremely active in anti-Israel lawfare and the BDS movement.
Jabarin has been denied entry and exit visas for Israel and Jordan on several occasions due to his alleged ties to the Popular Front for the Liberation of Palestine (PFLP) terrorist group.
On July 20, 2016, the International Board of FIDH issued a press release supporting BDS. Earlier, in November 2015, FIDH welcomed the decision of the European Commission to label Israeli settlements' products, but called on the EU to "end all economic and commercial trade with the Israeli settlements, and to dissuade businesses from investing, maintaining and benefiting from economic relations with the Israeli settlements."
The French government is also supporting NGOs (French and non-French) campaigning to stop relations between French and Israeli banks that have branches in the settlements. In practice, this would result in divestment from
all
major Israeli banks. The main protagonists of this campaign are Al-Haq, FIDH, CCFD-Terre Solidaire, and Association France Palestine Solidarité (AFPS).
French NGOs that are government-subsidized include:
Association France Palestine Solidarité (AFPS): €139,550 in 2012-2014 from Agence française pour le développement (AFD); €36,500 in 2013, €53,000 in 2014, and €25,500 in 2015 from the French Foreign Ministry. AFPS uses Holocaust rhetoric. It refers to the Gaza Strip as an "extermination camp" due to the purportedly "criminal Israeli government – and all those who support it...the small 'angels of death' who are sheltered there to continue their experiments and envision the 'final solution.'" AFPS is also active in BDS campaigns against Israel and uses other inflammatory rhetoric such as charges of "ethnic cleansing", "apartheid state", and "Stop hunting Palestinian children!"
La Cimade, a Christian organization that openly supports BDS and the campaign Made in Illegality received €4.3 million in 2015.
France, while its Ministry of Foreign Affairs is officially claiming the necessity of peace and secure borders for Israel, is discreetly financing organizations and NGOs openly hostile to Israel. NGO Monitor's meticulous report reveals that France is no friend of Israel but more and more of a prime mover in the war against Israel to delegitimize it. The masks already fell when French government supported the shameful UNESCO resolution to deny any tie between Jews and Jerusalem and the more than shameful UNESCO resolution saying that Western Wall of the Jerusalem's Second Temple, destroyed by the Romans in 70 CE was "occupied territory." Now it is clear, France is at war with the Jewish state.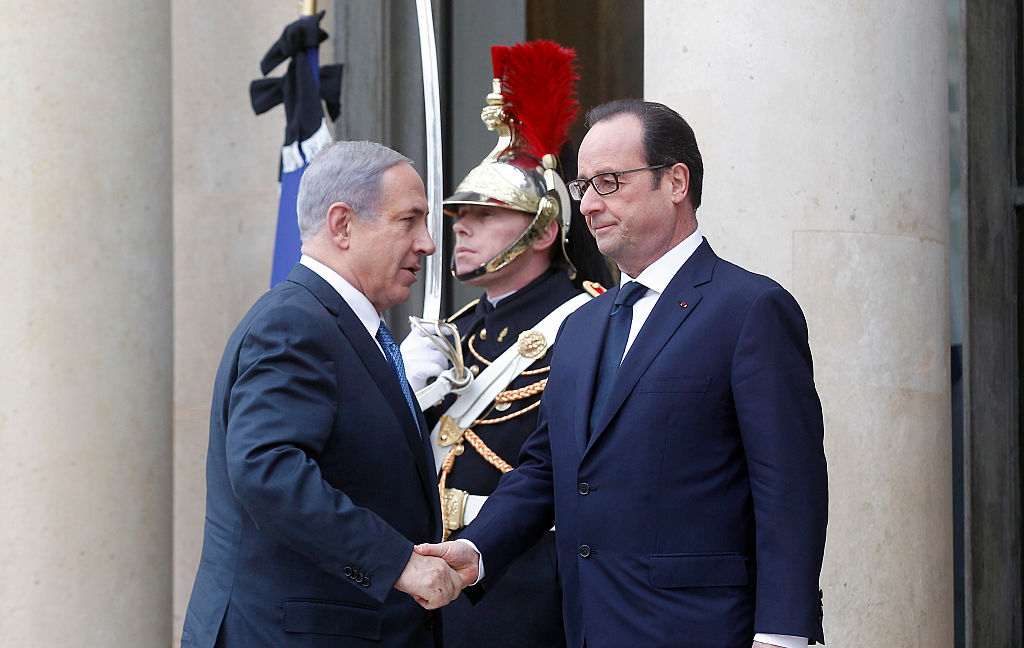 France, while its Ministry of Foreign Affairs is officially claiming the necessity of peace and secure borders for Israel, is discreetly financing organizations and NGOs openly hostile to Israel. Pictured: French President François Hollande (right) greets Israeli Prime Minister Benjamin Netanyahu in Paris on January 11, 2015. (Image source: Thierry Chesnot/Getty Images)
Yves Mamou is a journalist and author based in France. He worked for two decades for the daily, Le Monde, before his retirement.