Dutee Chand, the proud sprinter of India who's from Odisha has probably achieved another milestone and not on the racing track this time.
The US's one of the leading fashion magazines Cosmopolitan had once published the controversial news on Dutee Chand after she got banned from Olympic in 2014.
5 years later, she has made it to the cover of the same magazine with the heading 'India's Shining Star & First Openly-Gay Athlete.'
Dutee took on her official handle to announce the news with the cover picture and stated 'Sports has been my medium of expression, be it in lifestyle or the running track. Glad to announce that the prestigious Cosmopolitan magazine has featured me in their July's edition.'
View this post on Instagram

Ace sprinter @duteechand is the digital cover star of our July 2019 issue. Recently, she became the first Indian sportsperson to openly declare that she's in a same-sex relationship. In an exclusive interview with Cosmo India, Dutee opens up about her journey as an athlete, her coming-out story, and more. Issue on stands now. Editor: Nandini Bhalla (@nandinibhalla) Fashion Stylist: Zunaili Malik (@zunailimalik) Photographer: Sushant Chhabria (@sushantchhabria) Hair & Makeup: Maniasha at Faze Management (@bymaniasha) Interview: Sreeparna Mazumder (@sreeparna.mazumder) Dutee is wearing sports bra: Superdry Sports (@superdryindia); shorts, Fila (@filaindia); cape: Namrata Joshipura (@namratajoshipura) . . . . . . #DuteeChand #OnlyInCosmo #CosmoIndia #lgbtq #pride #loveislove
A couple of months back, the sprinter Dutee Chand was in controversy after she openly declared that she's in a same-sex relationship.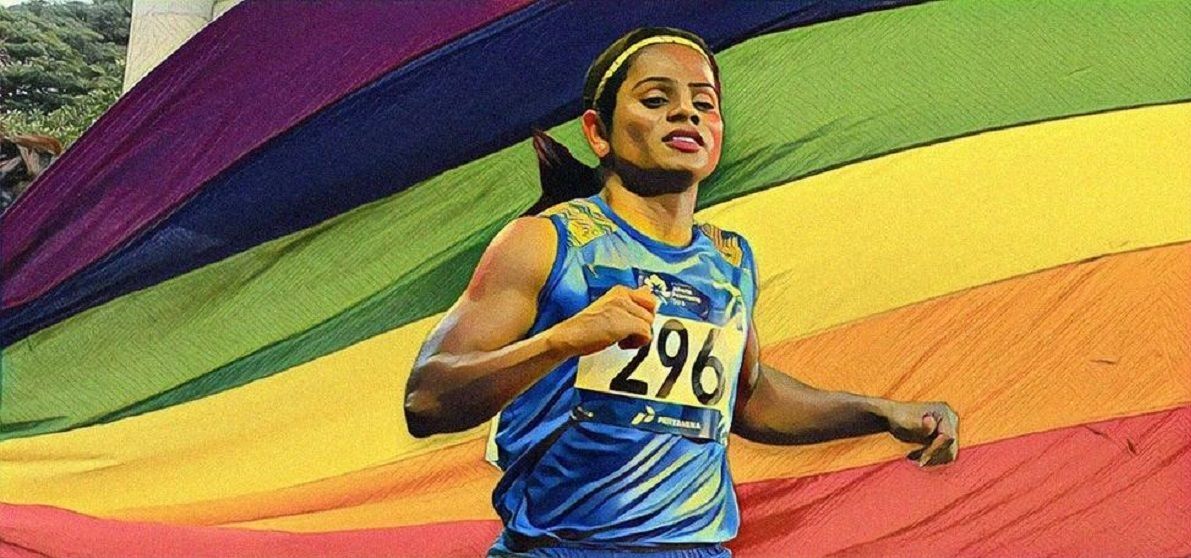 Image Courtesy-Indiatimes
Dressed in all-black athletic active-wear, Dutee Chand is also draped with a rainbow coloured tulle-material cape.
The same colours as the rainbow, and of pride, as June is International Pride month.
The post All Eyes On Covergirl Dutee Chand As She Poses For The Cover Of'Cosmopolitan' Magazine! appeared first on OdishaShines.