Socially Distant Date Ideas. Yes, all aspects of life have changed drastically because of the global pandemic. However, that doesn't mean your love life has to take a backseat. Humans are naturally social creatures. It's normal to crave love and affection. Whether you're new to the pandemic dating scene or are in a long-term relationship, there are plenty of ways you can have a perfect date night.
Even though it's not ideal, socially distant dates are essential to ensuring you get to see your love interest in real life as soon as possible. Here is a list of few socially distant date ideas to help you keep the romance alive while adhering to social distancing guidelines.
Have an Outdoor Picnic
Dates, especially during a pandemic, don't have to be pricey. We all miss going out to luxurious restaurants or catching a movie at a theater. The upside is you don't have to go over your budget to impress anymore. However, an outdoor picnic does require plenty of effort and planning. By going the extra mile, you'll ensure you both enjoy a much-needed breath of fresh air.
What's a picnic without delicious snacks and drinks? This is an excellent occasion to show off how well you cook or bake. Pack everything in an ice cooler to keep your favorite snacks and beverages cool. Don't forget to pack the essentials, such as napkins, plates, cups, and cutlery!
Play Video Games Together
Due to the pandemic, video game companies have experienced an increase in sales. One popular game to experience a first date is Animal Crossing. This game will allow you and your partner to virtually visit each other on a small island. The two of you can fish, catch bugs, swim, and play hide-and-seek. Other notable games include Among Us—which was popularized on social media during the early days of the pandemic— Portal, Minecraft, Jackbox Games, and Tabletop Simulator. There are plenty of options for a great night.
Share Your Favorite Memories
If you and your significant other have been dating for a while, chances are you have many pictures tucked away in your phone's camera album. Why not make a video collage together? Create a video of memorable events, such as anniversaries, trips, or birthdays. Start by having your partner pick out their favorite photos and combine them with yours. Afterward, pick the perfect music and import them to a video making software. This is a great way to look back on those special moments and hope for the day you get to make new ones.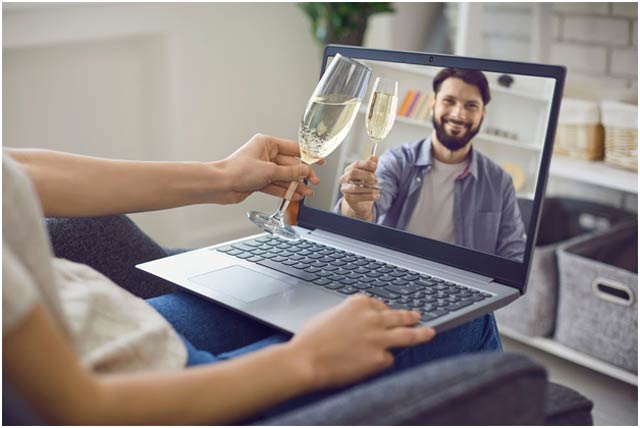 Share Your Favorite Memories Together (Representative Image)
Write Letters
Although it's old-fashioned to be listed in the socially distant date ideas, but a little traditional romance goes a long way. Plan a night where you can dedicate time to writing letters to each other. You don't have to be a best-selling author or Shakespeare to write an amazing letter. Simply writing from the heart will be enough. Take a moment to share your favorite inside joke, memories, quotes, or song lyrics. A beautiful hand-crafted note can be the reminder your partner needs to let them know you care. Once your significant other receives their letters, schedule a time to read them aloud.
Virtual Museum Date
Museum dates are popular for a reason. However, many museums closed their doors to satisfy stay-at-home orders. You can find numerous museum tours around the world on YouTube. It's the perfect chance to view the Mona Lisa at the Louvre in Paris, France without making your way through a crowd of people.
Google Arts & Culture also partners with a variety of museums from all over the world, such as the Smithsonian, The Met, and the Van Gogh Museum to bring art collections straight to your living room. Grab a cup of wine, wear your most posh outfit, and share your screen for a one-of-a-kind museum date.
Dinner And A Movie
This combo is an instant classic to be a part of this list of socially distant date ideas. Share a recipe or order each other dinner from a meal-kit delivery service. You'll want to use video chatting apps, such as FaceTime, Zoom, or Google Hangouts for this. If you're not a great cook, don't worry! A meal kit will come with the instructions and ingredients necessary to make a delicious meal.
Afterward, dim the lights, grab some popcorn, and share your screen. With so many streaming services available, it's easy to find the right movie to watch.
Don't let the pandemic fickle out your love life. These socially-distant date ideas will help you and your partner remain connected while staying safe and healthy.
Author: Twinkle Garg
The post Socially Distant Date Ideas To Keep Your Romance Alive appeared first on N4M (News4masses).