Rudyard Kipling was right when he said
In times of war and not before, God and Soldier we adore.
But in times of peace and all things righted, God is forgotten and the Soldier slighted.
We have a National War Memorial in New Delhi in memory of our bravehearts, who laid down their lives in the line of duty. This memorial is spread over 40 acres of land and is one of the many memorials in different parts of the country. On different occasions regularly, homage is paid to our fallen soldiers and hence one may ask as to why I say that Rudyard Kipling was right.
When Our Sportspersons Perform
Many of us may have heard of Sakshi Malik. She hails from Haryana and became the first woman to win a bronze medal in the Olympics. She won the bronze medal in Wrestling in the 2016 Summer Olympics. In honour of this achievement of hers, she was conferred with many cash prizes from States such as Uttar Pradesh, Madhya Pradesh and also Delhi.
Likewise when P V Sindhu won her silver medal in the Rio Olympics in 2016. She became the first Indian woman to do so. She too was conferred with many prizes from states such as Madhya Pradesh, Haryana and Delhi apart from her home states Telangana and Andhra Pradesh.
Going back a little, Abhinav Bindra won the Gold Medal in the 10 meter air rife event in 2008 summer Olympics. This was India's first Olympic Gold Medal since 1980. Abhinav Bindra hails from Uttarakhand and 7-8 states conferred cash prizes on him. This included the state of Maharashtra also, which conferred a cash prize of Rs. 10 lakhs.
When Our Soldiers Perish
Now back to Rudyard Kipling and the soldiers. In May 2020, we lost 5 of our Armed Forces Personnel in an encounter in Handwara. These 5 men were killed in action during an encounter with the terrorists. One of them was Major Anuj Sood. He was just 31years old at the time of this incident. Despite clearing the exam for prestigious IIT, he chose to join NDA. He was commissioned in 2012 and had been a resident of Pune since 2006.
India Has A Strong Case – Dealing With The Dragon
According to a tweet by Brig Sood, father of Maj. Anuj Sood, the State Government refused to pay the NoKs the ex gratia compensation. The reason cited was that the policy deems it necessary for a person to prove that the was a domicile resident in the state of Maharashtra for which he needs to prove that he has lived for 15 years in the State. It is believed that his Family has been living in Maharashtra since 2006.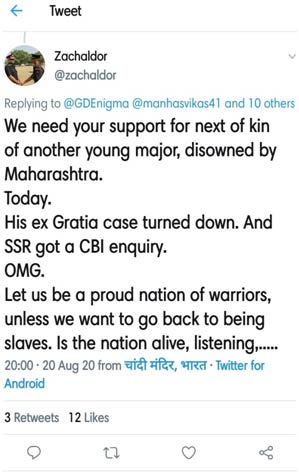 I am sure those who make these provisions know that Armed Forces personnel keep getting transferred every 3 years. How common is it find a 2nd generation soldier to have lived in a particular place for 15 years when his father has a transferable job?
Likewise, the parents of Capt R Veera Raja Reddy. Capt Reddy made the supreme sacrifice in the line of duty while fighting terrorists in Rajouri in 2002. He was just 25 years old and had been married for 2 ½ months. His parents received an ex gratia of Rs. 5000 from the state government of Andhra Pradesh in Jan 2003 and a year later, they got a bronze statue erected in honour of their son, at their own expense, which was unveiled by Sri Vidyasagar Rao along with then Home Minister and army officials. Not only this, they received the J & K government ex gratia in 2012, 10 years later.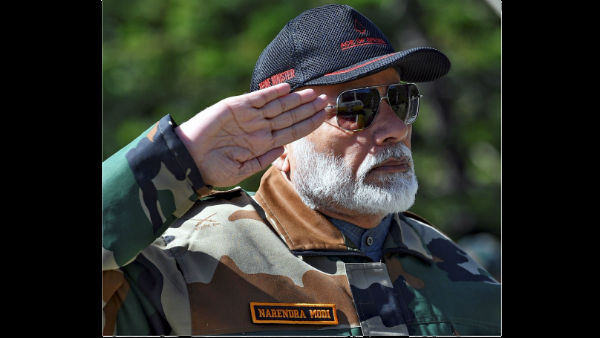 Recently on cricket captain Dhoni's retirement announcement from active cricket, Prime Minister Narendra Modi paid rich tributes to the former captain, releasing a letter addressed to him. Citing the same martyred captain R Veera Raja Reddy's family members asked "What about us?"
These are just few instances of the indifferent attitude towards the NoKs of the officers. It is a rarity that a family is given an ex gratia of Rs. 1 crore + land + job. Such instances give an impression that after a soldier's supreme sacrifice, things are not so difficult. This may be actually be far from true.
In Mumbai the parents of Lt. Nawang Kapadia have been trying to get a memorial constructed in Mahim Nature Park, Mumbai in honour of the brave hearts of Mumbai who were killed in Action.
Lt. Nawang Kapadia made the supreme sacrifice while fighting terrorists in the jungles of Rajwar, Kupwara on November 11, 2000. Their family have laid a Memorial stone for him at the Mahim Nature Park.
The instances related to Jawans may not even be available on public domain as such families are often not much educated or tech savvy enough to voice the hassles faced by them on social media. What if the Jawan who has been KIA is the sole source of income in a family, survived by wife, children and parents? The family members may not be so well educated or have such information about Ex gratia. Although the members of the fallen soldier's unit are known to help with all formalities related to the compensation, it is upto the family members to be able to furnish multiple documents, affidavits and so on. An absence of any relevant document only means further paperwork and more delay in the compensation. There are instances where despite the concerned Bank possessing the order of release of pension, they take a long time (2-3 months in some cases) to do so.
Common Practice Across States For Compensation
I have nothing against these sportspersons who have brought glory to the Country and I appreciate their efforts and sacrifices but at the same time it is heartbreaking to note that when sportspersons bring glory to our country, the states are more than happy announcing cash prizes for these winners. Aren't our soldiers making the supreme sacrifice while defending the same country? Why then are they not being treated in the same way? I would like to reiterate here that this is not about the Armed Forces fraternity but rather about the indifference ofa State Government, bureaucracy and the policies thereof. When the soldiers do not discriminate, then why there is such a discrimination about them?
Is it not fair to have a common practice across the country? Isn't being a citizen of India enough? How does the period of residence in a particular state make the supreme sacrifice any less relevant? How easy it is to just have a rule that a person who is a Native in a particular state will be given ex gratia compensation from that state. There are ample documents that can prove a person being a native of a State viz a viz an Aadhar Card, a PAN card and so on. So why then the need of multiple documents, affidavits and why a time frame of almost 6 months or 10 years? There are hundreds who come to pay homage to the brave heart on his final journey, an outpouring of grief on social media yet the struggle for their compensation is only of the family or at best, with support from the unit.
Are the state governments really trying to honour/ help the NoKs or is this a way of finding loop holes in the policies and hiding behind them?
Wasn't Rudyard Kipling right then about the soldiers being slighted?
I am reminded here, of a poem about soldiers and politicians. Here is an excerpt of the poem "Just a Common Soldier", written by Lawrence Vaincourt:
"A politician's stipend and the style in which he lives
are sometimes disproportionate to the service that he gives.
While the ordinary soldier, who offered up his all,
is paid off with a medal and perhaps, a pension small.
It's so easy to forget them for it was so long ago,
that the old Bills of our Country went to battle, but we know
it was not the politicians, with their compromise and ploys,
who won for us the freedom that our Country now enjoys.
Should you find yourself in danger, with your enemies at hand,
would you want a politician with his ever-shifting stand?
or would you prefer a soldier, who has sworn to defend
his home, his kin and Country and would fight until the end?
He was just a common soldier and his ranks are growing thin,
but his presence should remind us we may need his like again."
Although the soldiers remain indispensable, politics and the policies of the governments make a mockery of the compensations granted to the families of these bravehearts.
The entire nation stands up together for the justice of a reel life hero, who was known for his talent, simplicity and positivity. But what do we as citizens do, when the families of bravehearts suffer in silence?
With deep interest we may pursue every conversation, a deceased celebrity had with his family and his love interest. But do we try to find out how a family of a brave heart survives, from the time he is gone and till the time the compensation actually reaches them?
Can we only stand with our reel heroes? What about our Real heroes, our men in uniform and their families?
The post Killed in Action, Buried Under Rules appeared first on N4M (News4masses).