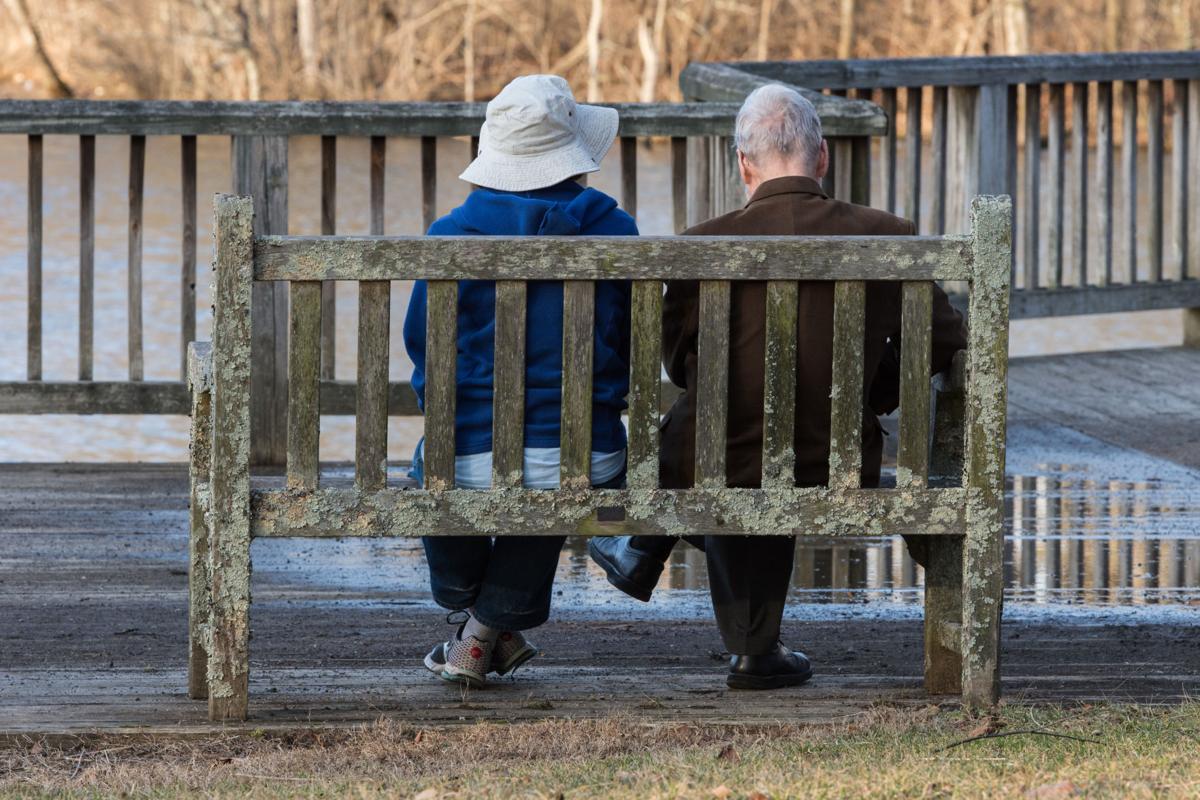 Two people sit on the bench for a chat by the Duck Pond, Feb. 15, 2018
First date. These two words can make you feel a rush of anxiety, excitement and hope all at once. There are a million questions still to be answered, and the person is new and intriguing. What you say, what you do and how you look are all important parts of a first date.
But none of these are as important as the location. The location determines how long the date lasts and what you talk about, and influences how you get to know the other person. Lucky for everyone, Blacksburg is home to a variety of places for every kind of first date you've been imagining in your head.
Pandapas Pond is a beautiful lake surrounded by different trails. This location lets you and your date walk around freely and get to know one another in an area that is usually not very busy. Also, if your date has a dog, this is the perfect opportunity to make sure the pup likes you before proceeding with the relationship. Pack a picnic if you want the date to last even longer.
Beliveau Estate Winery and Recreational Venue is a fun and scenic adventure. It's a bit of a drive, and of course you must be of age to enjoy the wine, but the winery sits on an absolutely beautiful piece of land, and it holds many events throughout the year, such as its annual lavender festival, which is usually held in June.
The Moss Arts Center is a great place to see an art exhibit or enjoy a performance. It is open to all students and most performances are $10 or less. Even if you aren't into art, this is a great location to talk or experience something new with someone new.
Puzzlr is an exciting attraction in Blacksburg that puts you and your date in an escape room in which you must work together to solve puzzles in order to get out of the room. You have 60 minutes to escape any of its three different room options. This is a true test of a relationship, and also would work well as a good group date option if you want more minds to help you escape.
The Pete Dye River Course of Virginia Tech is an option for the sportier types who love golf. This course is open to the public and costs between $30–$40 for a Tech student to play. Only a 25 minute drive from campus, this course definitely beats mini-golf dates.
Mill Mountain Zoo is the perfect place to see if your date likes animals. And let's face it, if your date doesn't like animals, then why are you even dating them? The zoo is in Roanoke, making it about an hour drive from campus, but this is a great location for a relaxed and fun date. The zoo is open every day from 10 a.m. to 5 p.m, and if the date is going well, you can walk over to the outlook at the Roanoke Star for a beautiful view.
Go for a walk or a bike ride on the Huckleberry Trail. The trail is eleven miles, but you and your date can decide how far you want to go. This is a great date for nature lovers and anyone looking to explore the Blacksburg area.
The Montgomery County Animal Care and Adoption Center is a fun excuse to go around and pet every dog and cat you can find. Just be careful not to get too attached, or be prepared to bring home someone new.
A picnic at the Duck Pond is a classic Virginia Tech date. The romantic scenery will have you and your date (hopefully) hitting it off. Make sure to bring some classic food; Benny's pizza is always a crowd pleaser. Because again, if they don't like Benny's, then you might as well just end the date right then and there.
Hiking is also a favorite Virginia Tech pastime. Whether it's Cascade Falls, Dragon's Tooth or McAfee Knob, these trails are sure to be a great first date. Some are harder than others, but if you take your time and enjoy the views, it can be romantic and a great way to get to know someone.
These locations and activities are just a few ideas for first dates, and hopefully more dates in the future. First dates come with a lot of uncertainty and nerves, but if you enjoy the company you are with, they can be pretty great.
Original Article
The post Happy Hokies: First date ideas around town appeared first on Shareabler.
This post first appeared on Shareabler, please read the originial post: here