Sen. Bob Corker, R-Tenn., speaks during a Senate Foreign Relations Committee hearing on "The Authorizations for the Use of Military Force: Administration Perspective" on Capitol Hill in Washington
(AP)
Despite President Trump once tweeting that "Liddle" Sen. Bob Corker, R-Tenn., "couldn't get elected dog catcher" in Tennessee, it looks as though some Republicans in the Volunteer state think he's the best chance to defend the seat in 11 months.
One problem: Corker said he is going to retire.
Politico reported Monday that Corker—who is one of Trump's toughest Republican critics—has been "listening" to some party leaders about the prospects of running again. Corker appears to be holding his cards close to his chest and "hasn't made any comments" about where he stands, a person close to the senator told Politico.
The Tennessean, citing a senior adviser, reported a day earlier that Corker "has been encouraged" to run again, but "at this point nothing has changed."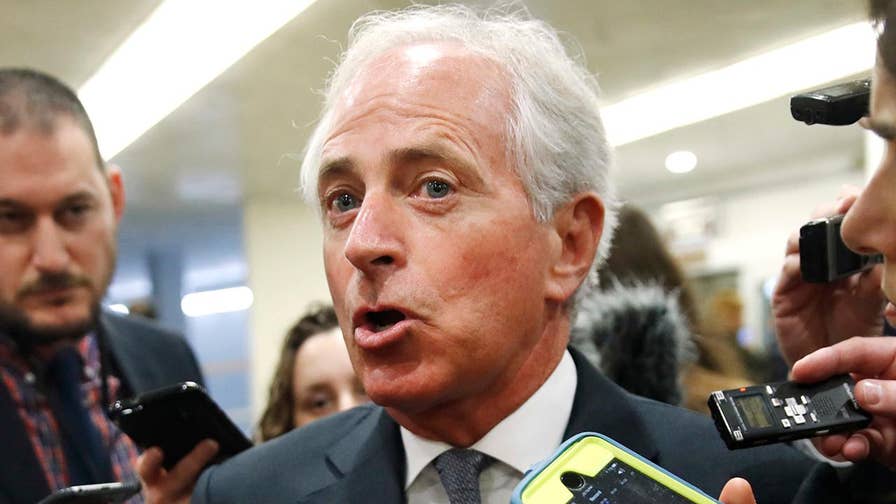 The paper reported that the senator has spoken to Senate Majority Leader Mitch McConnell, R-Ky., Sen. Lamar Alexander, his fellow Republican in Tennessee, and Sen. Lindsey Graham, R-S.C.
Corker announced on Sept. 27, 2017 that he would not seek a third term in 2018. Corker, 65, had previously said that he "couldn't imagine" serving more than two terms.
The Weekly Standard explained what Democrats will need in order to retake the Senate, which would mean successfully defending all of their current seats.
"The obvious targets are Arizona and Nevada— Nevada voted for Hillary Clinton in 2016– and Arizona is, partially because of Trump's unpopularity, well within reach for Democrats," the magazine explained. "But if Democrats fail to take one of those seats or have trouble holding one of their red-state seats, they might try to make up the shortfall in Tennessee."
Corker's retirement set off a scramble among potential candidates to succeed him. When the dust settled, Rep. Marsha Blackburn became the major candidate seeking the Republican nomination, while former Gov. Phil Bredesen came out of political retirement to announce he would run as a Democrat.
Politico reported that an internal poll showed that Bredesen would edge out Blackburn in a head-to-head matchup. Blackburn's campaign told the website that she would stay in the race regardless if Corker decides to run again. A Blackburn spokeswoman said it's "well past time for the good old boy's club in Washington, D.C., to quit thinking they know who the best candidate and conservative leader is for Tennessee families."
CNN reported that McConnell preferred Corker run again, The Tennessean reported.
After he announced he wouldn't run again, Corker doubled down on his criticism of the president, charging that Trump had turned the White House into an "adult day care center" and was setting the U.S. "on the path to World War III." Trump hit back at Corker, tweeting that he was a "lightweight" and charging that the lawmaker "couldn't get elected dog catcher in Tennessee."
Trump reportedly said Corker, who is the chairman of the Senate Foreign Relations Committee, decided not to run again after he refused to endorse him, a claim Corker denies.
But The Tennessean pointed out that Corker flew with Trump on Air Force One a few weeks ago, which could indicate a thaw.
The Associated Press contributed to this report
Edmund DeMarche is a news editor for FoxNews.com. Follow him on Twitter @EDeMarche.
The post Republicans try to get Tennessee's Corker to run again out of fear of losing seat appeared first on Shareabler.
This post first appeared on Shareabler, please read the originial post: here