close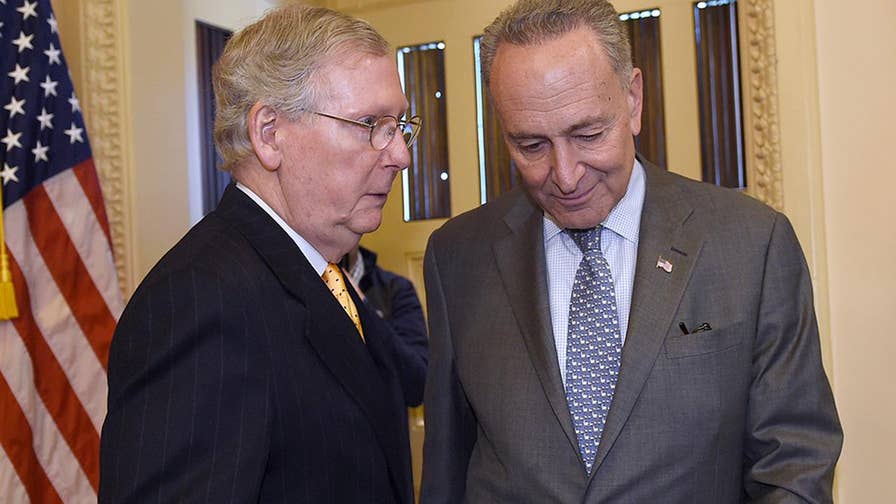 Video

House stopgap spending bill now headed to Senate floor
Kelly Wright reports from Washington, D.C.
Republican and Democratic Senate leaders announced a budget agreement Wednesday that includes a boost in spending for the Pentagon and would keep the government running past a looming deadline.
"I am pleased to announce that our bipartisan, bicameral negotiations on defense spending and other priorities have yielded a significant agreement," Senate Majority Leader Mitch McConnell said in a floor speech.
"We have reached a budget deal that neither side loves, but both sides can be proud of," Senate Democratic Leader Chuck Schumer said.
McConnell said the measure would rewrite existing defense limits that have "hamstrung our armed forces and jeopardized our national security."
The Senate's top Republican says there's agreement on a two-year, almost $400 billion budget deal that would provide Pentagon and domestic programs with huge spending increases.
The measure, aides said, also contains almost $90 billion in overdue disaster aid and an increase in the government borrowing cap that would prevent a first-ever U.S. government default on its obligations.
Congress, though, still has to approve an overall spending package by March 23 to fund the government for the rest of this fiscal year.
The House of Representatives on Tuesday night approved a Stopgap Spending Bill to run the government through March 23 and bolster defense funding, sending the bill to the Senate for consideration.
It comes as Congress is debating the issue of immigrants left vulnerable by the looming expiration of former President Barack Obama's Deferred Action for Childhood Arrivals program, or DACA.
Fox News' Chad Pergram and The Associated Press contributed to this report.
The post Senate leaders announce budget agreement appeared first on Shareabler.
This post first appeared on Shareabler, please read the originial post: here