A man has transformed his home into a haven for 300 cats – complete with hammocks, heated perches and roast chicken dinners for the pampered residents.
Chris Arsenault, 58, opened his cat sanctuary to cope with the grief of losing his son and has devoted his life to rescuing and caring for abandoned moggies.
The retired train conductor has given his entire house and garden to his feline friends – apart from his small eight by twelve foot bedroom where sleeps and eats.
And he spends his days refilling water bowls, mucking out litter trays, mopping floors and rustling up roast chicken dinners for the pampered residents.
Chris, from Medford, New York, said: "I don't find it overwhelming even though there are 300 cats now. I truly believe that if you are passionate about something you can handle anything. I really love what I do.
"My house, it's a big house and there's a big backyard area. Everything is kitted out for the cats. I designed and build it all myself. For me, safety and hygiene have been a priority.
"I have to be able to clean everything, wash everything down. The floors are vinyl and the walls are covered in plastic sheeting. Outside, it's all concrete so it is easy to hose it down.
He added: "I have my own space in the house in the boiler room. I've built my own bathroom in there, and I have a little area where I have a microwave, a toaster oven and a sink. It's hard to keep the cats out of there at night, and a few seem to sneak in no matter what I do."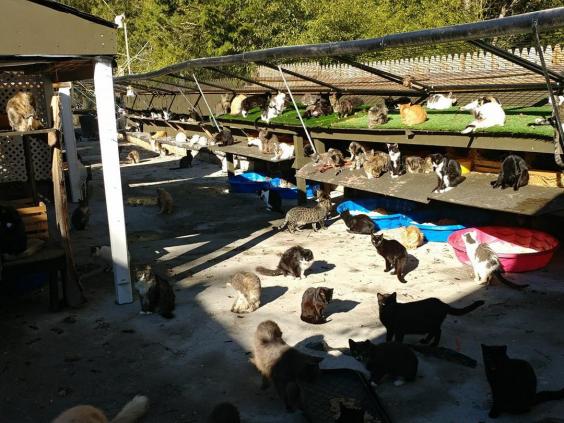 Arsenault spends his days refilling water bowls, mucking out litter trays and caring for the animals SWNS
The Happy Cat sanctuary, founded in 2006, is funded out of Chris' pocket as well as donations from the public.
In 2016 it cost $101,000 (£72,000) to maintain, including $80,000 (£56,700) for animal food and utilities and $21,000 (£15,000) on medicine and veterinary care.
Chris, who gets up at 7am each day to care for the cats, decided to open the sanctuary's doors after he found "a colony" of sick kittens on the side of a railway track.
The discovery came months after losing his son Eric, 24, in a motorcycle accident on Long Island's Cross Island Parkway.
He said: "My son passed away on May 18, 2006, how could you ever forget the day? It changed my life. A couple of months after Eric died, I found a cat colony down by the tracks. I was a train conductor for New Jersey transit at the time.
"There were thirty little kittens and I could tell they were sick. I knew if I left them there they would die so I brought them home with me. I am a real animal lover. When I was a kid, I had rabbits and gerbils and dogs, you name it. Animals have always been my passion.
"After my son died, those cats gave me something to do."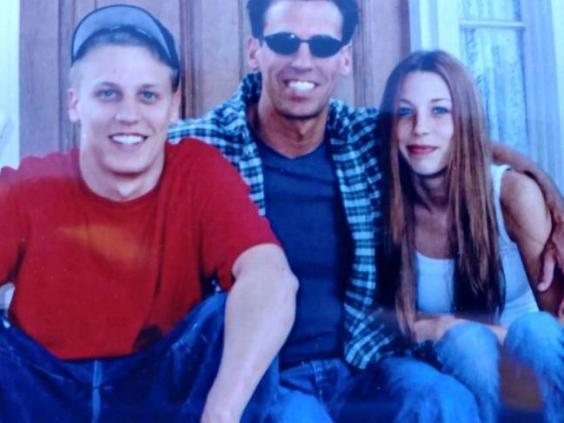 After the passing of his son Eric (far left) the animals kept him occupied SWNS
In the years that followed, he contacted local animal charities and shelters and began adopting more and more cats, until the population had swelled to 300.
The sanctuary has a policy to spay and neuter all cats who enter it and Chris seeks veterinary care when he can't treat ailing animals himself.
He said: "Every day I have to treat the sick cats too. To keep control of this, I use coloured paper collars. Depending on their illness, I treat them with different medications, and if it's something I can't fix, I make sure the cat gets to the vet.
World news in pictures
World news in pictures
1/45

6 February 2018

Anti-North Korean protesters push against police as a ferry carrying a North Korean art troupe for the Pyeongchang 2018 Winter Olympic Games approaches the port of Mukho in Donghae. Around 120 North Korean art performers in matching red coats and fur hats left for the South, its state media said on February 6, the latest in the flurry of cross-border exchanges in the run-up to the Pyeongchang Olympics.

2/45

5 February 2018

Philadelphia Eagles' Nick Foles celebrates with the Vince Lombardi Trophy after winning Super Bowl LII

3/45

4 February 2018

Authorities investigate the scene of a fatal Amtrak train crash in Cayce, South Carolina. At least two were killed and dozens injured.

4/45

3 February 2018

Members of security services react as a man in the crowd tries to shake hands with French President Emmanuel Macron, who walks next to Senegalese President Macky Sall in a street of Saint-Louis, Senegal.

5/45

2 February 2018

County Sheriffs restrain Randall Margraves, the father of three daughters who were abused by Larry Nassar, after he tried to attack the former team USA Gymnastics doctor who pleaded guilty in November 2017 to sexual assault charges, during victim statements of his sentencing in the Eaton County Circuit Court in Charlotte, Michigan.

6/45

1 February 2018

Abu Rabih, 65, walks through the rubble with his eight-year-old grandson Yahya following air strikes by regime forces which hit the building where they live in Arbin, in the rebel-held Eastern Ghouta region on the outskirts of the Syrian capital Damascus.
Arbin is in the Eastern Ghouta region which has been under government siege since 2013.

7/45

31 January 2018

A 'Supermoon' shines its blood red colors during a full eclipse above the Big A Sign of Angel Stadium in Anaheim, California. A 'Supermoon' commonly is described as a full moon at its closest distance to the earth with the moon appearing larger and brighter than usual.

8/45

30 January 2018

A man wears a mask among fellow supporters as Kenyan opposition leader Raila Odinga (not pictured) takes a symbolic presidential oath of office in Nairobi.

9/45

29 January 2018

Tractors are parked outside a meeting of European Union agriculture ministers during a protest by Belgian farmers in Brussels.

10/45

28 January 2018

Bruno Mars accepts Record of the Year for '24K Magic' with his production team onstage during the 60th Annual GRAMMY Awards at Madison Square Garden in New York.

11/45

27 January 2018

Students with torches gather prior to a march in celebration of the 165th birth anniversary of Cuba's independence hero Jose Marti, in Havana.

12/45

26 January 2018

A firefighter inspects a burnt hospital after a fire in Miryang, South Korea. 37 people were killed in the fire, with the number of casualties likely to rise further.

13/45

25 January 2018

Rescue workers and police officers stand near derailed trains in Pioltello, on the outskirts of Milan.

14/45

24 January 2018

Afghan police officers take position during a blast and gun fire in Jalalabad, Afghanistan.

15/45

23 January 2018

Workers clean the beach of the coastal town of Zouk Mosbeh, north of Beirut, as garbage washed up and piled along the shore after stormy weather.

16/45

22 January 2018

A Free Syrian Army soldier takes a selfie as fighters join up with Turkish troops near the Syrian border at Hassa, Hatay province. Turkey shelled Kurdish militia targets in Syria and claimed progress in a cross-border offensive that has stoked concern among its allies and neighbours

17/45

21 January 2018

Palestinians take part in a protest against aid cut, outside the United Nations Relief and Works Agency (UNRWA) office, in Rafah in the southern Gaza Strip.

18/45

20 January 2018

Oscar Janicki, 6, participates in the Second Annual Women's March in Philadelphia.

19/45

19 January 2018

Russian President Vladimir Putin bathes in an ice-cold water on Epiphany near St. Nilus Stolobensky Monastery on Lake Seliger in Svetlitsa village, Russia. Thousands of Russian Orthodox Church followers will plunge into icy rivers and ponds across the country to mark Epiphany, cleansing themselves with water deemed holy for the day.

20/45

18 January 2018

People protest to call for a new DREAM Act to replace DACA in Los Angeles, California.

21/45

17 January 2018

Pro-democracy activists Raphael Wong and Joshua Wong arrive at Lai Chi Kok Reception Centre after they were jailed on protest related charges following their sentencing at the High Court in Hong Kong.

22/45

16 January 2018

Skyscrapers Oriental Pearl Tower and Jin Mao Tower (L) are seen from the Shanghai World Financial Center on a hazy day in the financial district of Pudong in Shanghai, China.

23/45

15 January 2018

Martin Luther King III, US Secretary of the Interior and others wait to place a wreath during an event at the Martin Luther King Memorial on the National Mall.

24/45

14 January 2018

A boy stands with women loyal to the Houthi movement during a gathering held to show their support to the movement in Sanaa, Yemen.

25/45

13 January 2018

Diego Martin Duplessis of Argentina drives his Honda during the 2018 Peru-Bolivia-Argentina Dakar rally, 40th edition stage seven, La Paz to Uyuni.

26/45

12 January 2018

Angela Merkel speaks during a joint press conference after exploratory talks in Berlin. According to reports, the leaders of CDU, CSU and SPD parties after night-long talks agreed on a plan for formal coalition negotiations.

27/45

11 January 2018

A Pakistani girl holds a picture of Zainab Ansari, an 8-year-old girl who was raped and kidnapped in Kasur, during a protest in Karachi, Pakistan. Anees Ansari, Zainab's father, accused the police of being slow to respond when his daughter went missing in the eastern Punjab province. Two people were killed and three others were wounded in clashes between angry Kasur residents and police after protesters enraged over her death attacked a police station in the city.

28/45

10 January 2018

India's Border Security Force (BSF) 'Daredevils' women motorcycle riders perform during a rehearsal for the Republic Day parade on a cold winter morning in New Delhi.

29/45

9 January 2018

Members of the South Korea delegation (R) shake hands with members of the North Korean delegation (L) during their meeting at the border truce village of Panmunjom in the Demilitarized Zone dividing the two Koreas. North and South Korea began their first official talks in more than two years, focusing on the forthcoming Winter Olympics after months of tensions over Pyongyang's nuclear weapons programme.

30/45

8 January 2018

Migrants in a dinghy are rescued by Libyan coast guards off the coast of Garabulli, east of Tripoli.

31/45

7 January 2018

French President Emmanuel Macron observes a minute of silence in front of the plaque commemorating late police officer Ahmed Merabet to mark the third anniversary of the Charlie Hebdo terrorist attack, in Paris.

32/45

6 January 2018

Nicolaos Solis from Greece kisses the wooden cross which was thrown into the waters by Ecumenical Patriarch Bartholomew I, during the Epiphany ceremony to bless the waters at the Golden Horn in Istanbul.

33/45

5 January 2018

Women mourn the death of a family member following a landslide in Kinshasa. Thirty-seven people died overnight when torrential rain and mudslides swept though shanty homes.

34/45

4 January 2018

Mourners carry the body of Palestinian Mosab al-Tamimi, 17, who was shot and killed by Israeli troops, during his funeral near the West Bank city of Ramallah .

35/45

3 January 2018

People take part in pro-government rallies, Iran.

36/45

2 January 2018

Indonesian bus passengers watch as Mount Sinabung spews thick smoke in Karo, North Sumatra.

37/45

1 January 2018

People take part in the traditional New Year's Day swim in Scheveningen, Netherlands.

38/45

31 December 2017

Fireworks explode over Sydney Harbour during New Year's Eve celebrations.

39/45

30 December 2017

An Indian muslim lifts a stool with a metal rod pierced through his cheeks to commemorate the anniversary of the death of Rafai Papa Miyan Sai at the Shah-E-Alam Dargah shrine in Ahmedabad.

40/45

29 December 2017

A New York apartment fire killed at least 12 people, including a baby, with four more critically injured. Mayor Bill de Blasio said at a press conference from the scene that 'it is the worst fire tragedy we have seen in this city in at least a quarter century.'

41/45

28 December 2017

Afghan women mourn inside a hospital compound after a suicide attack in Kabul, Afghanistan.

42/45

27 December 2017

Pope Francis greets newlyweds during his weekly general audience at Aula Paolo VI in The Vatican.

43/45

26 December 2017

Rohingya refugees walk next to a pond in the early morning at the Balukhali refugee camp near Cox's Bazar, Bangladesh.

44/45

25 December 2017

Members of ice swimming club "Berliner Seehunde" (Berlin Seals) take a dip in the Orankesee lake in Berlin as part of their traditional Christmas ice swimming session, in Berlin, Germany.

45/45

24 December 2017

Mourners carry the body of 19-year-old Mohamed Sami al-Dahdouh, a Palestinian youth from Jabalia who was killed in clashes with Israeli forces east of Gaza City.
"Last year I spent $22,000 on vet bills for the cats. I have every cat that enters the sanctuary neutered or spayed."
Despite the challenges, the father-of-two says he is proud of the sanctuary he's built for cats who would have been euthanised without his efforts.
He added: "When I open my bedroom door, there's about 50 or 60 cats waiting for me. Most of these cats were abused or abandoned when they came to the sanctuary, so it's been really a really rewarding thing to be able to give them a home and a place they feel safe."
SWNS
More about:
Cats
Animals
Sanctuary
New York
Reuse contentOriginal Article
The post Man transforms his home into sanctuary for 300 abandoned cats appeared first on Shareabler.
This post first appeared on Shareabler, please read the originial post: here