close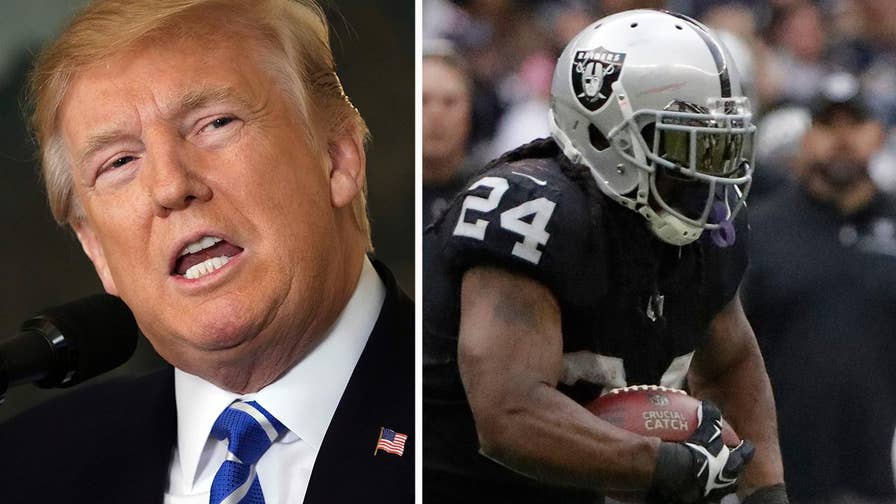 Video

Trump tweets NFL should suspend Lynch for anthem actions
President says NFL should take action after Oakland Raiders player stood for Mexican Anthem but sat for 'Star-Spangled Banner' at game in Mexico City.
Colin Kaepernick's decision to sit during the National Anthem ahead of a preseason game in 2016 sparked a surge of NFL protests across the country.
Since then, players have sat, kneeled and even bowed their heads in prayer as The Star-Spangled Banner echoes throughout stadiums.
Kaepernick said he was using his silence to protest against police brutality and racial injustice. It didn't take long for players across the country to follow his lead.
But not everyone has been supportive of the movement.
President Trump made his position clear from the beginning.
A football field is not the place to stage a protest, Trump has argued on several occasions, especially one that involves "disrespecting" the American flag and the nation's veterans.
Before Super Bowl LII kicks off, take a look back at the NFL National anthem protests to see how they grew from a one-man protest to a national movement.
August 2016
San Francisco 49ers quarterback Colin Kaepernick held his first silent national anthem protest on Aug. 14, 2016 during his first preseason game against the Houston Texans.
Two weeks later, on Aug. 26, 2016, Kaepernick made headlines for sitting during the national anthem before his preseason debut against the Green Bay Packers at Levi's Stadium in Santa Clara, California.
NFLFemale.com's Jennifer Lee Chan was one of the first reporters to capture a photo of Kaepernick sitting during the national anthem. Mike Garafolo, a reporter for the NFL Network, was quick to point out it wasn't the NFL player's first protest.
For the first time, on Aug. 27, 2016, Kaepernick, who was competing with Blaine Gabbert for the 49ers' starting quarterback position at the time, explained why he refused to stand during the anthem.
"If they take football away, my endorsements from me, I know that I stood up for what is right."

– Colin Kaepernick
"I am not going to stand up to show pride in a flag for a country that oppresses black people and people of color," Kaepernick told NFL.com. "To me, this is bigger than football and it would be selfish on my part to look the other way. There are bodies in the street and people getting paid leave and getting away with murder."
Kaepernick made it clear that he knew what he was doing and the NFL star said he planned to continue protesting – even if that meant jeopardizing his football career.
"This is not something that I am going to run by anybody," he said. "I am not looking for approval. I have to stand up for people that are oppressed…If they take football away, my endorsements from me, I know that I stood up for what is right."
September 2016
While Seahawks and Raiders players stood for the national anthem, Seattle corner back Jeremy Lane opted to sit.
(Tony Avelar/AP Photo)
In a show of support, Seattle Seahawks cornerback Jeremy Lane joined Kaepernick on the bench ahead of a Sept. 1, 2016, preseason game against the Oakland Raiders.
"I just like what he's doing, and I'm standing behind him," Lane told ESPN. "It's something I plan on keep on doing, until I feel like justice is being served."
The next day, San Francisco 49ers safety Eric Reid dropped to one knee to protest racial injustice and police brutality alongside Kaepernick during the national anthem at the Chargers' Qualcomm Stadium in San Diego.
The teammates were met with boos from the crowd as a naval officer sang the "Star-Spangled Banner" while dozens of military members rolled out an American flag across the field.
On Sept. 8, 2016, NFL Commissioner Roger Goodell told reporters he disagreed with Kaepernick's decision to kneel during the national anthem, but said he had to respect the player's right to protest.
"I don't necessarily agree with what he is doing," Goodell told The Associated Press via email. "I support our players when they want to see change in society, and we don't live in a perfect society. On the other hand, we believe very strongly in patriotism in the NFL. I personally believe very strongly in that."
The protests only continued to grow in the following days.
Kansas City cornerback Marcus Peters raised a black-gloved fist, four Miami Dolphins — Arian Foster, Michael Thomas, Jenkins and Kenny Stills — kneeled with hands on their hearts, Broncos linebacker Brandon Marshall took a knee and New England's Martellus Bennett and Devin McCourty both held up their right arms during the national anthem on Sept. 11, 2016.
Several other teams, including the Chiefs and Seahawks, also saw players link arms when the anthem was played.
August 2017
It was a photo shared across the web: Marshawn Lynch — at his first game on Aug. 12, 2017, as an Oakland Raider — sitting on an orange cooler with his elbows resting on his knees as his teammates stood around him during the national anthem.
A day later, Seattle Seahawks defensive end Michael Bennett sat on the bench as his teammates linked arms during the national anthem before their game against the Los Angeles Chargers.
September 2017
On Sept. 22, 2017, Trump blasted NFL players for kneeling during the national anthem, which, he said, shows a "total disrespect" for the American flag. Trump suggested those who kneel should lose their spot on the team.
"Wouldn't you love to see one of these NFL owners, when somebody disrespects our flag, to say 'get that son of a b**** off the field right now – he's fired,'" Trump said at a rally for then-Senator Luther Strange in Alabama. "You know, some owner's going to do that."
Goodell released a statement the next day, saying Trump's comments demonstrated a "lack of respect" for the league.
Two days after Trump's remarks, three NFL teams — the Tennessee Titans, Seattle Seahawks and Pittsburgh Steelers — stayed in their locker rooms during the national anthem.
Alejandro Villanueva, an offensive tackle for the Steelers, didn't join his teammates. Instead, the player (a former Army ranger) stood outside the tunnel alone with his hand over his heart as the anthem played.
Villanueva later regretted the move and apologized for "unintentionally" throwing his teammates under the bus.
"I made my teammates look bad, and that's my fault, and my fault only," Villanueva told reporters during a news conference. "We as a team tried to figure it out, but obviously butchered it."
Trump said he felt compelled to speak out against the NFL protests on Sept. 26, 2017, after visiting injured soldiers at Walter Reed National Military Medical Center in Bethesda, Md.
"They were fighting for our flag, they were fighting for our national anthem," Trump said during a press conference at the White House. "For people to disrespect that by kneeling during the playing of our national anthem I think is disgraceful."
NFL players were quick to respond.
More than a dozen players with the Cleveland Browns kneeled and bowed their heads in silent prayer when the anthem was played ahead of a preseason game against the New York Giants on Sept. 29, 2017.
The protest was the largest the NFL had seen since Kaepernick kicked off the trend the previous season.
October 2017

Vice President Mike Pence walked out of a game between the Indianapolis Colts and the San Francisco 49ers on Oct. 8, 2017, after several players took a knee during the national anthem.
"I left today's Colts game because @POTUS and I will not dignify any event that disrespects our soldiers, our Flag, or our National Anthem," Pence tweeted shortly after exiting the stadium.
On Oct. 10, 2017, Goodell sent a letter to the NFL's owners about the possibility of a rule change that would force players to stand during the national anthem.
"The current dispute over the National Anthem is threatening to erode the unifying power of our game, and is now dividing us, and our players, from many fans across the country," Goodell wrote, noting that he respects players' right to free speech. "We want to honor our flag and our country, and our fans expect that of us."
"We can't have the inmates running the prison," Houston Texans owner Bob McNair said during a closed meeting of NFL owners and executives to discuss national anthem protests.
McNair later apologized after receiving backlash for the remark.
"I regret that I used that expression," he said in a statement. "I never meant to offend anyone and I was not referring to our players."
November 2017
Lynch took a different approach while protesting the national anthem during a Nov. 19, 2017 game against the New England Patriots at Azteca Stadium in Mexico City.
He sat during the Star-Spangled Banner — but when the Mexican national anthem played, he was back on his feet.
Trump shared his disapproval on Twitter, requesting that Lynch be suspended for the move.
"Marshawn Lynch of the NFL's Oakland Raiders stands for the Mexican Anthem and sits down to boos for our National Anthem. Great disrespect!" Trump tweeted. "Next time NFL should suspend him for the remainder of the season. Attendance and ratings way down."
Ten days later, the NFL announced a commitment to donate $90 million to social justice causes during the following seven years in response to national anthem demonstrations.
"The NFL's work will encompass programs and initiatives that reduce barriers to opportunity, with a priority on supporting improvements in education, community/police relations and our criminal justice system," Anna Isaacson, the league's vice president for social responsibility, wrote in a memo obtained by The Associated Press. "Additional focus areas include poverty, racial equality and workforce development."
January 2018

New year, same argument.
Once again, Trump called out NFL players for kneeling, retweeting a meme that depicted a widow laying on a soldier's grave. "Show this picture to the NFL players who still kneel," Trump posted on Jan. 4.
Trump also took a subtle swipe at the NFL during his first State of the Union address on Jan. 31.
He didn't mention the NFL by name, but he did thank one of his special guests, 12-year-old Preston Sharp, for reminding Americans why it's important to stand for the national anthem.
The boy from Redding, California, started the Flag and Flower Challenge in 2015 and has helped facilitate the placement of more than 40,000 American flags and flowers on veterans' graves.
"Preston's reverence for those who have served our nation reminds us why we salute our flag, why we put our hands on our hearts for the pledge of allegiance, and why we proudly stand for the national anthem," Trump said.
Former NFL running back Herschel Walker weighed in on the protests on Feb. 2, two days before Super Bowl LII.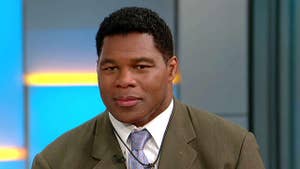 Video

Herschel Walker: NFL players given 'hush money' not to kneel
The 1982 Heisman Trophy winner accused the NFL of essentially giving out "hush money" to prevent players from taking a knee.
"The league gave the players a large sum of money toward their cause. That's hush money," he told Fox and Friends. "Guys should have been standing at the very beginning."
Walker said the league needs "good leadership" to put an end to the national anthem protests once and for all, adding that he doesn't believe Kaepernick would have protested if he was starting quarterback for the San Francisco 49ers, rather than the backup, during the 2016 season.
"There's no doubt black lives matter, but I don't think you can protest on your job," Walker said. "Your First Amendment right should be, 'I want to stand for our military.'"
The post How NFL national anthem protests have evolved since Kaepernick appeared first on Shareabler.
This post first appeared on Shareabler, please read the originial post: here