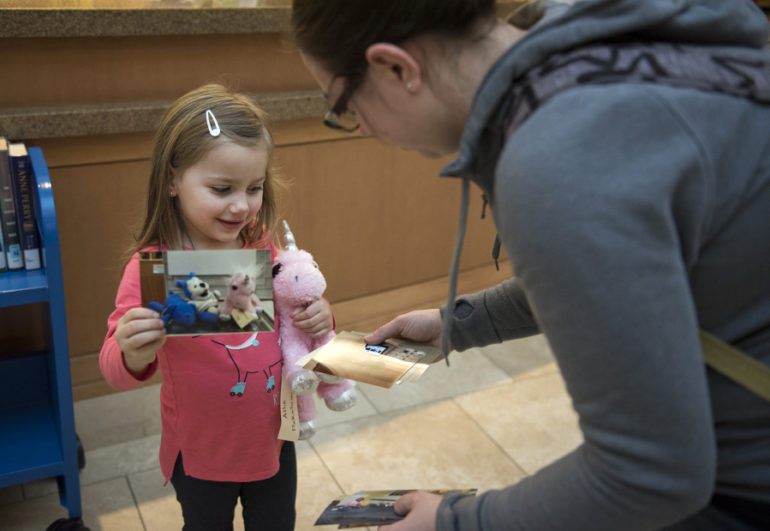 Allie Mae Schlauch, 3, of Washougal and her mother, Ashley, look through photos of adventures that her Stuffed unicorn, Pinkalicious, and others had the night before during their sleepover at the library. Kids dropped off their stuffed animals so they could enjoy a night of playing with bubbles, making photocopies and staying up until 3 a.m.
CAMAS — While kids around Camas tossed and turned Wednesday night trying to fall asleep, their stuffed animals partied it up at the Camas Public Library.
The pack of bears, dogs and monsters played with bubbles, photocopied their bottoms and finally settled into bed around 3 a.m.
"It was a wild, wild night," said Karen Nicholson, a library associate in Camas.
The stuffed animals had a party at the library as part of Camas' first Stuffed Animal Sleepover. The kids brought their stuffed animals to a special story time event Wednesday afternoon, made name tags for the animals and left them at the library for a night of mischief and fun.
It was the first time the library has hosted a sleepover event for stuffed animals, according to Debbie Chevron, a library associate.
Like any party in 2018, there was plenty of photographic evidence. Since the stuffed animals didn't have Instagram, they went retro and developed physical copies of their photos.
When the 25 kids who dropped off their stuffed animals for the sleepover came to pick their buddies up Thursday afternoon, Nicholson, Chevron and other library staffers showed the kids the photos to walk them through their stuffed animal's adventure the previous night.
"I think they're going to sleep tonight," Chevron told two girls who picked up their Beanie Babies. "They took a nap this morning, because they were really tired."
Allie Mae Schlauch, 3, of Washougal said she was a little sad to leave her unicorn, Pinkalicious, at the library overnight, but after seeing the pictures the next day, that changed.
"She was on the stairs and playing with bubbles," Allie said. "I was happy."
Chevron said one girl who brought her stuffed animal to story time on Wednesday didn't end up leaving the animal overnight because it was too difficult. Another girl who was nervous to leave her stuffed monster was reassured the monster would be looked after by Ellie the Elephant, the library's stuffed elephant that regularly attends story time. Two kids were nervous to leave their stuffed dogs, but library staff told them their dogs would spend the night together, and when they came to pick up the stuffed dogs on Thursday, one dog's arm was wrapped around the other.
Jahae Yun of Camas said her son, Joshua Kim, 3, brought Gingerbread Man because that's not the stuffed toy he sleeps with, so he could be without it overnight. Kai Raimo, 5, sleeps with Puppy tucked underneath his blanket each night, but said he was fine without the stuffed blue dog overnight Wednesday. Still, when he picked Puppy up on Thursday, he gave the dog a big hug at the library desk.
Chevron said the library staff got the idea after reading about a similar event at another library, and they are already planning on another stuffed animal sleepover for later in the year.
"It was a big success," she said.
Original Article
The post Stuffed animals live it up during library sleepover appeared first on Shareabler.
This post first appeared on Shareabler, please read the originial post: here