]]>
Northern Ireland
Northern Ireland
Troubles cast long shadow over politics and justice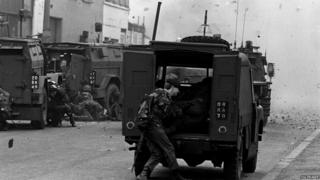 Image copyright
Pacemaker

Image caption
Army operations on the streets of Northern Ireland lasted 28 years
It was a year when the past once again cast a shadow over politics and the criminal justice system.
It began with Director of Public Prosecutions Barra Mcgrory under fire for decisions to charge three former soldiers with killings during the Troubles.
Unionist politicians and a number of military campaign groups accused him of conducting a witch hunt.
Robust
They claimed there was a disproportionate focus by the Public Prosecution Service (PPS) and Police on investigating killings by the Army.
The director hit back in robust fashion.
He said those who accused him of treating former soldiers unfairly had insulted him and his office.
The police also produced figures that disproved the claims, revealing that investigations into killings by the Army accounted for about 30% of its legacy workload.
Image caption

Barra McGrory said critics had insulted him and his office
But that hasn't stopped the criticism, and there are now calls for a statute of limitations to prevent security force members being prosecuted for offences early in the Troubles.
In his final interview before retiring as director, Barra McGrory said a partial amnesty that only applied to the security forces could be open to legal challenge.
Severe criticism
The year ended with the Police Ombudsman, Dr Michael Maguire, in the firing line.
Unionists called for his resignation after a judge was severely critical of his report on the Ulster Volunteer Force (UVF) murders of six Catholics at Loughinisland in June 1994.
Mr Justice McCloskey said the ombudsman's determination that there had been collusion between some police officers and the killers was "unsustainable in law".
The judge did not say collusion had not occurred, but that Dr Maguire did not have the legal powers to reach his conclusion.
Image copyright
Pacemaker

Image caption
The attack in Loughinisland took place on 18 June 1994 at the Heights Bar
The expectation is that the judge will quash the report when the court considers the matter again on January 12th.
That will almost certainly lead to appeals by the ombudsman and lawyers representing families of the victims.
High profile
Allegations of collusion were also at the heart of another high-profile case.
More than seven years after agreeing to become a so-called supergrass, the PPS announced that it will use evidence from former UVF commander Gary Haggarty in the trial of a man accused of murdering two Catholics in Belfast city centre in February 1994.
But it will not use him as a witness against two former police Special Branch officers he's accused of protecting and directing him.
Barra McGrory said his evidence alone was insufficient to secure a conviction.
Image copyright
Pacemaker

Image caption
Gary Haggarty was a police informer for 13 years
Lawyers acting for a relative of one of Haggarty's victims have launched a legal challenge in an attempt to overturn that decision.
The government and all of the political parties have repeatedly said agreement on how to deal with the legacy of the Troubles is a priority, but such agreement appears as far away as ever.
Secretary of State James Brokenshire will finally launch his long-promised public consultation on how to deal with legacy issues early in the New Year.
It will include a question about a possible statute of limitations.
Image copyright
Getty Images

Image caption
James Brokenshire will launch a consultation on legacy issues
The consultation will not tell him anything he and the parties do not already know.
It is likely to simply reinforce how contentious the past remains, and how far apart the parties are.
The prospect of an agreement on how to move forward on the issue is remote.
Top Stories

North Korea: New sanctions an act of war
The country condemns the US-backed United Nations moves against its missile and nuclear programmes.
24 December 2017


Navalny 'nominated to run' against Putin
24 December 2017


Many feared dead in Philippines mall fire
24 December 2017

Features

'She gets Louis Vuitton bags, he gets firearms'
Video
The science of beating slippery ice
Model's fatal fall shocks an industry
Video
Merry Christmas v Happy Holidays
Breakthroughs put diseases on the back foot
Your pictures: My Christmas
Video
Michael Schumacher in a nativity scene?
Modern women in the land of Genghis Khan
2017 Quiz Of The Year – Part Four
Why you can trust BBC News
BBC News Services
On your mobile
On your connected tv
Get news alerts
Contact BBC News
The post Troubles cast long shadow over politics and justice appeared first on Shareabler.
This post first appeared on Shareabler, please read the originial post: here