The Eagles beat the Patriots to win the Super Bowl! I was, like many area folks, standing stunned at the end, but my plans were in place: I had already decided we were driving immediately into downtown Philly. I knew it was going to be a celebration like no other at City Hall. And my boys, Football fans though they ain't, were going with me!
In my career, I spend lots of time around people much younger than me, many of them from other parts of the U.S., some from abroad. A good chunk don't give a whit about football.
As this playoff run developed (so you know, I picked the Eagles to win all three games, which helped net me $35 in a playoff pool with my neighbors), I advised them: You're in Philly. Get on board with this. It'll be something to experience.
Numerous writers have written about the underdog complex of the City, one captured in Rocky, and how it strongly manifests itself through football. In some ways, it's hard to describe, but in another, it's not. In football, you have a small division with three other teams. For the Eagles, it's a team from New York (the Giants, four Super Bowl titles), a team from Washington (the loathsomely-named Redskins, three Super Bowl titles), and a Dallas team (the Cowboys, five Super Bowl titles). For years, the Eagles have battled these opponents, teams hailing from places that create complex feelings in Philadelphians because of sharply contrasting geographies.
Being sandwiched between the important, world-renowned cities to our north and south, and being cast against the alien lifestyle of Texas (my Drexel students never heard of Dallas the show, but that would help them get at it) has helped create a generalized mindset in many Philadelphians. The Eagles, representing this town, have been the one team that has never been able to win it all.
It feels — and I suppose time will tell — that now the monkey is off Philly's back.
As I told my students to get on board, so also I told my sons that if the Eagles won, we were going into Philly that night. They entered Super Bowl night like they enter every football game: Meh. They watch and love soccer.
They chose to stay home Sunday and watch the game with our small crowd (including my as-of-Sunday rabid football fan wife). As this incredibly exciting sporting event unfolded, I saw them get swept up in it all. Their Dad isn't a Patriot hater. But they realized this back-and-forth affair against the all-time greatest dynasty, the Patriots, with the best football player ever, Tom Brady, carried a special power.
I stood up throughout the fourth quarter. My youngest, still a little guy!, was next to me in his PJs. When Brandon Graham stripped the ball from Brady I looked over, and I didn't recognize this fan, eyes brimming with excitement. "We're going in the City, right?" he said. "I better go get changed!"
Of course, I knew it wasn't over until the ball rested on the ground in the Patriots' end zone. I never counted Brady and Gronk and the rest out.
When I told people during the week that we were going, some said, "It'll be a dangerous madhouse down there!" But I knew it wouldn't be. I felt that it would be more as if Philly had triumphed in a long, wearisome battle, a sailors-dipping-sweathearts kind of night with people using collective first person and high-fiving strangers. It's hard to even say there was the occasional jerk in the sea of tens of thousands of people (see below). We walked to City Hall, made a hundred or so new friends, and then walked back to our cars, bellowing in fellowship to almost every passing car.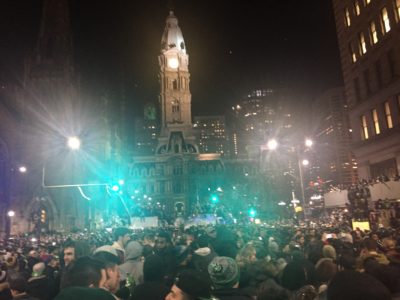 Hey, I'm no super fan. I don't have season tickets and pets named "Jerome" and "Jaws." But I have enjoyed my Sunday guilty pleasure, watching football, for decades. And I do love to watch the Eagles.
In Philly that night, I was like a lot of other people, honking horns and hugging strangers. The kids had never seen me like this. That night, they loved the Eagles. More importantly, I think they loved Philadelphia and were, rightly, extremely proud of it.
I was glad to have shared it all with them. Now it's on to the parade!