Love poems are a collection of such remarkable and beautiful words unfolding the passion of a person for his or her lover. The feeling of Love surpasses every other feeling in the world. It is a fact that when you love somebody, you have made sure that you are now able to spend all your life just thinking about the boy you love. You see him in your dreams, when you are at work, when you are trying to sleep, when you are going anywhere; just basically everywhere you go, you have that person in your mind. Here are some of the romantic love poems for him and hopefully your loved one will be able to embrace your tiny gesture hence allowing you to come closer. Show your feelings with the best love poems for him!
I love you
I love you for giving your heart to me
And trusting me with your pride
I love you for waiting me
And needing me by your side
I love you for the emotions
I never knew I had
I love you for making me smile
Whenever I feel sad
I love you for your thoughts of me
Where I'm always on your mind
I love you for finding that part of me
That I never thought I'd find
I love you for the way you are
And for how you make me feel
But almost of all I love you
'Cos I know you're mine for real
Valentine poem
Romantic poem
How Do I Love Thee?
How do I love thee? Let me count the ways.
I love thee to the depth and breadth and height
My soul can reach, when feeling out of sight
For the ends of Being and ideal Grace.
I love thee to the level of everyday's
Most quiet need, by sun and candlelight.
I love thee freely, as men strive for Right;
I love thee purely, as they turn from Praise.
I love thee with the passion put to use
In my old griefs, and with my childhood's faith.
I love thee with a love I seemed to lose
With my lost saints,—I love thee with the breath,
Smiles, tears, of all my life!—and, if God choose,
I shall but love thee better after death.
Elizabeth Barrett Browning
Loving words
I love him
Another Valentine
Today we are obliged to be romantic
And think of yet another valentine.
We know the rules and we are both pedantic:
Today's the day we have to be romantic.
Our love is old and sure, not new and frantic.
You know I'm yours and I know you are mine.
And saying that has made me feel romantic,
My dearest love, my darling valentine.
Wendy Cope
Husband poems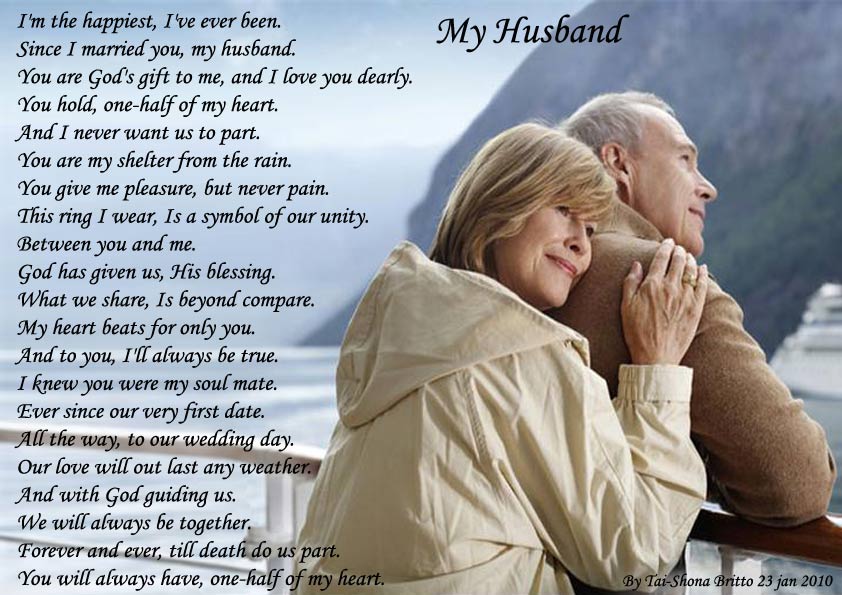 You make me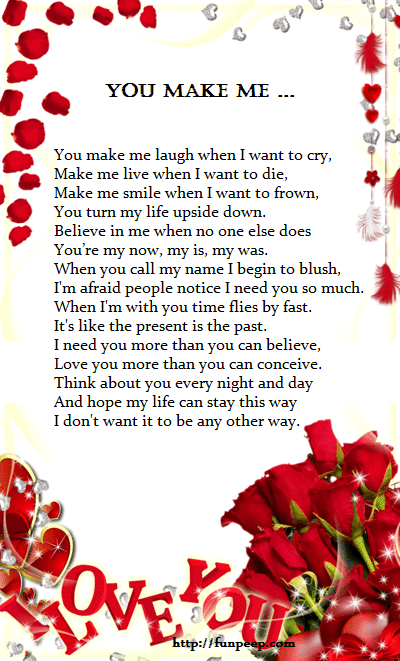 You are the reason
To my Dear and Loving Husband
If ever two were one, then surely we.
If ever man were lov'd by wife, then thee;
If ever wife was happy in a man,
Compare with me ye women if you can.
I prize thy love more then whole Mines of gold,
Or all the riches that the East doth hold.
My love is such that Rivers cannot quench,
Nor ought but love from thee, give recompence.
Thy love is such I can no way repay,
The heavens reward thee manifold I pray.
Then while we live, in love let's so persever,
That when we live no more, we may live ever.
Anne Bradstreet
Love Poems for him
As long as you love me
Wild nights–wild nights!
Wild nights–wild nights!
Were I with thee
Wild nights should be
our luxury!
Futile the winds
To heart in port–
Done with the compass,
Done with the chart!
Rowing in Eden–
As the sea!
Might I moor, tonight,
In thee!
Emily Dickinson
Missing You
Love poems
Can't let you go
Love Song
My monkey-wrench man is my sweet patootie;
the lover of my life, my youth and age.
My heart belongs to him and to him only;
the children of my flesh are his and bear his rage
Now grown to years advancing through the dozens
the honeyed kiss, the lips of wine and fire
fade blissfully into the distant years of yonder
but all my days of Happiness and wonder
are cradled in his arms and eyes entire.
They carry us under the waters of the world
out past the starposts of a distant planet
And creeping through the seaweed of the ocean
they tangle us with ropes and yarn of memories
where we have been together, you and I.
Margaret Walker
The man in my dreams
Boyfriend Poem
Poem for My Love
How do we come to be here next to each other
in the night
Where are the stars that show us to our love
inevitable
Outside the leaves flame usual in darkness
and the rain
falls cool and blessed on the holy flesh
the black men waiting on the corner for
a womanly mirage
I am amazed by peace
It is this possibility of you
asleep
and breathing in the quiet air
June Jordan
What is love?
My love for you
Love poems from heart
The post Love Poems for Him to Capture His Heart appeared first on Fun Peep.