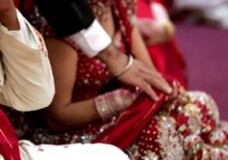 Art of Video presents the wedding of Amardip and Taranjit held on April 19-20, 2014 at
Dunwin Gurudwara Mississauga
and Le Jardin Vaughn Ontario. I met Amardip and Taranjit through a referral I received from a photographer in the industry, they were friends from high school. When we met, we hit it off and our personalities seems to click, which is indeed important when we would be spending so much time together during this important time in their lives.
They both wanted something different for their highlights to be shown at the reception, which I proceeded with some of my ideas. Our brainstorming session was intense and fun and resulted in some very cool ideas. Winter set in and we kinda got busy in our lives and lost touch for a while until earlier this year when Taranjit contacted me with an idea she got inspiration from Esha Deol's Wedding highlights.
Since they both are so family oriented, they want to involve their families in the video and make it something real. I loved this since we too are trying to move away from that whole bollywood stuff that was so trendy 5-10 years ago. The resulting video was a success with Taranjit praising us during her speech at the reception (see our facebook page for the video) which for me meant the world. Congratulations to you both and wish you a happy married life!
Our Services : Indian Wedding Video Indian Wedding PhotoIndian Wedding Photographer Indian Wedding PhotographySikh Wedding VideoSouth Asian Wedding VideoPakistani Wedding VideoPunjabi Wedding VideoToronto Wedding Video
Please take time to watch our work and contact us for an appointment.The videos on our website are divided into categories (select on your right) for easy navigation. We look forward to hearing from you.
PS: Don't forget to visit our YouTube Channel for more videos!http://www.youtube.com/subscription_center?add_user=artofvideo1