Ugh! You have invested so much of your time, energy and even resources in training your puppy. You have taken him out to be confident around many people and situations. Everything was going really well, that is, until…
that one day when it appears Fido has completely forgotten everything you taught him. You call him and he runs the other direction.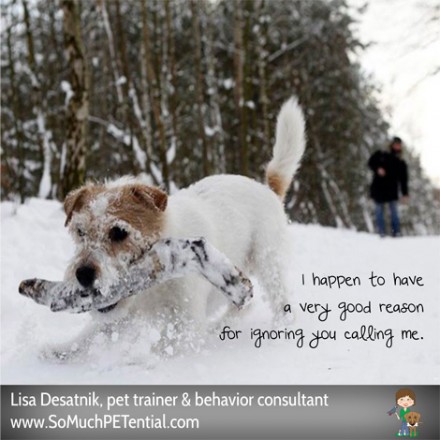 What the heck happened to your perfect adolescent puppy?
Well, do you remember when you went through puberty – that time when your body goes through many changes, you are wanting more independence and doing a lot of testing and asserting yourself?
Dogs go through that too, and when they do, their ears can suddenly become hard-of-hearing.
Welcome to the dog flight instinct period!
I learned in a class from Gayle Fischer, an internationally renowned speaker, dog trainer and behaviorist, that this developmental period correlates with when your pet's ancestors, the wolves, migrate from their summer den where the puppies were born to their winter quarters. That trek requires more independence and this is when the adolescent wolf puppies are more interested in exploring their world.
The Flight Instinct Period usually occurs when puppies are between four and eight months old – earlier for smaller dogs. Lucky for you, it only lasts a few weeks. That is, if you stay the course with your consistency as a teacher. Remember, behaviors that have reinforcement histories get repeated…even unwanted behaviors!
(Also, as a side note, it is somewhere in this window of time that your puppy will also experience fear periods and have increased needs for chewing but those are topics for another day.)
What can you do to contain that Flight Instinct Period so that it isn't extended into adulthood?
For starters, take a deep breath, do not get discouraged and recognize that this is a stage that will pass if handled correctly.
Then put back on that teachers hat and remind yourself that your job is to create lessons where you are helping your friend to succeed.
That means:
Going back to the basics and practicing those skills of recall, attention and control behaviors just as sit and down in environments where your dog can continue to focus.
Keeping your dog on a leash or long line outdoors until this phase passes.
Using high value reinforcers for behaviors when you are outside that can include food, an activity your dog loves, or the opportunity to go back to what he was doing before being called by you.
Never calling your dog or asking for another behavior when you know you will both fail; and never giving chase to your dog if have mistakenly called your dog in one of these times and he ignores you.
And never call your dog to come if something aversive (from your dog's perspective) is going to happen when he gets to you.
Lastly, I will repeat, know that you have the ability to keep this period contained. You have many years of friendship ahead of you.