List Of The Best Animated Movies With Pets And Animals
Continuing with our list of all time favourite movies with
Pets
and Animals is none other than animated films. While both films with real life and animated characters serve the similar purpose of leaving us with warm fuzzy feelings on friendship, love and trust, animated films have always existed as a greater alternative for children! Lately, technology behind animation have developed tremendously, providing us with story-lines that impact our thoughts and senses even more.
What Can We Learn from These Movies?
Well we can be sure of comedy for the most part, but the underlined messages in all of them are the same; What if animals and Pets had voices? Have they always been communicating with each other, and even us for that matter?
Source
These films help us put those imaginary thoughts to real life on screen, teaching us that Animals have feelings too, they could go through heartbreak, feeling loved and having fun like us humans too, and this is how things would be if they could actually speak. Of which is always intriguing to realise that we could relate to most events in the movies too! Without further or do, this is our list of best animated Pets and Animal movies, from the past and present
☺
Dumbo (1941)
A film by Walt Disney Studios depicting the life of a circus elephant (Dumbo). Dumbo was born a little different, he had way larger ears than any other elephant did. But his mother loved him all the same, and even more so to protect him from the mockery by other elephants and animals in the circus. An accident during a performance soon leads to disaster and Dumbo's mother was sadly locked up after. Dumbo now has to find his own way with the help of a new found friend, a mice named Timothy, discovering his true self and potential through faith, trust and a little bit of courage.
Source
He learns that he can fly with his exceptionally large ears, crowning him as the top attraction in the circus and is reunited with his mother once again. Honestly, this reminded us of a mothers' undying love and faith for their children, and how a good friend can often play a huge part in our lives!
Bambi (1942)
Another Disney Classic based on a novel uncovers how a young fawn Bambi discovers the complications of growing up in a forest without a father figure and with his many animal friends. A rabbit (Thumper), a skunk (Flower) and a fellow fawn (Faline). Follow Bambi's journey as he encounters the loss of his mother from the inevitable threat of mankind (hunters), which led his father to return and reveal himself.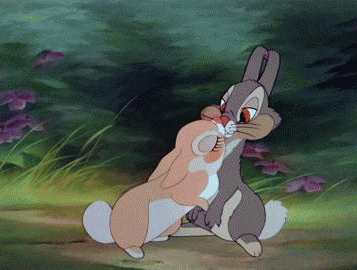 Source
This leaves Bambi and his friends cynical at the thought of love. This all changes as they mature and each friend found their love while growing up. Bambi too falls in love with Faline, and eventually took on the role of his father as the Prince of the forest. Courage and friendship at its best!
Lady and The Tramp (1955)
Ahh, we could never forget this classic. Are you remembering the spaghetti and meatball scene yet? An all in one movie about a Spaniel (Lady) learning the harsh reality of life through meeting a stray (Tramp) and their trusted canine buddies. Lady was feeling neglected soon after her owners had a newborn baby, and she struggles to understand why with her friends and Tramp trying to convince her that all Dogs get abandoned when there's a baby around, all whilst being misunderstood by her human owners repeatedly.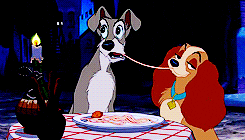 Source
The heart-wrenching tale eventually has a happy ending, but watch closer and you'd realize how it is truly relatable to our lives with Pets. We could only ponder this thought throughout: If only we could understand animals better! So much pain in silencecould've been adverted.
The Land Before Time (1988)
Taken place when Dinosaurs existed, this movie is a touching tale of how a young Brontosaurus (Little Foot) grows up with the initial protection of his mother while Dinosaurs were being forced out of their lands due to climate changes.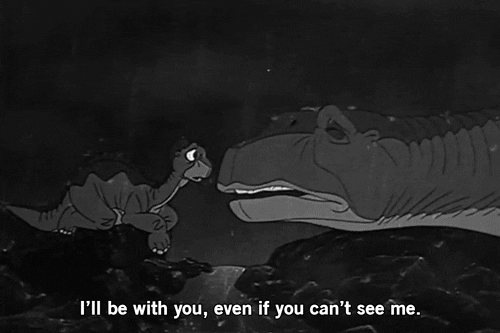 Source
Little Foot makes friends with Dinosaurs of different species as they travelled with their families, experiencing the loss of his mother and developing friendships along the way. Join their grueling journey growing up while braving dangers and reuniting with their families in the end. Trust us, you're bound to tear up at this one too!
A Bug's Life (1998)
Peek into the world of bugs starring Flik, the creative inventor and a working ant of his colony. We discovered the many interesting facts about Ants and possible relations to other bugs in the wild as we watch how they resolve issues amongst their own, with other bug groups, and strive to live peacefully and harmoniously together in a world we much larger than we'd ever imagine.
Source
We could only imagine is going on without us noticing. Who could've imagine there was social hierarchies in the world of bugs too?!
Finding Nemo (2003)
A popular animated film of a new born clownfish (Nemo) and his journey of growing up in the dangerous ocean with his father Marlin. Nemo was the only surviving egg after the attack of a predatory fish which caused Nemo to be borned with a smaller fin that affected his swimming abilities.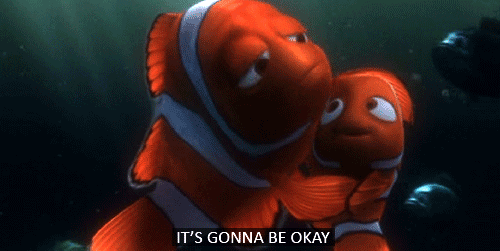 Source
This leads Marlin to be a little over-protective, and Nemo tries to prove his father wrong but is unfortunately captured by humans. Marlin meets a forgetful Doryfish (Dory) while trying to rescue Nemo and soon find themselves dragged into insane adventures. A feel-good movie on love, trust and friendship!
Madagascar (2005)
A perfect depiction of how animals in the Zoo might have mixed feelings about being in captivity. The group of animals; a lion (Alex), zebra (Marty), giraffe (Melman), Hippopotamus (Gloria) and scheming penguin trio (Skipper, Rico and Kowalski) escapes the Central Park Zoo from running after Marty, whom was getting bored of his life at the zoo. They are then shipped off and accidentally washed up onto the shores of Madagascar.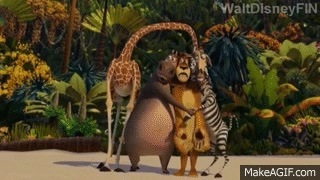 Source
The group of animals which had been in captivity soon learns that living in the wild isn't a piece of cake, coupled with complications of predators and new found friends. This movie has a humorous story-line that teaches us how captivity of animals actually handicaps their natural instinct in the wild. Hilarious and educational, an unforgettable one!
KungFu Panda (2008)
Immerse yourselves into the life of a clumsy but determined panda (Po) as he struggles to achieve his dreams of becoming an excellent Kung Fu Master and joining his childhood heroes Monkey, Tigress, Mantis, Craneand Viper. Before Po could fully achieve his dreams, an escaped prisoner (Tai Lung) strikes to take revenge on the heroes Kung Fu trainer.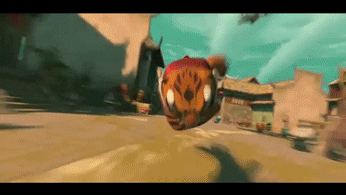 Source
Po learns that he was the chosen Dragon Warrior, a role destined to defeat Tai Lung. Watch how Po's determination got him through to gaining the trust of his new found band of veterans and defeating the villain with the help of teamwork and friendship!
Zootopia (2016)
Discover your inner-animal character as this movie carefully structures its characters in actual human lives. The combination of our everyday activities like work and dealing with different personalities is played by a Rabbit parking officer whom aspires to be in the Police force (Judy). Judy decides to prove her worth to her superior by taking on a task that leads to countless of issues; dealing with thugs, saving the city from an epidemic and forming an unlikely alliance with a fox (Nick), an ostracized member of the society.
Source
This movie has cleverly infused Human characters with animal behaviours unique to their own kind, while reminding us that sometimes, giving second chances could very well lead to someone's ultimate potential in success. We shouldn't judge another so quickly or conform to stereotyped thinking!
The Secret Life of Pets (2016)
The movie is exactly as its name sounds, enabling us to imagine a world through our Pets' lives, and how everything we do can indeed affect them, in more ways than one. What do you think your Pets are doing while you are at work or out?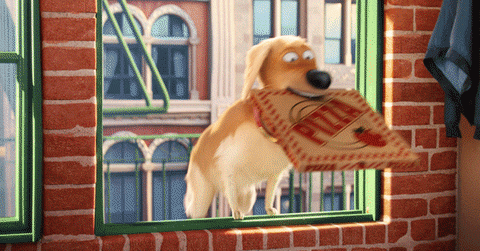 Source
Let a pampered jack russell (Max), and his friends from the same apartment building; a dachshund (Buddy), pomeranian (Gidget), pug (Mel) tabby cat (Chloe) and a budgie (Sweet Pea) show you a world behind the lives they lead as Pets. From experiencing jealousy by a new Pet addition in the home, meeting strays for the first time, forming friendships and escaping vicious clutches of other animals and humans outdoors.
Movie Reviews
These movies were the ones that left a lot of lasting memories for our childhood and current lives, don't you feel like re-watching some any time soon? Though these movies are animated, most of them actually have compelling messages that we could learn from, making them an excellent way of educating the young with a touch of humourous entertainment.
☺
Not a huge fan of animation? Then you may like this list instead!
The Best Pets And Animal Films Of The Past And Present
Your Stories Can Be Heard Too
Got a review of your own? Your voices are important to us and the Pets community! Our readers are encouraged to share their Pet-related reviews of a place and its services, experiences, even lifestyle tips and tricks to better our Pets lives, on our platform, one paw at a time. Be a part of an educational and informative Pets community because at ThePetsDialogue, your voices could make a huge difference on a global scale.
Source
Our website is a work in progress, however, if you did find our articles interesting please do feel free to share! For more Pet care tips and other Pet-related articles, head to www.thepetsdialogue.com
☺
Disclaimer
This article was written with informational purposes, as you know, we'd love to share our collective research and experiences as fellow Pet owners and lovers. It is not meant to alternate in any way as advice or diagnosis of Professionals. If you do wish to use any of our published information, you are welcome to contact us!