If you've been thinking about starting the Nutrisystem Diet, you might be put off by the cost. But you shouldn't be, because there's a simple hack for new members to get more than 50 percent off their meals.
I tried Nutrisystem back in 2014, and while I've never been a huge fan of dieting, this is by far the easiest and most delicious "diet" I have ever tried. Here's how to save (and lose!) big on Nutrisystem.
Step 1: Purchase $100 Nutrisystem Gift Cards from Costco for $79.99/each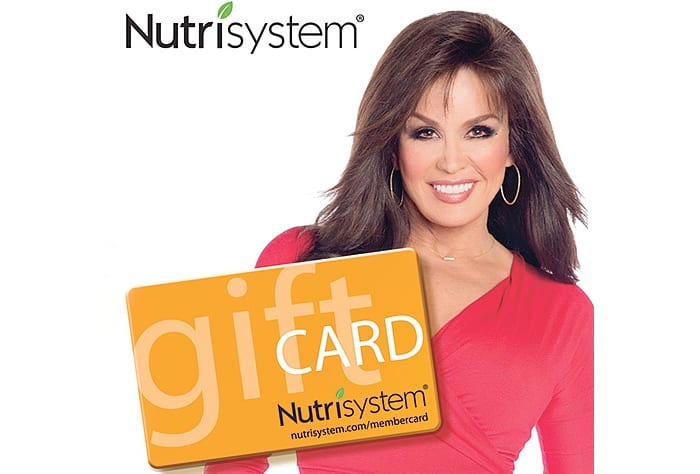 Costco carries $100 Nutrisystem Gift Cards that are regularly priced at $79.99 for a $100 card, so this automatically saves you at least $40-$60 a month, depending on which plan you choose. I went with the basic 28-day plan from the beginning, but paid a $19.99 upgrade fee so I could pick my own meals. Now they call this the "Core Plan" so the fee to choose your own food is included in the price of the plan.
The first month I had to purchase three cards, but for recurring orders I only needed two per month, and I usually had a remaining balance on one that covered the rest of my bill. After reading forums as well as reviews on the product page for Costco, I realized these gift cards go on sale only a couple of times a year, and have been known to drop to as low as $49.99! You can get them for $79.99 right now, and if you don't have a Costco membership but think you'll be on the plan for more then a few months, it's totally worth the $55 membership fee. Make sure you check out our Nutrisystem coupon page for the most current discounts.
Step 2: Sign-up for a Nutrisystem Plan
Nutrisystem is currently offering 40 percent off all auto-delivery orders plus a Lean13 kit, which includes seven TurboShakes, seven NutriCrush bars, and free shipping. There are a few other plans available but if you plan on staying on the program more than two months which avoids the $99 cancellation fee, this is the best discount in the long-run. If you plan on doing only two months, opt for the $25 off your first two orders plus the Lean13 kit plan.
You'll want to plan on sticking to the diet for at least two consecutive orders to avoid the $99 cancellation fee. There are three plan options: Basic, Core, and Uniquely Yours, which are all 28-day auto-delivery plans that include breakfast, lunch, dinner, and a snack or dessert. The cheapest plan is the Basic plan, but as I mentioned before, I recommend the Core plan so you can select your own food. It also includes access to their counselors, dietitians, and tracking tools to help you stay on track.
The Uniquely Yours plan is growing in popularity due to the fact it lets you pick frozen food items, so if you want more variety in your meals it might be worth the additional cost. Personally, I was content with the Core plan since the meals are more convenient to take on the go. They also have a long shelf life.
Step 3: Refer friends and family.
My final money-saving tip is to refer friends and family using your personal referral link. Note that if you do this for their first month, it will remove any other discounts (for example, the 40 percent off promo), so I don't recommend using a friend's referral link for your first month since the 40 percent off promotion will give you a better discount.
Step 4: Use the free nutrition counseling.
Brad's Deals editor Cindy is also on Nutrisystem, and she raves about the results she's gotten from Nutrisystem's nutrition counseling.
"I used to pay $99/month for one 45 minute visit with a nutritionist, and it was never as useful as the help and support I get from Nutrisystem," said Cindy. "I have talked to diabetes educators, counselors, and nutritionists at Nutrisystem who always give me the guidance I ask for. They work with my endocrinologist on customized options for my plan, and they call and check on me."
The Results:
Using the discounts mentioned above and assuming you're ordering the women's core plan during the 40 percent off promotion and paying $79.99 for the Costco gift cards, your first order should look like this:
Women's Core Plan:
$453.83 retail price
$272.30 after 40 percent off promo
Spend $239.97 for 3 $100 gift cards from Costco to cover your first month, leaving a remaining balance of $27.70 to apply to your second month.
Final cost: $212.27 or $1.90 per meal shipped, a savings of 53 percent!
Overall, this works out to being cheaper than your average TV dinner diet, and it is way healthier. I recommend adding tons of chocolate desserts to help fight cravings in the beginning and staying clear of the chicken breasts and hamburger patties (they taste strange, just go with the real thing if you're craving these items). I'm also a huge pasta lover, so I love the fact I get to eat pasta everyday and not feel guilty about it.
Between five months of Nutrisystem and getting back into a regular workout routine I lost about 15 pounds and was in better shape than I was in high school! I also had more energy and much leaner muscles, but that is probably more thanks to Blogilates than Nutrisystem.
Have you had success with the Nutrisystem diet? Let us know in the comments!