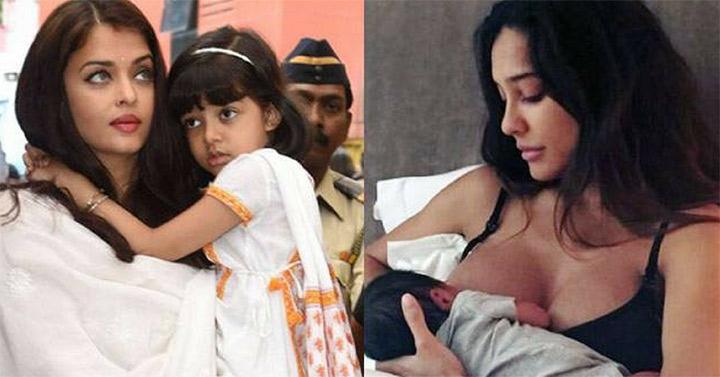 Breastfeeding was recently a hot topic of discussion on almost every avenue. This was mainly because of new mothers who were shamed for Breastfeeding their infants in public. While many feminists stood their ground, and chose to speak up about why such treatment is wrong, we also saw some creative advertisements created by different brands who came up in support of breastfeeding in public.
A dialogue has now begun about breastfeeding and why it shouldn't be viewed as an act of indecent exposure. This is a really positive thing because, for time immemorial, women with new babies have been confined to their homes just for the sake of breastfeeding, as it is not an 'acceptable' act in public and some people actually tend to take offence.
This also sometimes lends a negative attitude towards breastfeeding. On top of this, add the whole list of celebrity mothers who lose weight almost instantaneously after giving birth, and you've got tremendous, unnecessary pressure on struggling new moms.
But here are a few of our very own Indian celebrity mothers who have spoken in favor of breastfeeding and have also emphasized on why it is important not just for the babies, but also for the mother's themselves!
1. Lara Dutta Bhupathi
Lara Dutta, model and actor, and now wife of tennis ace Mahesh Bhupathi, says that motherhood is the best part of a woman's life! She also says that along with that, it is a great responsibility as well, which is why she feels the need to reach out to other new mothers and emphasize the importance of breastfeeding to them.
2. Nandita Das
Nandita Das, award winning actor and director, says that while she was aware of how important breastfeeding is for a newborn baby, she was not aware of the importance and health benefits of colostrum.
Colostrum is the first, thick discharge from the mother's breasts once the baby is born. It has a lot of health benefits for the baby, which includes bolstering the immunity and protecting it from any infections (1). This is nature's way of protecting the newborn, as the baby is very vulnerable soon after its birth.
3. Lisa Haydon
Another celebrity mother, who is also an active advocate of breastfeeding, is gorgeous model and actor Lisa Haydon. Known for her roles in movies like the critically acclaimed Queen and Ae Dil Hai Mushkil, she is a recent mother and she just cannot stop talking about why breastfeeding is so important. Haydon has a huge fan following on social media, Instagram in particular, and frequently uses her popularity to talk about and initiate conversations around breastfeeding.
4. Aishwarya Rai
Aishwarya Rai is another celebrity mother whose pregnancy was very closely followed by the public, and the paparazzi just wouldn't leave her alone. When she put on a lot of weight during and post her pregnancy, she was actually sharply criticized by the media for "letting herself go like that."
However, during that time, her family came out strongly in her defense and she also took it all in her stride, owning the Cannes red carpet in her plus-size gowns and absolutely stunning looks! She had her priorities straight – she wasn't going to spend her precious time in the gym when she should be with her newborn baby who needed her the most at that point of time.
5. Karisma Kapoor
Karisma Kapoor is also a big critic of the pressure that women in general, and celebrity mothers in particular, feel to shed all the kilos that they have gained while being pregnant. She asserts that it isn't healthy for both the mother and child, and that proper attention must be given to ensuring that a new mother's body always gets the right nutrients.
6. Sonali Bendre
Sonali Bendre suggests that new mothers should create their own unique story with their children (rather than going strictly by the book) because no two babies are the same. Hence, the time at which you need to wean them off breastmilk and such things will vary greatly from baby to baby.
7. Raveena Tandon
Raveena Tandon is absolutely against dieting at this point in the new mother's life. In fcat, Tandon says that new mothers should totally ignore the unrealistic pressure of getting back into shape too quickly. She actually suggests being in close consultation with one's ob-gyn and choosing the right kind of food. Tandon even goes on to say that breastfeeding itself helps mothers to shed weight as it burns calories (2).
Do you agree with the points made in this article? Let us know in the comments. And don't forget to share this with expecting (and new) mothers to encourage them to make healthy choices!
The post Aishwarya Rai And Lisa Haydon Have A Very Special Message About Breastfeeding! appeared first on MomJunction.