A Wedding Anniversary is the time to rewind your past. Those beautiful moments you spent together, those memorable experiences you had and the day when you said, "I do," all seem so fresh on this day.
You love your spouse and you hate them sometimes, you support them always but quarrel with them sometimes. But on this day, you realize what a Gift it was to have your spouse in your life. You thank God for gifting you the most suitable person as your spouse. And wedding anniversary is a time to gift something beautiful to your precious one. The gift needs to be useful, meaningful and lovable. So, what could that gift be?
MomJunction helps you with a long list of gift ideas. In the end, we also have year-wise theme-based gift ideas for your anniversary. Choose the one, which suits your loved one the best.
Heartwarming Personalized Wedding Anniversary Gift Ideas
Add a personal touch to the gift by personalizing it to your sweetheart. Here, we have some amazing personalized anniversary gift ideas:
1. Shining Memory Personalized Lamp: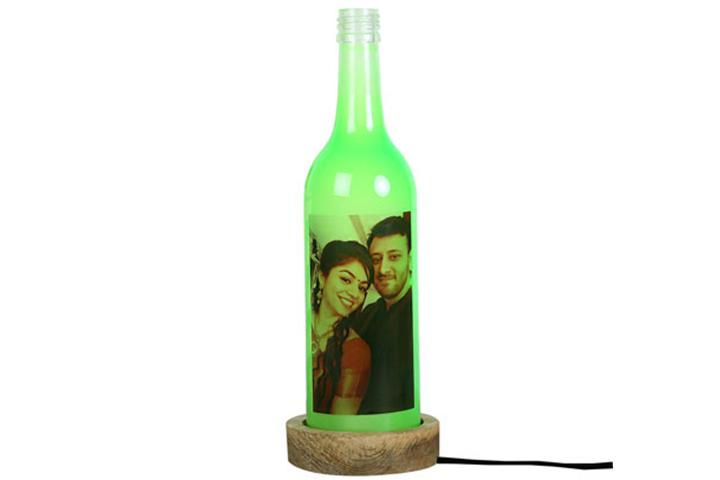 Treasure your best couple photo on a spectacular personalized lamp and gift it to your dear spouse. Find your couple photo shine all the time – even when the light is switched off. You get your picture flashing on a fluorescent green bottle, which also comes with wooden base and bulb. Your couple image does not fade away with time.
It costs $17.15.
You can buy it here.
2. Anniversary Photo Album: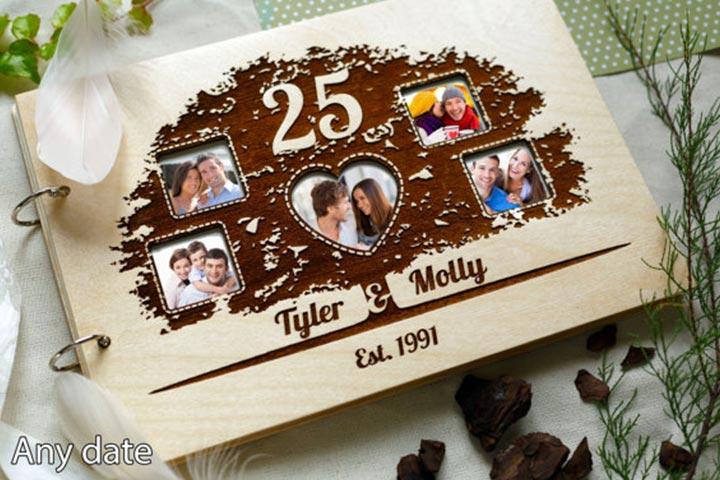 Cherish your pleasant, treasured memories by gifting your spouse a personalized anniversary photo album on your wedding anniversary. The album comes in the size of 8.5 x 12 inch with three layers of wood that makes it a beautiful solid book of your marriage memories. The cover page of the album comprises four windows, each featuring a memorable photo of both of you and a heart in the center with your eye-catching couple photo. You can change the pictures on the album.
It is priced at $50.03.
You can buy it here.
3. Personalized Photo Cake:

Please your beloved spouse by gifting a beautiful personalized cake featuring one of the best couple pictures of both of you on its top. The cake is an indispensable part of your wedding anniversary. You can order the cake of 1kg, 2kg, or 3kg. Order your choice of flavor, among pineapple, butterscotch, black forest, chocolate, and vanilla, and celebrate your wedding anniversary by making your spouse feel special.
It is priced at $26.51.
You can buy it here.
4. 'Together Since' Printed Couples T-Shirts: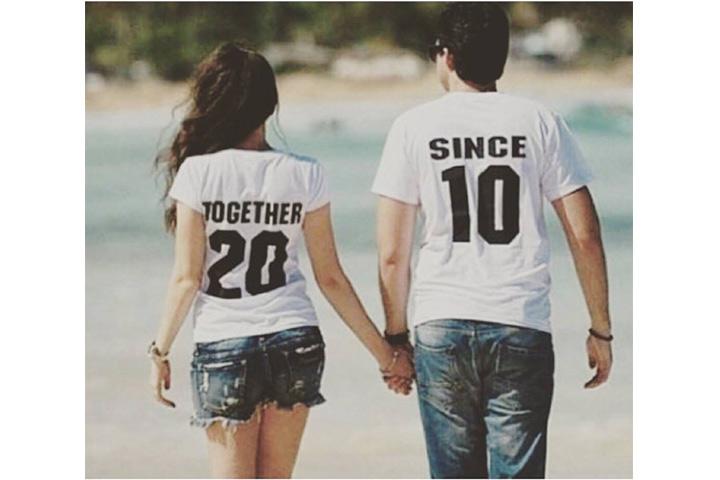 Sport stunning couples t-shirts that feature the longevity of your marriage. 'Together' is printed on one t-shirt and 'Since' on the other. Both the t-shirts put together show the year since when you both have been together. The couple's t-shirts are handmade and made of 100% cotton, so you feel comfortable in them. You can order the set of two as per your size and fitting requirements while placing the order. Your spouse is sure to love the anniversary gift.
It is priced at $35.
You will find it here.
5. Personalized Anniversary Journal: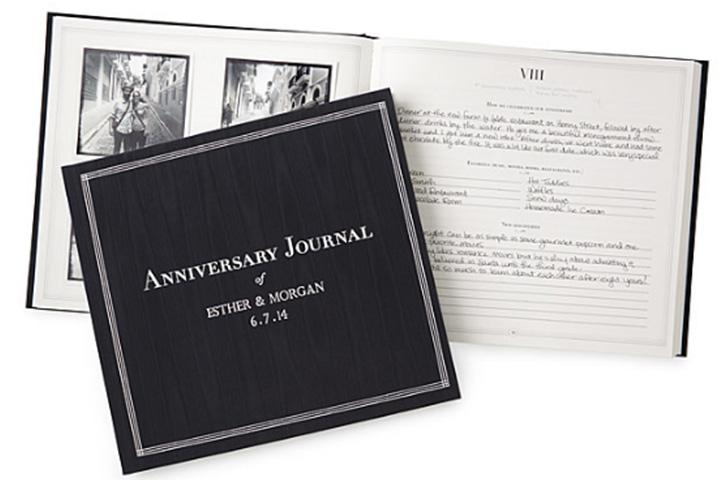 Your wedding was one of the most memorable and treasured happenings in your life. Celebrate your wedding anniversary by gifting your spouse a beautifully designed anniversary journal. You and your better half can record incredible memories from your first to the 60th year of the union in this attractive anniversary journal. Paste your most memorable couple photos on the left and illustrate them on the right. Also, each section comprises modern and traditional symbols for the year, ranging from paper to diamond. The classic design gives an attractive look to the journal. Black silk moiré binding, excellent quality of paper, shining foil stamped cover, and complementary storage box makes it a precious wedding anniversary gift for your spouse.
It is priced at $124.
You will find it here.
6. Personalized Paper Doll Portraits For Anniversary: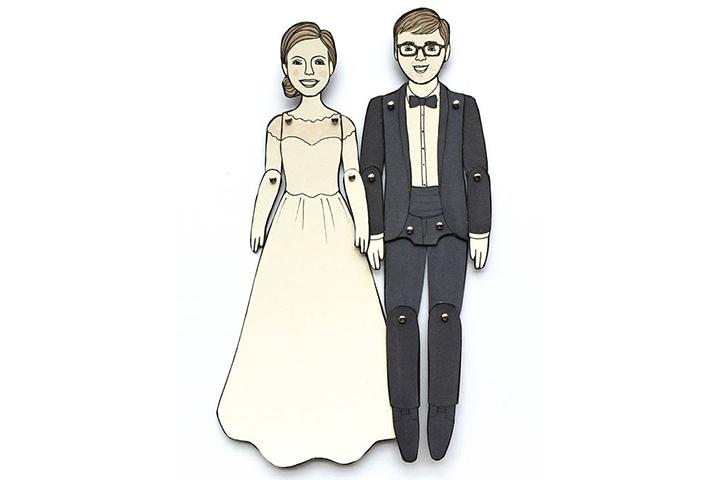 Celebrate your wedding anniversary by gifting your spouse an adorably personalized paper doll portraits that depict both of you as a couple. It is a gift that you both will treasure forever. Paper doll pictures are handmade artistically with great skill. You get these beautiful couple paper doll portraits as per your requirements with your photos fixed on them. These hand-colored paper dolls are made of thick paper and assembled by using tiny metal brads. You can order as many as want to gift your spouse and fix them on the walls of your bedroom.
It costs $1 per piece.
You will find it here.
Wedding Anniversary Gift Ideas For Him (Husband)
What are you planning to gift your husband on your upcoming wedding anniversary? Are you planning something special? Then choose it from our list of some fantastic gifts for men.
7. Grooming Gift Set: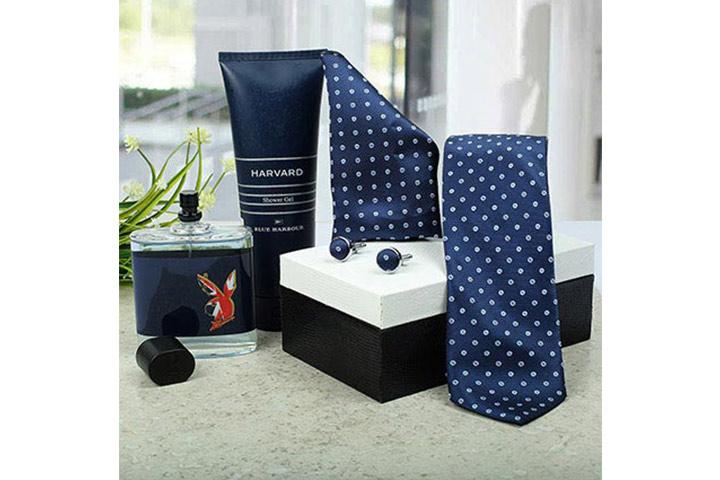 Help your husband stay well-groomed and sport a sophisticated look by gifting him a fabulous grooming gift set. The grooming gift set comprises a tie, pocket square, Harvard shower gel, cufflinks, and fragrant London Playboy Vaporisateur Spray that would help your dear spouse look dashing when in a navy blue suit. Your husband is sure to earn appreciable reviews from all around.
It is priced at $63.95.
You will find it here.
8. Spa Hamper For Him: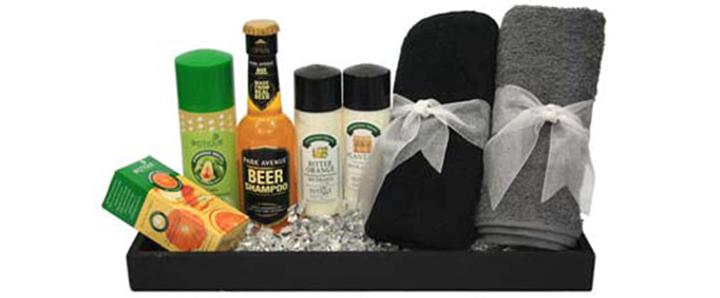 Show him how much you care for him by gifting him a spa hamper. The basket contains an aromatic body soap, body lotion, body massage oil, shave balm, shampoo, and black and gray towels. All the items are packed artistically in an attractive wooden tray. Give him a massage and make him feel like he is in a spa. It will relax him for sure.
It is priced at $42.11.
You will find it here.
9. Men's Wood Charging Station And Valet: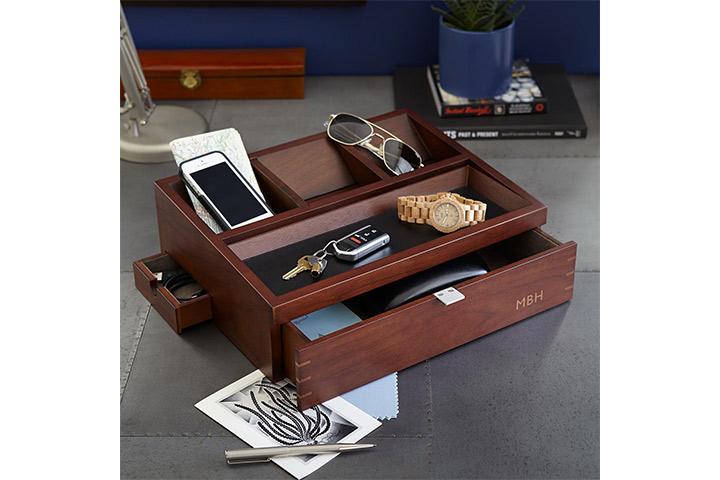 The secret of every successful man is an organized start of the day. So, gift your hubby this valet to help him begin the mornings in an effortless yet organized way. The charging station and valet are made of eye-catching walnut wood veneer with suede interior. It includes open catchall areas at the top for accommodating charging of various electronic gadgets such as tablet and mobile phones. Also, it has a hidden side drawer. You can flip up the backer if you are storing bigger devices such as tablets.
It is priced at $159.
You will find it here.
10. Personalized Golf Putter Set In Black Case: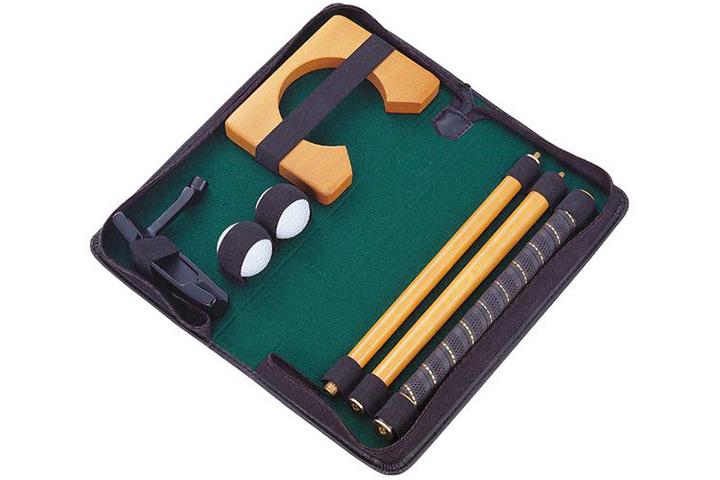 If your beloved husband is a golf player and travels often, please him by gifting a quality putter set on your wedding anniversary. Golf putter set that comes with a travel black zipper is an ideal gift for golfers who travel often. Your husband can hone his golfing skills wherever he is staying. The dimensions of the set are 13 ½" x 6 ¼" x 2 ¼", so it is portable and easy to pack with all necessary items to carry along when going on a tour. Your husband will love this fabulous golf putter set that inspires him to play golf even when he is traveling.
It is priced at $49.95.
You will find it here.
Wedding Anniversary Gift Ideas For Her (Wife):
Confused what to gift your beautiful wife? You can make your dear one feel special by giving her an incredible anniversary gift from our list here:
11. Solitaire Diamond Twist Pendant Necklace: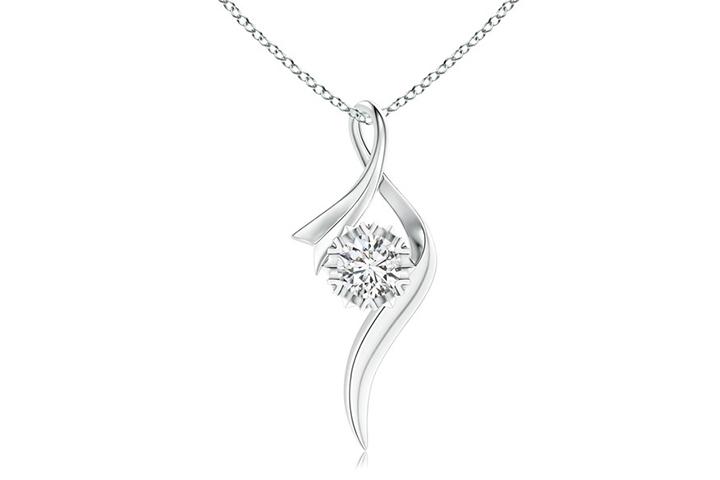 Diamonds are will surely please a woman. Gift your spouse a Solitaire Diamond Twist Pendant Necklace and see her reaction. The round diamond pendant of 14k white gold looks stunning. The 18-inch white gold chain comes free with the pendant. The shimmering round diamond is in a beautiful prong setting in a swirl.
It is priced at $2,459.
You will find it here.
12. Tattoo Love Tote Bag: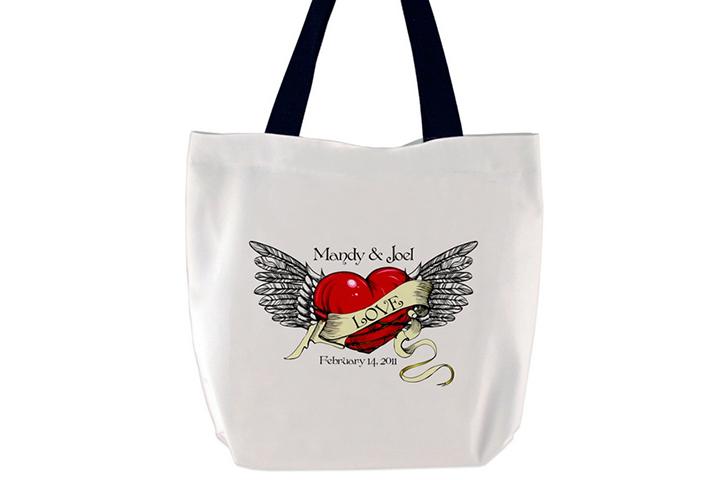 Gift your dear wife an adorable handy tattoo love tote bag on your wedding anniversary. The bag sports an eye-catching red heart with wings. You can also get your wife's name and your wedding anniversary date printed on it. The tote bag is100% polyester made up of heavy weave fabric and has black nylon straps. Measuring 16 1/2″ by 16 1/2″, it gives your spouse enough place to all her travel essentials in it.
It is priced at $28.15.
You will find it here.
13. Keepsake Box For Her: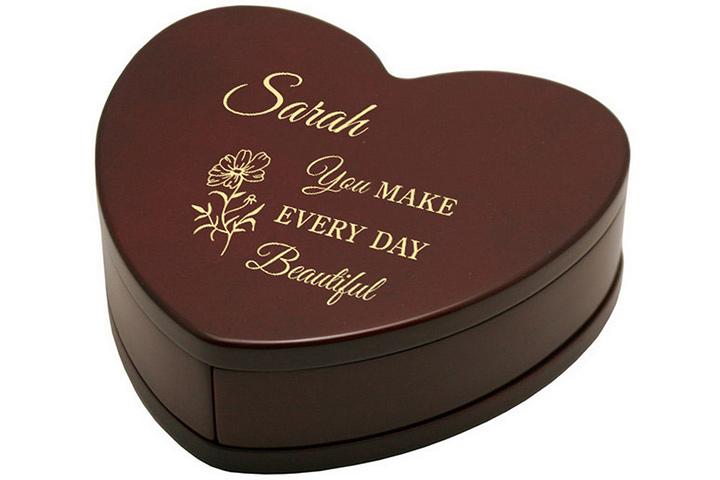 Impress your wife by gifting her personalized rosewood heart-shaped keepsake box on your wedding anniversary. Your spouse can store a variety of items, such as a pendant, cosmetics, jewelry, earrings, and many other accessories in the keepsake box. The article offers plenty of space to treasure trinkets and fine jewelry. The two separated compartments of rosewood look elegant. Your spouse is sure to like the quality, look and feel of the keepsake box. Every time your wife would use the bag, it will remind your love and care for her.
It is priced at $44.95.
You will find it here.
14. Cucumber & Olive Oil Spa Basket: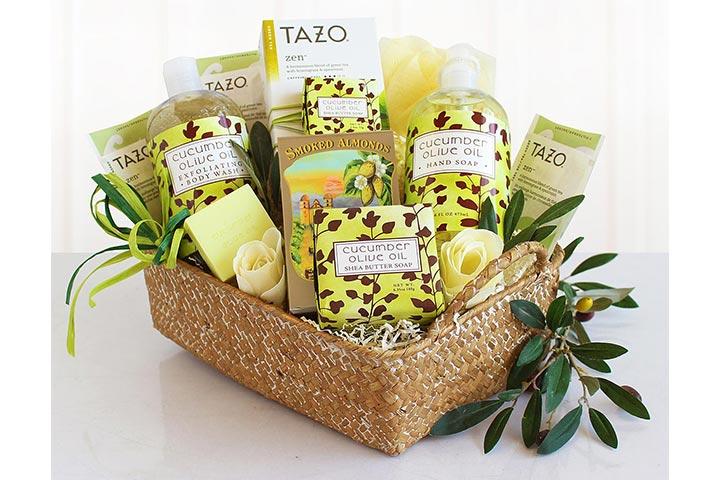 Pamper your wife with elegant cucumber and olive oil spa basket. The basket comprises natural olive oil and cucumber spa products that help your spouse to de-stress and feel relaxed. Cooling properties of cucumber and skin moisturizing properties of olive oil will help your wife unwind. The spa basket comprises cucumber and olive oil body wash, mini soap, bar soap, hand wash, loofah, and Starbucks Tazo Zen Box. Also, your wife would be glad to have a fabulous collection of teas and smoked almonds.
It costs $59.99.
You will find it here.
Simple Wedding Anniversary Gift Ideas:
Whether it is your first or 25th wedding anniversary, these gifts are suitable for any year. Read on to get some fantastic gift ideas to commemorate your anniversary.
15. Small Couple Embracing Cast Bronze Sculpture: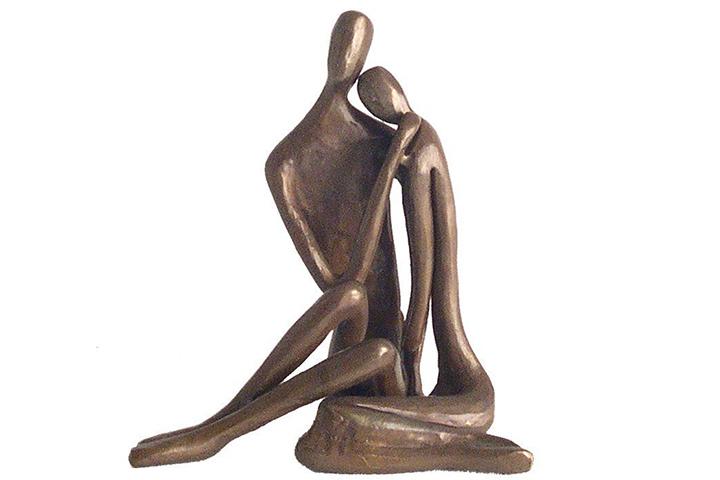 Gift your spouse a small cast bronze sculpture of an embracing couple. This handcrafted gift is a perfect way to convey your love to your beloved. The sculpture represents the power of your intimacy, love, and happy marriage. The ideal wedding anniversary gift will last forever, just like your love.
It is priced at $70.
You can buy it here.
16. Message Of Love In Bottle: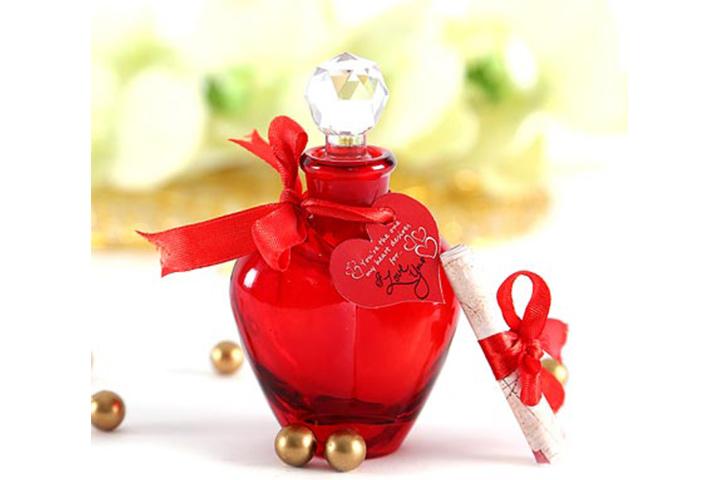 Did your love start with the exchange of love letters? Remind your spouse of the sweet little things you wrote to each other. Convey your sweetheart wife/husband your love on your wedding anniversary by gifting them a heart-touching 'Message of Love' in a lovely bottle. Your beloved's heart is sure to melt. Order an eye-catching red bottle with a cute red bow of red ribbon adorning the mouth of the bottle. The red ribbon flaunts a heart-shaped tag with an 'I Love You' message. Also, there is a personalized message closed in the bottle. Thus, it is an outstanding romantic way to express your love to your partner.
It comes at $6.23.
You can buy it here.
17. Mr & Mrs. Couple Cushion Covers: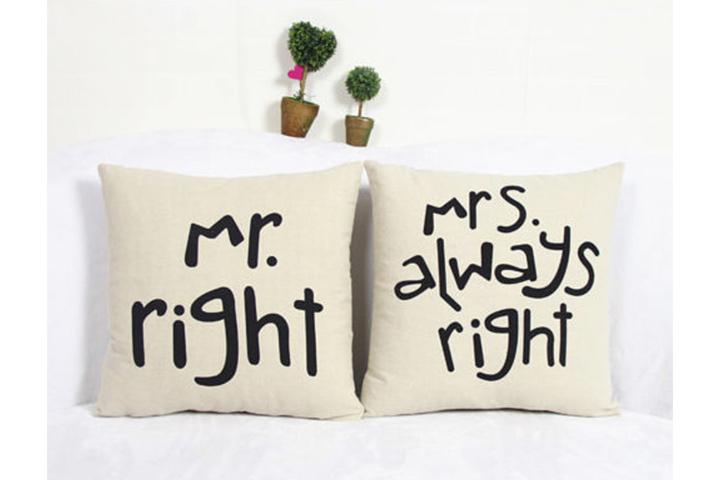 Your bedroom is your abode of love. Surprise your spouse by decorating your bedroom and adorning the pillows with Mr. and Mrs. Couple covers. One pillow cover reads 'Mr. Right,' and another reads 'Mrs. Always Right'. Attractive linen coverings comprise hemp fiber. The fabric is quite durable, highly comfortable, and environmentally friendly. The size of the cushion covers is 44cm x 44cm, and they are easy to wash and easy to dismantle.
Each pillow cover costs $10
You can buy it here.
18. Special Flower Hamper: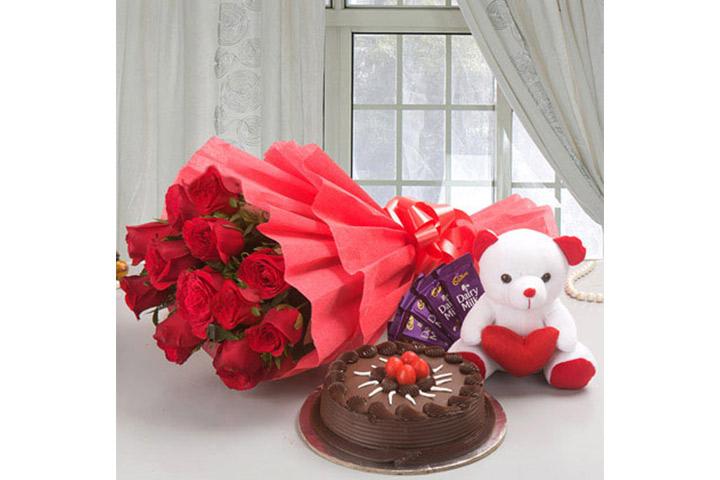 Bring a bright smile on your spouse's face by gifting an eye-catching flower hamper on your wedding anniversary. The unique gift includes a bouquet of 12 fresh, bright red roses, white and red colored an adorable teddy bear, five Cadbury Dairy Milk chocolates, and 500g chocolate truffle cake. Beautiful rose bouquet, with red paper and red ribbon bow artistic decor is sure to please your partner. Cut the mouth-watering chocolate truffle cake together on the special occasion and have wonderful memories to cherish forever.
It is priced at $26.51.
You can buy it here.
19. Anniversary Gift Set Of Greeting Card And Blackrose Oil Diffuser: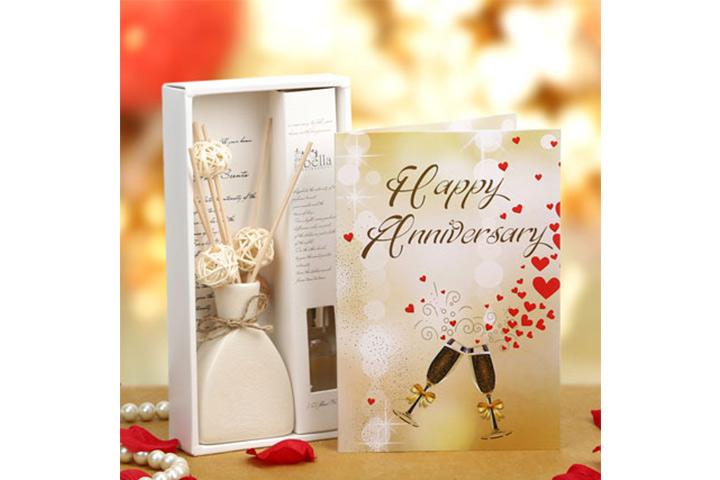 Make your beloved spouse happy by gifting an anniversary gift set comprising a lovely greeting card and a pleasant black rose oil diffuser. Event special greeting card is indeed a brilliant way to convey your love and feelings to your partner. Write your love message and best wishes for your spouse in the fascinating greeting card. Your spouse can treasure the heart-warming greeting card forever.
It is priced at $16.37.
You can buy it here.
20. Stainless Steel Watch Set: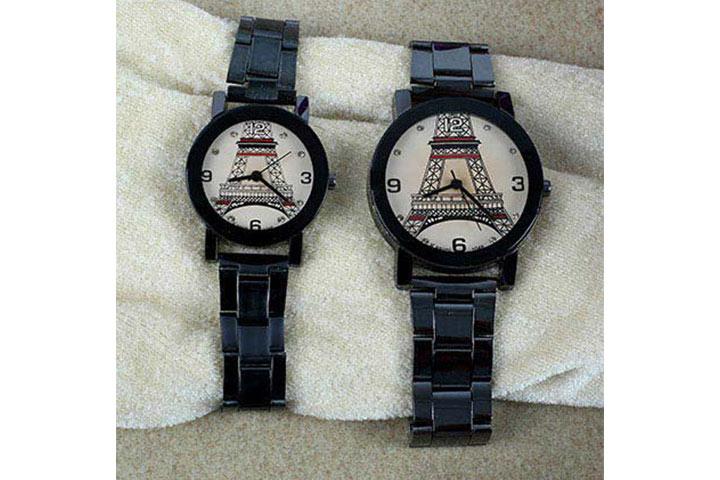 A set pair of fabulous stainless steel watches is a timeless classic gift for you and your spouse to celebrate the wedding anniversary. Both the watches feature an artistic design with beautiful rhinestones adorning your wrist. Every time you or your partner sees the time on your watch, you will remember your special wedding anniversary.
It costs $35.09.
You can buy it here.
DIY Wedding Anniversary Gift Ideas:
How about making a gift for your beloved? Use your creative skills and garnish it with your love for your spouse. Here, we list some fantastic DIY gift ideas:
21. Happy Jar: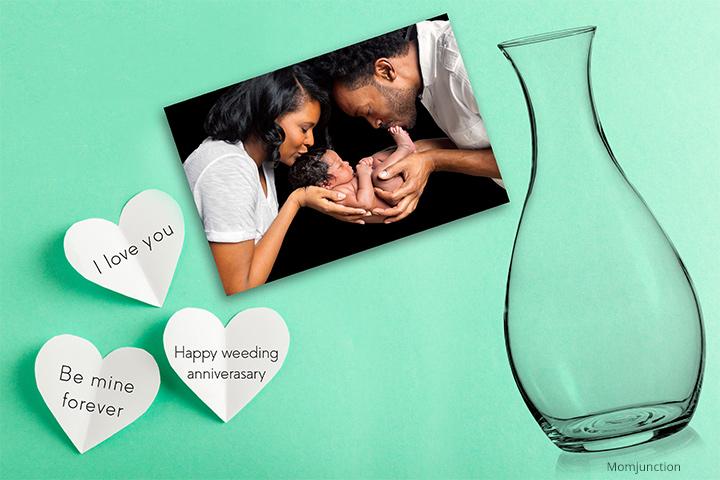 Your spouse will love a gift which you have created all by you. Create small notes and write all interesting things, and pleasant experiences and paste small beautiful photos that are sure to bring a smile on your spouse's face. For instance, you can print small pictures of both of you and kids, paste them together in a little note, write happy family below it, fold the note, and put it in the jar.
You will need:
A jar
Sheets of paper
A pair of scissors
Pen
Small memorable photographs
How to:
Cut little notes out of the sheets of paper by using a scissors.
Write something on each note that will make your spouse happy.
You can paste a small image of your child in the cradle, or your wedding anniversary and holiday photos, write a small note, fold the paper, and place it in the jar.
Fill the pot with all beautiful memories and gift it to your spouse.
22. '52 Things I Love About You' Deck of Cards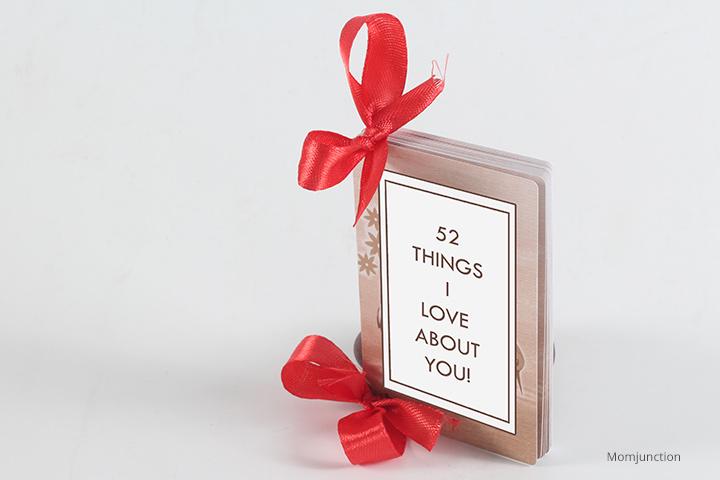 Create a deck of 52 cards such that each card in it bears one unique good thing about your beloved partner. Gift the deck of cards to your dear spouse on wedding anniversary to make your better half feel special.
You will need:
One deck of 52 Playing Cards
Glue
52 printed templates for the cards
Scissors
Pen
Binder rings
Hole punch
Ribbon.
How to:
Think about 52 amazing things about your spouse and make a list of them. For instance, 'I love your smile' and 'Your eyes are beautiful.'
Write one nice thing about your spouse on each printed template.
Cut 52 templates using the scissors and paste each template on each card.
Arrange 52 cards one above the other. Make a hole in the bunch of 52 cards by using a hole punch.
Tie the group of cards by using a ribbon or binder rings.
23. Love Vouchers/ Coupons: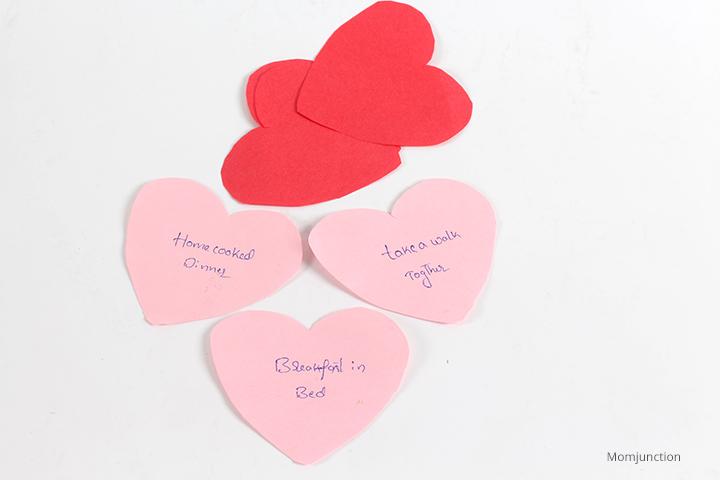 Another fabulous gift that can please your spouse on your wedding anniversary is love cards. Each voucher or coupon bears a romantic thing that you would enjoy with your spouse. For instance, 'Take a walk together'.
You will need:
A sheet of light colored card paper
Scissors
Pen
Hole Punch
Binder rings or ribbon
How to:
Cut small vouchers or coupons out of the light colored sheet of card paper by using scissors.
Fill these little cards with a love message for your spouse. For instance, 'Breakfast in bed,' 'Let's go for a trip,' or 'Have a home-cooked dinner'.
Group all love vouchers one above the other and punch a hole.
Tie all the love coupons with a ribbon. Gift the collected love vouchers to your spouse.
24. Wheel Of Good Fortune: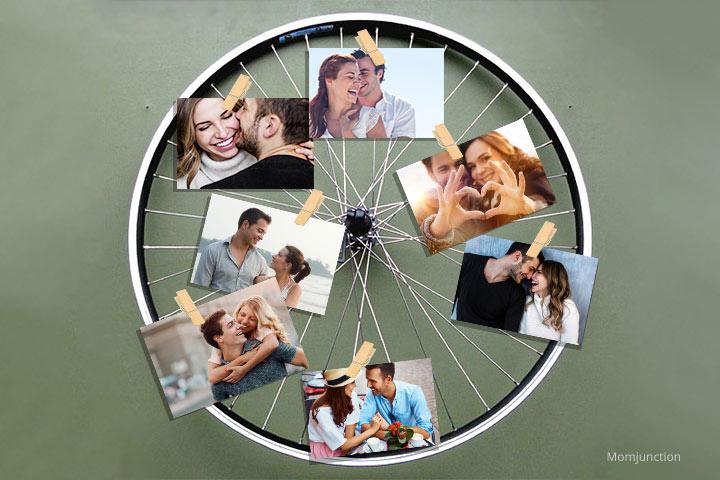 Express your love and affection to your dear one by creating a wheel full of photos of the most beautiful memories that both of you had shared together. The up-cycled photo arrangement on the wheel portrays the celebrations of your union. And, the gift is sure to please your beloved partner on your wedding anniversary. Also, your spouse would be happy to learn that he or she and your marriage occupy a unique space in your life.
You will need:
A bicycle wheel
Some photos featuring beautiful memories of both of you. For instance, wedding photos.
A dozen wooden cloth pins
How to:
Fix your pictures to the spokes of the wheel by using cloth pins.
Place the photos at different locations on the spokes.
You can fix the center of the wheel in your bedroom.
Aren't these wedding anniversary gifts ideas lovely? They suit any year of your anniversary, be it the first, tenth or 25th. But if you want to stick to the traditional gifting style depending on the year of your anniversary, we have some ideas for that too.
1st Wedding Anniversary Gift Ideas (Paper Anniversary Gifts):
Have you completed the first year of your union? Then, you must be celebrating your paper anniversary. Paper stands for the modest beginning of your marriage. So, make your start by making your beloved one feel special with a beautiful gift. Here, we have some fantastic ideas for your first anniversary.
25. Paper Jewelry For Paper Anniversary: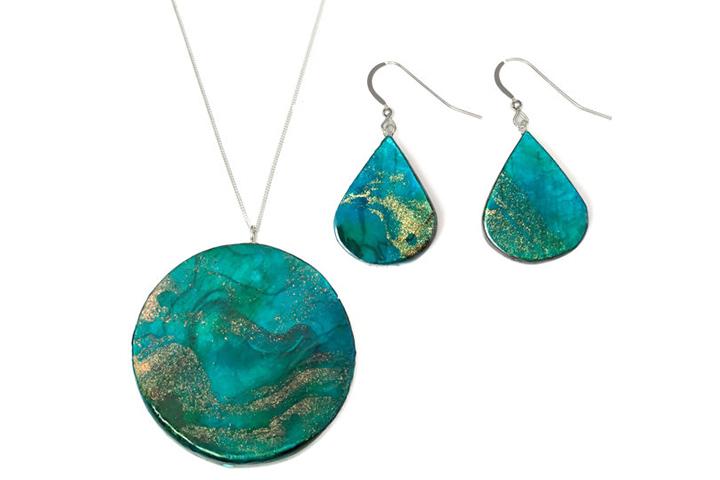 Make your wife happy with exceptionally beautiful paper jewelry on your first wedding anniversary. Gifting artistic and unique paper jewelry of your wife's favorite color is an outstanding way to express your love to her. The paper jewelry is made of rare Thai bamboo paper. Dyed and marbled bamboo paper gives an elegant appearance to it. You can see the color tones varying from teal to sea-blue. The gift includes matching necklace, paper earrings, gift box, and card. Your dear spouse can cherish wonderful jewelry for years to come.
It is priced at $149.
You can buy it here.
26. A Dozen "I Love Yous":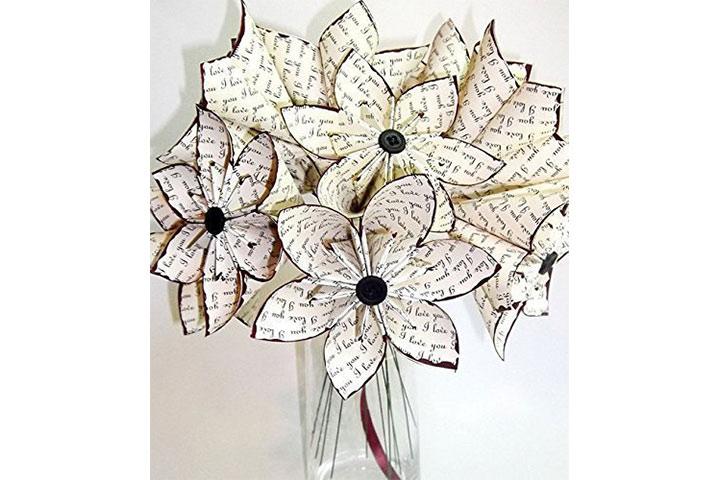 The 12 handcrafted flowers with 'I Love You' written on them will convey your message of love clear and loud. The 12 flowers represent 12 months of your first year of marriage. Your spouse will love to keep it for the next 12 years and beyond. The cream colored paper is dipped in rich red paint and finished with simple black buttons. You can customize the gift with your names and anniversary date.
It costs $75.
You can buy it here.
10th Wedding Anniversary Gift Ideas (Tin Anniversary Gifts)
Tin metal stands for the tenth year of your beautiful marriage. Tin represents durability and flexibility of your relationship. Tin safeguards other metals from rusting, and thus represents your wish to keep your relationship from rusting. So, make it special by gifting your beloved spouse fascinating tin gifts on the special occasion.
27. Handmade Tin Wedding & Anniversary Sundial Gift: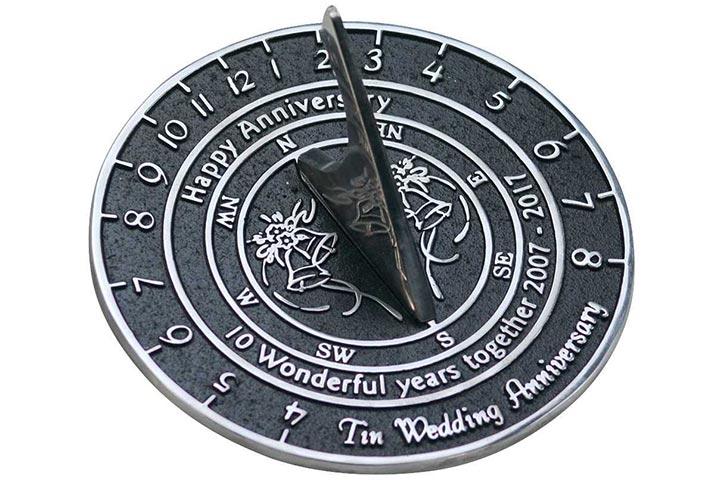 Your love has withstood the tests of time. After a decade of marriage, you have a strong bond with your spouse. The handmade sundial gift will remind your partner about the good times you both spent in the past ten years. It will also remind you that you have many more years to spend together. The sundials are handmade by English craftsmen. Designed from high-quality cast aluminum, they are fully lacquered for extra protection.
It costs $49.
You can buy it here.
28. Hand Stamped 10th Anniversary Key Ring: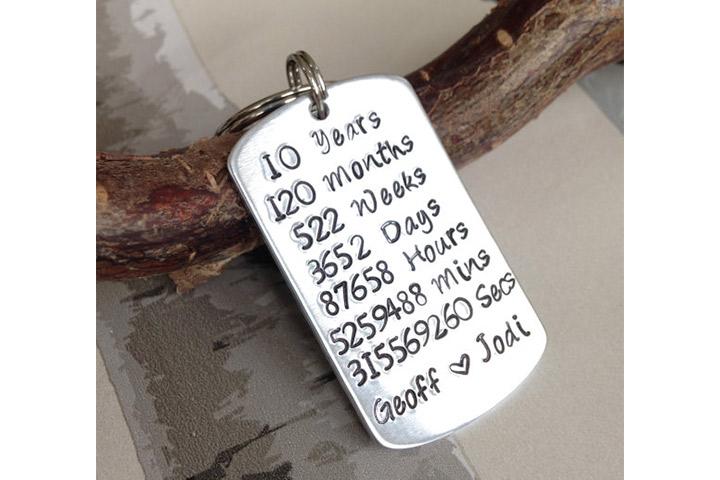 As you complete ten years of blissful marriage, gift your spouse a hand stamped anniversary key ring for daily use. Tin or aluminum key ring features the months, hours, minutes, days, weeks, and seconds that you spent together from your wedding till date. At the bottom of the ring, you can your names. The hand stamped gift is lightweight.
It is priced at $ 13.33.
You will find it here.
25th Wedding Anniversary Gifts (Silver Jubilee)
Silver represents the 25th year of your union. Your relation shines and is hard like silver. So, make it special by gifting your dear one with exciting surprises.
29. Personalized 25th Wedding Anniversary Silver Platter: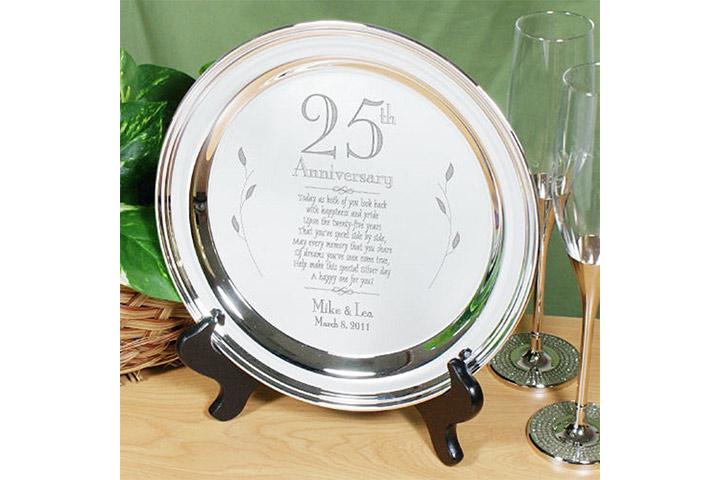 Put your feelings in writing, make those words into sentences and then a poem. Let your spouse know how much he/ she means to you, and how they have changed your life in the past 25 years. The silver platter has a love poem engraved on it. You can choose between two poems. The plate measures 10" wide and nickel-plated.
It is priced at $45.50.
You will find it here.
30. Two Tone Silverplated Wedding Anniversary Gift Photo Frame: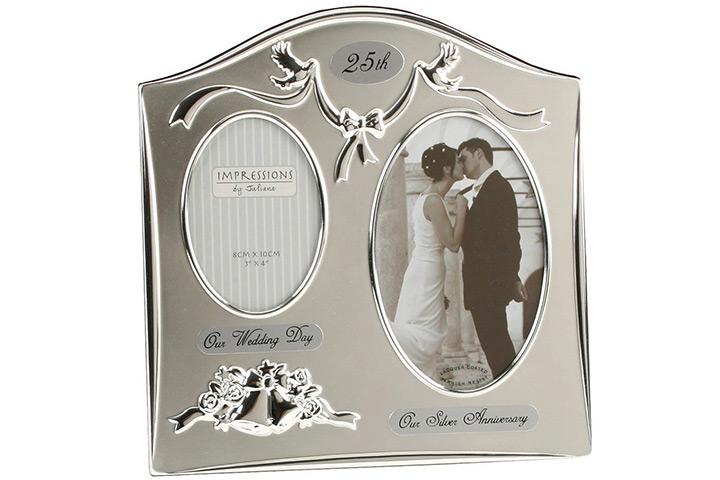 Let the day be frozen in a photo frame. The silver-plated frame has a place for two photos – one for your wedding day photo, and the other for your 25th anniversary photo. Every time you look at the frame, you will be reminded of your beautiful long journey with your spouse.
It is priced at $24.75.
You will find it here.
50th Wedding Anniversary Gifts (Golden Jubilee):
Completing half a century together is a great milestone. It is time you gift your spouse with some good golden gift that befits your strong relationship.
31. Gold Forever Rose: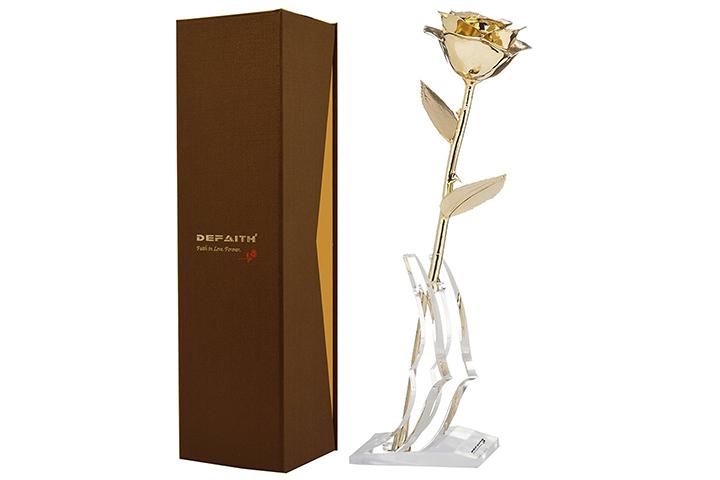 You must have given innumerable roses to your spouse in these 50 years. It is now time to give a real and fresh rose dipped in 24k gold. The rose comes with a clear acrylic moon-shape stand. The gift includes a gift card and certificate authority.
It costs $60.
You can buy it here.
32. Cake Knife & Server Set: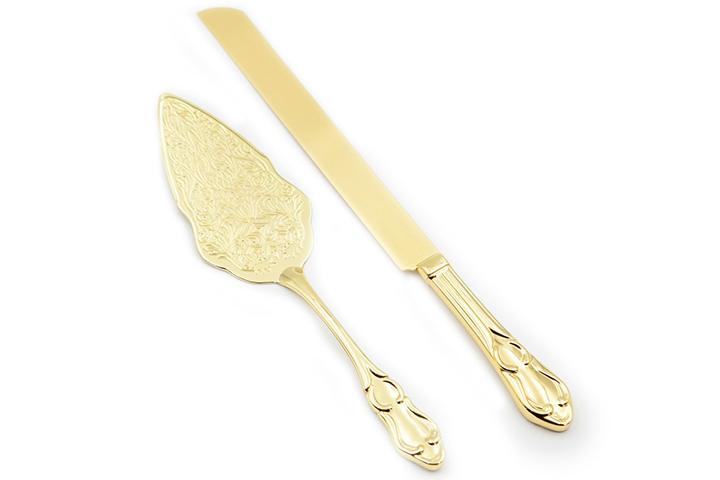 Food is an integral part of love. You bond over food, discover each other's tastes, and over 50 years you accept your spouse's tastes as yours. Gift your partner Cake Knife & Server Set as a reminder of all the dinners you must have had together. Made of golden plated zinc alloy, the serving set comes with an etched filigree type design and scalloped edge.
It costs $45.
You can buy it here.
Complement your gift with a dinner or by decking up your bedroom with flowers and fragrances to increase the romance quotient of the day. We are sure your spouse would want more such days to come in your lives.
Which gift did you choose for your partner on your wedding anniversary? Let us know in the comment section below.
The post 32 Lovely Wedding Anniversary Gift Ideas appeared first on MomJunction.