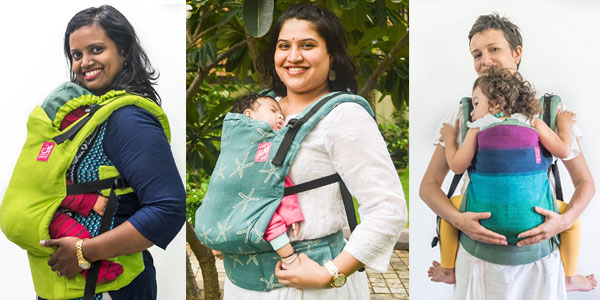 Top 10 Best Baby Carriers in India 2020
Also read Best Baby Bath Tubs In India
The atmosphere at home makes it possible to carry the baby in arms – but when we step outside for shopping/travelling/any other purpose, we wish to be hands free. Rather than carrying the baby all the time, we would love to have options to carry him with ease – but hands free. It is here that we look for options of a Baby Carrier – one that allows our baby close to our heart at the same time leave some breathing space for the Parents as well.
Also read Best Steamers & Food Blenders in India
Do you need Baby Carriers? – Is It necessary?
The answer to this question could be got by weighing the Pros and Cons of a Baby Carrier
Pros:
The best thing about a Baby Carrier is that it allows the Mom to hold her baby close. And it works 2 ways – Mom is assured and the Baby feels secure. For that matter any adult who is familiar to this Baby Gear, could handle it.
The main motive of this Baby Carrier is allowing the Mom/Dad to have some breathing space from carrying the baby around in their arms. In a fast paced world like ours, where multi-tasking is the norm of today, this is certainly a necessity.
Stroller Vs Baby Carrier – obviously the latter one is the clear choice when you have space constraint in your mind. Thus, a great travel option as all of them are foldable.
You might be wondering, but it is true. Maybe not for infants, as they would not be able to hold for long. But for older babies, Moms find it convenient to nurse them while in this position.
Cons:
This is infact the most important aspect that you should look into before we choose an appropriate one. A carrier which gives ample support to the Mother's back as well as the Babies' back and hips is very important. Some of them also comes with a Head support for the Baby. That is even more an appropriate one.
Not suitable for long distances
Grocery shopping / stroll around the mall, a Baby Carrier suits the best. But if it was long distances walk it becomes difficult as the Mother's back goes for a toss. And also the baby starts to feel uncomfortable as it might be hurting for his back too, after some time.
There is risk in terms of the baby falling off from the carrier if he is not properly strapped on. And the head support and back support is one thing which needs to be looked into as in the long run, there are reports of back pain and leg pain emanating due to long periods of carrying the baby.
How to buy the right Baby Carrier – Buyer's Guide
Having said so many advantages about a Baby carrier, it is necessary to make the right choice. These are the guidelines before you choose one:
It goes without saying that Safety is the first criteria before you choose any Baby Gear. Make sure that the Seat belts, buckles, welcroves and straps are of strong and durable quality material. The seat should have necessarily a comfortable seat, head support, and support for hips to ensure that the legs don't hang freely in the air.
Stick to the age/weight restrictions
Generally every Baby carrier will have age criteria and weight restrictions mentioned, it is in the interest of the baby to stick to them.
Baby carriers come in various styles – ring slings, slings, back carrier, front carrier, wraps, buckle carriers. Choose a one which is appropriate to you as well as the baby.
Indian market is flooded with Baby Gear products manufactured by various brands – some maybe pricy, while the others would be worth the buy. Make sure that you gauge the price with the value for your money.
Also read Best Potty Seat & Training Seats In India
Top 10 Best Baby Carriers in India 2020
Anmol baby carrier – Best Baby Carriers in India 2020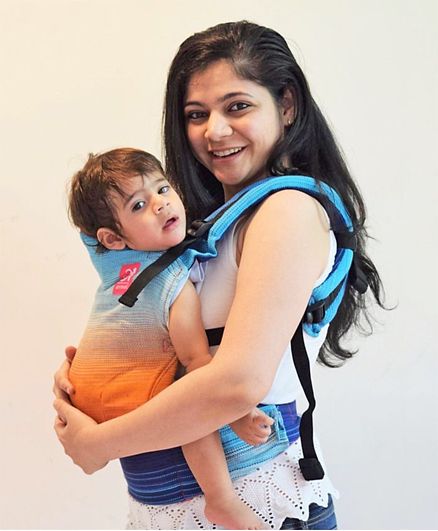 Anmol Baby Carrier
Anmol SSC Baby carriers is an Indian brand which focuses on Indian fabrics and dyes. Made from pure cotton it is totally skin-friendly and the baby adjusts to the Carrier with ease and comfort. There is provision of padding in thigh pads, shoulder straps and the waist band. Which is of utmost importance as it allows the weight of the baby to be distributed to the waist area and hips area proportionately, thereby making the Mother carry the baby with ease for even longer hours. In order to ensure that extra safety factor it is also equipped with a three point safety buckle which opens only if the three points are pressed together. It also has an elastic belt loop for securing the waist buckle. The Carrier comes with an attached hood.
Important Features cum Advantages:
Made of soft fabric
Comes with a 3 point safety buckle
Thigh cushions, shoulder straps and waist band are padded
Very easy to handle and an excellent travel option
Appropriate for kids from 2.5 months upto 3 years
Comes in 3 options – Wraps, Slings, Full wrap converted Carrier
Appropriate weight limit is upto 26 kgs
Weaknesses:
Price: ranges start from Rs. 2,640/- upto Rs. 9,540/-
Also read Best Feeding Bottles In India
R for Rabbit 100% Cotton Baby Carrier With Back Support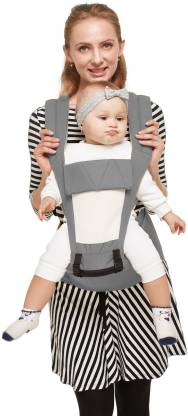 R for Rabbit Baby Carrier
A Baby carrier made from 100% breathable cotton material with solid support for your arms, hands and most importantly comfortable seating for your baby. It does not result in rashes to the baby's skin due to prolonged usage. And irrespective of the weather conditions,, it could be easily used whenever.
Important features cum advantages:
It is made from 100% cotton breathable fabric, totally skin-friendly option
Padded shoulder straps(to provide the extra grip to your arms)
Hood attached, which protects the baby from heat and cold
Supportive waistband (to ensure that your back is not in a strained position)
Padded leg openings (to provide that extra comfort for babys thighs)
Provision of storage pockets to keep necessary items
Lightweight – weighing just 600 grams
Very good travel option – and can be carried front position & back position
Ideal for babies 4 months – 36 months
Can support weight upto 22 kgs
Multiple colour options
Weakness:
Back support could have been much better
Price: Rs. 1,998/-
Infantino Ergonomic Baby Carriers For Infants & Newborns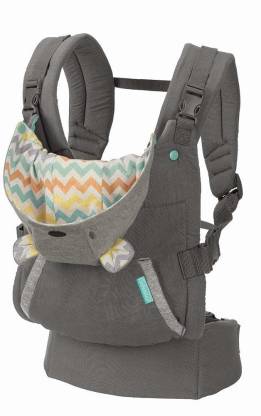 Infantino Baby Carrier
This ergonomic Baby Carrier features a unique arched canopy hood that keeps the Baby safe and happy. The seat provision is also made keeping in mind the comfort of the baby; with the hips being resting in the M position. Made out of soft fabric, the straps are padded to allow the parents to carry the baby for longer distances without feeling the weight on their shoulders. It comes with a waist belt too, to facilitate the weight to be distributed from shoulders to the waist and to the hips.
Important Features cum Advantages:
Padding around the shoulder straps and the waist band to provide that extra cushion
Can be worn both front position and back position
Ideal for long distances walking
Product weights less than 640 gms
Weight holding capacity is 4kgs – 18kgs
Comes with a removable hoodie cap
Adjustable shoulder straps
Weaknesses:
Price: Rs, 4600/-
Also read Best Baby PlayPen & PlayYard For Kids
Kol Kol Baby Carrier Bag – Buy Best Baby Carrier For Travelling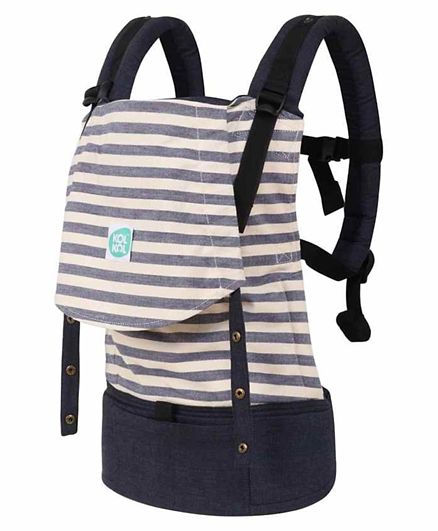 Kol Kol Baby Carrier
Kol Kol is an Indian brand which is designed to provide safe and comfortable seating for the baby. Made with 100% cotton that is pure and natural fabric, it is also provided with padded shoulder straps making it convenient option to go on family trips with this Baby Carrier on. Being an Indian brand it is pioneered by Bayiravi. The brand is based in Delhi and their focus is Indian textile & designs.
Important Features cum Advantages:
Wide and padded shoulder straps to carry with ease
Supports 2 positions- front & back
Ideal for babies 6 months – 4 years
Comes with a comprehensive user manual
Fastener strength and strap retention is good
Weaknesses:
Supports only 2 positions – front & back
Absence of support for baby's head
Price: Rs. 2,500/-
Luvlap Elegant Baby Carriers For Babies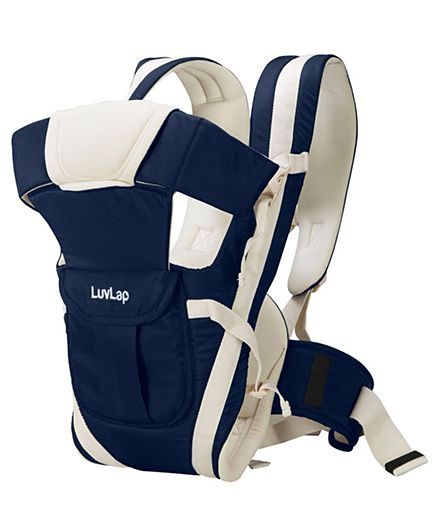 LuvLap Elegant Baby Carrier
Luvlap is a name associated with comfort, safety and durability. With its wide range of Baby Gear products, one of the most popular one is the Luvlap Elegant Baby Carrier. With the provision of soft cushioning for the arm holes as well as the leg holes, it ensures that the baby does not feel discomfort even if it is carried for longer time. Two wide shoulder straps are made from mesh fabric which are water resistant and breathable fabrics. Wide waistband allows the baby to be well placed in the position.
Important Features cum Advantages:
The most important feature is that it allows for 4 ways – baby facing the front, facing the back, piggy back position, and horizontal feeding position feasible for breast feeding.
Made with polyester fabric
Good support for back pain
Ideal for babies from 4 months- 18 months of age
Can carry upto 14 kgs weight
Weaknesses:
Not suitable for older babies
Not suitable for summer weather conditions
Lack of head support
Price: Rs. 1,296/- buy LuvLap Baby Carrier here.
Mee Mee – Best Breathable Baby Carriers For 3 Month Old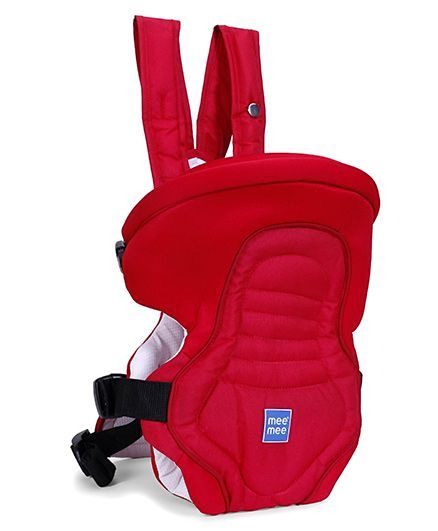 Mee Mee Baby Carrier
Mee Mee Breathable Baby Carrier has, within a short span of time gained popularity in the Indian continent, with its strength, durability and most importantly price-friendly options to offer. Made with 100% cotton material it is suitable for the Indian weather conditions. Easy to wear and the ergonomic design of this product is meant for longer duration of wear. Leg holes and arm holes are well cushioned. It offers 4 ways of carrying- front facing & back facing kangaroo positon, front pack & back pack position.
Important features & Advantages:
Produt weighs only 400gms
Ideal for babies from 4 months – 2 years
Supports weight upto 16 kgs
An absolute pocket friendly option
Well padded head rest support
Cross belt back support – to ensure minimal weight on the back
Weaknesses:
Absence of waist band to provide relief to your back
Absence of a head cover
Price: Rs. 1,580/-
Also read Best Breast Pumps in India
Infantso Adjustable Hip Seat Baby Carrier For Toddlers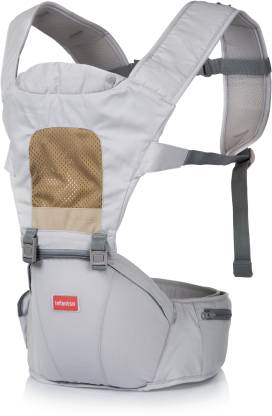 Infantso Baby Carrier
Infantso products brand focuses on ultra comfort attachments to make Baby carrying more easy and comfortable. There is provision of detachable hip seat which could be placed in the front, side position too. The wide hip seat which provides for maximum protection ensuring child's best safety and comfort. Your baby's neck, head and spine are well protected by the high quality padding in the head rest, neck portion as well as the thigh openings. The straps and handles are fully padded with extra cushioning for that extra comfort. The shoulder straps are padded to allow for even distribution of weight across the shoulder, waist and hips. There is 2 side pockets available with zip facility for storage of small essentials.
Important Features & Advantages:
Made from high quality, anti-wrinkle, breathable fabric reduces the chance to skin allergy
The detachable seat which allows for 2 positions – baby facing forward, baby facing parent
The shoulder straps are made of mesh material which is a breathable fabric
Wide seat to provide support to the baby's hips
Appropriate from 6 months – 24 months
Supports weight 3 kgs – 15 kgs
The buckle around the hip is sturdy and the Velcro is of ample length allowing to adjust the length of the strap
Suitable for long hours of baby carrying
Provides very good support to the Mom's back
Comes with a detachable hood
Price: Rs. 1,499/-
Also read Best Prams & Strollers In India
1st Step 5 in 1 Hip Seat Baby Carrier (Denim) For Kids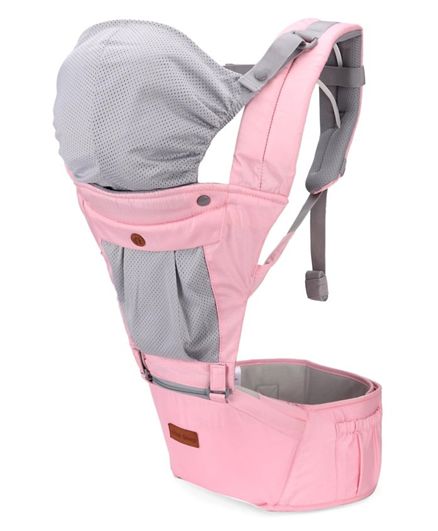 1st Step Baby Carrier
This Carrier offer 5 different carrying positions – front back, back pack, baby facing forward, baby facing inside and piggy back position. The hip seat is detachable which means the seat could be used separately as well. The fabric is very child-friendly and breathable providing maximum support to your baby's skin. Sufficient padding for the neck support and back support to ensure that the baby does not get hurt. Cushioned arms and leg openings to provide comfort to the baby. Front pockets to store small essentials.
Important Features cum Advantages:
Ideal for babies from 6 months – 3 years
Offers 5 various carrying options
Wide and padded shoulder straps to distribute the weight of the baby
Cushioned thigh opening and back support
Enough support for the head and neck
Front pockets provided
Weaknesses:
Cannot carry beyond 12 kgs
Price: Rs. 1,999/-
Chicco Easy Fit Baby Carrier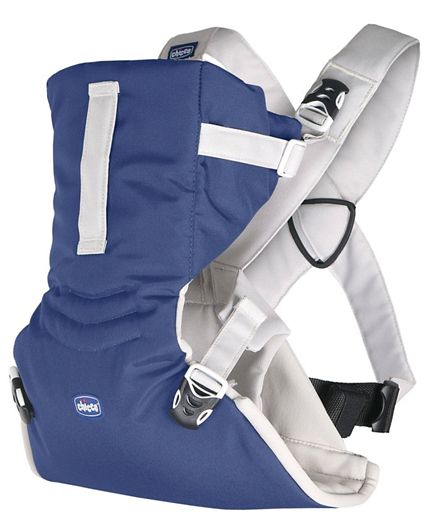 Chicco Baby Carrier
Chicco Easy Fit Baby Carrier is a light weight product, which at the same time provides maximum support to the baby as well as Mother. This ergonomically designed baby carrier is best suited for travelling purposes too as it is easy to fit. It provides for extra neck support for new born babies. It is said to be a "hip friendly product" as the baby's hips and legs stay in M position which is the best. The back support and neck support for the baby is enormous as it fits beautifully for new born infants due to its C-position support.
Important features cum Advantages:
A hip friendly product as the Carrier supports the baby's hips and keeps intact in M position
C-shaped Carrier provides enormous support to the infant's back and neck
Maximum weight recommended is 9 kgs
Suitable for 0 months – 9 months
Provides ample support for head rest
Can be carried in 2 positions – baby facing inward, baby facing outward.
Easily foldable design allows it to be rolled up into a compact shape for easy storage
Very good travel option
Back support and neck support is enormous
Weaknesses:
Age & weight restrictions
No cushion on the shoulder straps
Absence of waist belt
Absence of a harness belt / buckle
Highly priced
Price: Rs. 2,690/-