Budget-Friendly Christmas Gift Baskets Everyone Will Love
People love receiving Christmas Gift Baskets! People like giving them, too! But what do you put in the baskets?
Below is a comprehensive collection of Christmas Gift Baskets for everyone on your list.
There are great baskets that you will easily fall in love with. However, please keep the following in mind:
There will be overlap. For example, if you are looking for a Christmas gift basket for a family, and you know the kids love treats, you'll want to check both the FAMILY and CANDY category;
The examples below are homemade Christmas gift baskets. Some are seriously easy to prepare, some may take a bit of work. Pick the ones that speak to you.
If you are on a budget, do not despair when you see "expensive looking" gift baskets. Instead, use the images as inspiration. Copy the look and buy "less expensive" items to replicate the original. Your baskets would be equally appreciated.
Christmas Gift Baskets for Families
Christmas Pancake Breakfast Basket
Pancakes are a treat on Christmas morning, so most families would enjoy this gift basket.
It's easy to make, too! You'll need:
Pancake mix;
Pancake syrup;
Whisk;
Christmas ribbon and decorations;
Large treat bags.
Click here to get the free printables.
---
"Gifts In A Jar" Gift Baskets For Families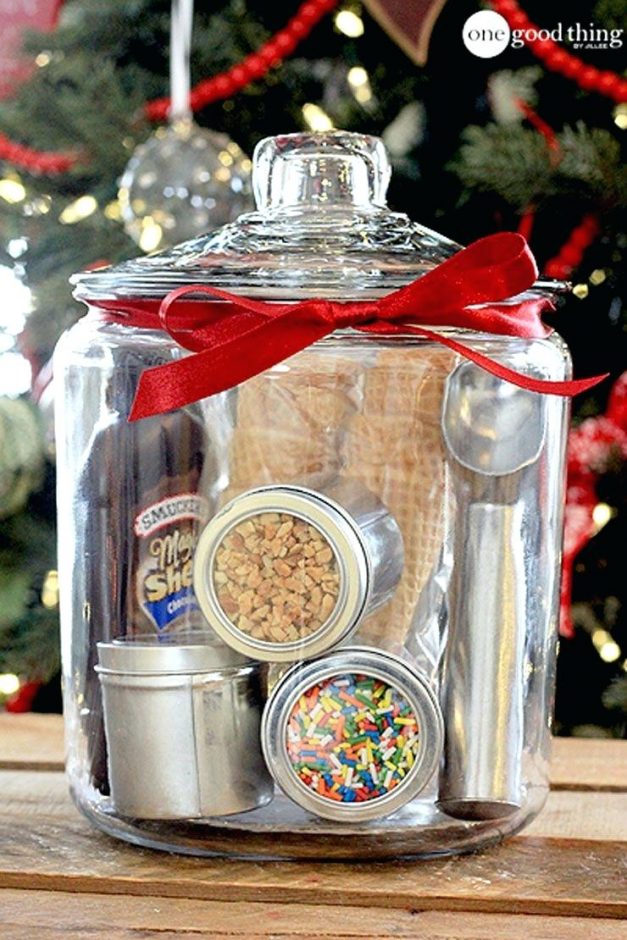 Which family would not love receiving this gift in a jar?
And it's so easy to put together, too. This particular gift has an ice cream theme, but you can make any Christmas themed gift baskets – as long as you add a pretty Christmas ribbon
onto it.
To make this one, you'll need:
A large glass jar. You can get these from Walmart too;
an old fashioned ice cream scoop;
waffle cones;
chocolate syrup, or any kind of ice cream syrup you think the family will love;
metal jars for the sprinkles, nuts, etc.
A pretty Christmas ribbon to tie it all together.
For more "gifts in a jar" inspiration, click here.
---
Family Game Night Gift Basket
Family Game Night… with treats! With a Christmas gift basket like this, you'll be everyone's favorite because this truly is a gift that keeps on giving. The family can play board games for years to come!
Create your own gift basket with family board games
that you think they will love. Put them in a large, transparent gift bag
, tie it up with pretty Christmas themed ribbons
and balloons
.
---
Christmas Ice Cream Treats Gift Baskets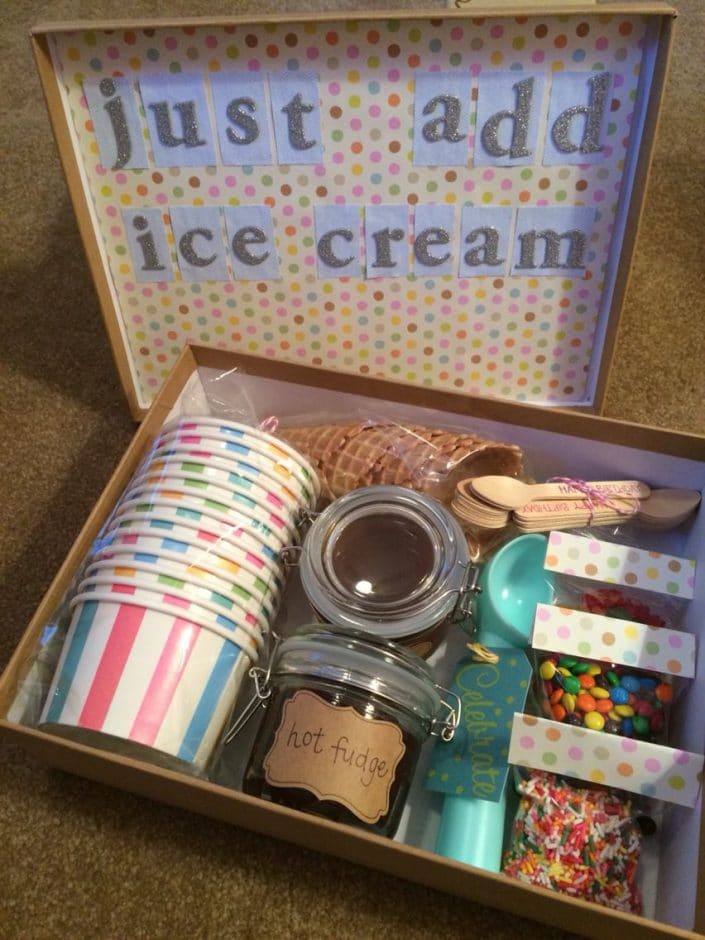 Families love gift baskets like this. It makes the kids happy and that makes the parents happy.
To make this, you'll need:
A gift box to fit all the ingredients you are planning on;
Paper ice cream bowls;
Glass jars for the ice cream toppings like hot fudge, chocolate syrup, or maraschino cherries;
Small treat bags for your candies, like sprinkles, gummies, m&m's, etc.
An old fashioned ice cream scoop;
Disposable wooden teaspoons;
---
Family Movie Gift Basket
What a spectacular family gift basket! It's the kind of gift that keeps on giving because they can watch movies months after Christmas was enjoyed.
---
Christmas Gift Baskets for Mom
Gift Basket Filled With Mom's Favorites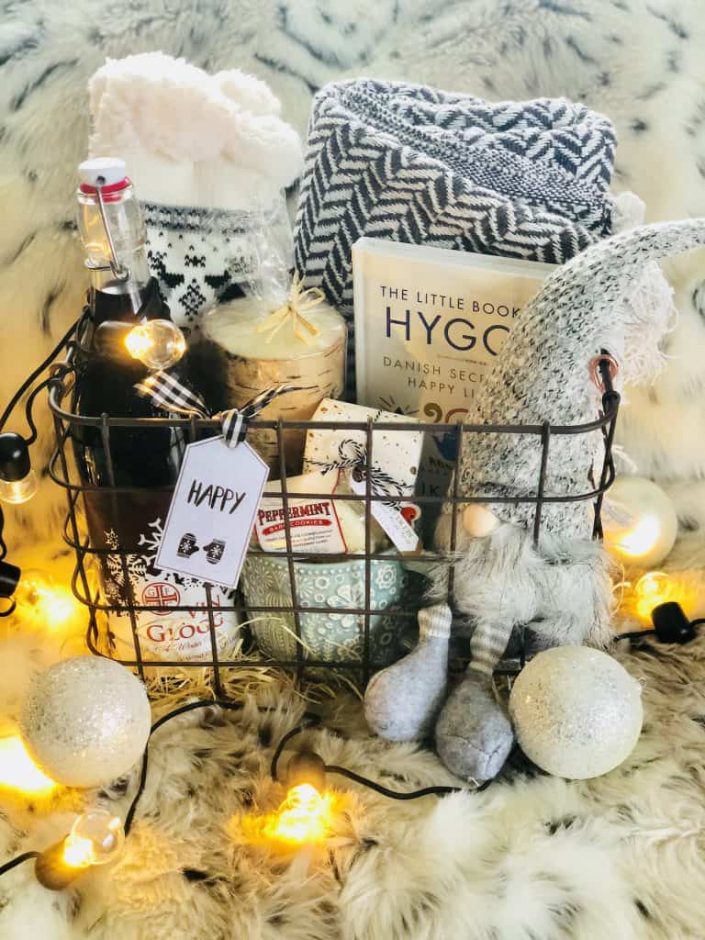 Fill a wire basket
with pampering things mom will love, like slipper socks
, luxurious candles
, a book, a magazine, a scarf, etc. How divine!
Inspiration for this gift basket comes from hairsoutofplace.com.
---
Sweet & Simple Christmas Gifts For Mom
This is so easy to put together.
You'll need:
cozy slippers;
any pampering treatments she'd appreciate, like hand wash, lotions, etc.
a pretty Christmas ribbon and gift tag.
---
Pampering Gift Baskets For Mom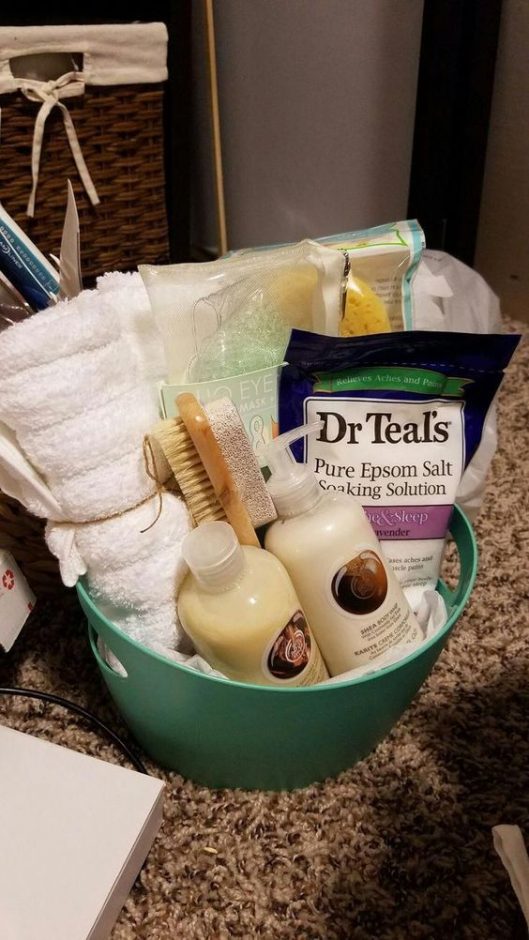 If mom likes being pampered, this is a great Christmas gift basket idea.
Buy a few pampering products she would like, and place it in a pretty basket. Tie a Christmas ribbon or bow onto it, and you're good to go.
---
Tea Lovers Gift Basket For Mom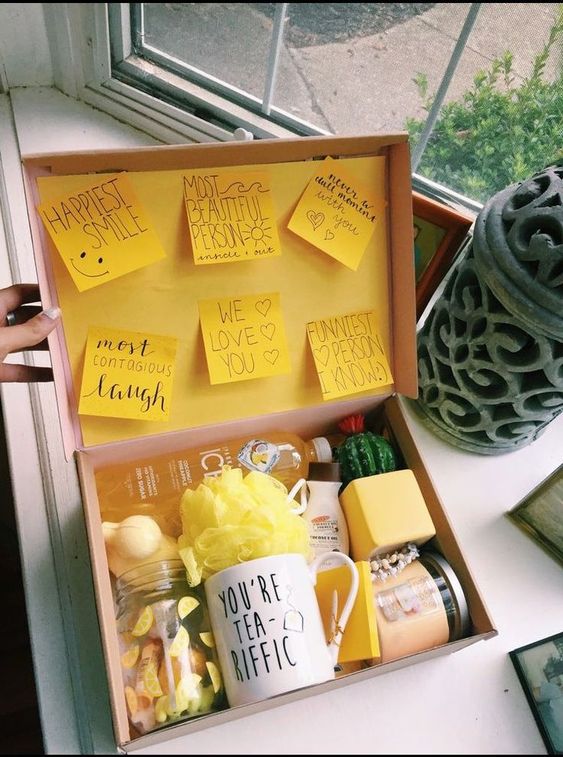 This is a great idea for a coffee or tea-themed Christmas Gift Baskets.
If mom likes tea, fill a basket (or a box) with tea-related gifts, like her favorite tea or a collection of teas
for her to try. Other items to include:
A pretty tea infuser cup;
A tea lover's teaspoon;
a sweetener like honey;
A book or magazine she might enjoy reading while sipping her tea.
What is also particularly great about this Christmas gift basket idea is the personal little notes. Moms Everyone loves that kind of stuff because it instantly personalizes the gift.
---
Easy DIY Gift Baskets For Mom
This is a great Christmas gift basket idea for mom, but it can also be adapted as a house-warming gift or a gift for newlyweds.
It's not hard to put together, either. You can totally DIY this.
You will need a crockpot
, plus additions. If you are making a Christmas gift basket for mom, a combination of some appreciated additions could be:
a magazine she would like;
ingredients to make a meal in the crockpot;
a book or a cookbook she may appreciate;
wine;
dish towel or oven gloves;
kitchen tools and accessories she may need.
---
Spa Christmas Gift Basket For Mom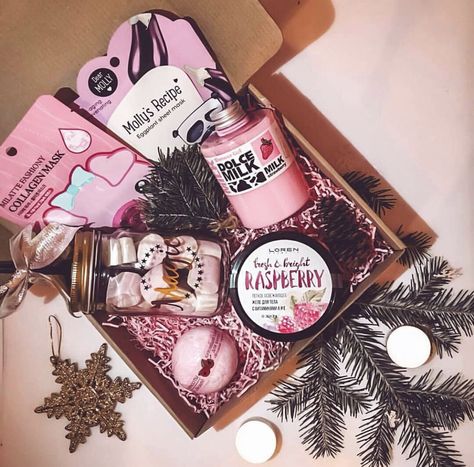 This is another pampering gift basket. Moms rarely have time for themselves, and by creating a gift basket like this, you're saying "it's okay to take some time for yourself."
This too is an easy, homemade Christmas Gift Basket that you can put together. Simply get a box or basket, and fill it with spa treatments
that mom would appreciate.
---
A Cosy Gift Basket For Mom
Simple is beautiful, and so is this gift basket.
Alpaca socks