This post may contain affiliate links. I may receive a small commission if you click on the links and purchase products. Please see the disclosure policy for more information.
With it being the start of Back 2 School time, I thought that this would be a good time to discuss ways to raise independent children. Independence is such an important skill that will aid your child in being successful in school and life.
Being a young child definitely has its perks; you don't have to lift a finger, you have someone dressing you, feeding you, tending to your every need…sounds amazing, right?! If you had that kind of treatment, you definitely wouldn't want to learn to do things for yourself. As a parent or a teacher, this is NOT what you want to keep doing day in and day out; it will get tiring and very time consuming. This is why it is so important to teach Children young how to care for themselves and be independent. Learning to be independent is such an important skill for young children to learn. I am by no means telling you to have your 4 year old make dinner, but I am suggesting that you introduce them to a few ideas to get them doing tasks independently.
Many people think, they are too little or not capable of doing some tasks independently…that's FALSE!!!! Trust me, you would be amazed at what children as young as 18 months can accomplish is given the opportunity to exercise their independence. They can serve themselves food, pour themselves something to drink, and even put on their own shoes!! It is just a matter of providing them the chance to be independent.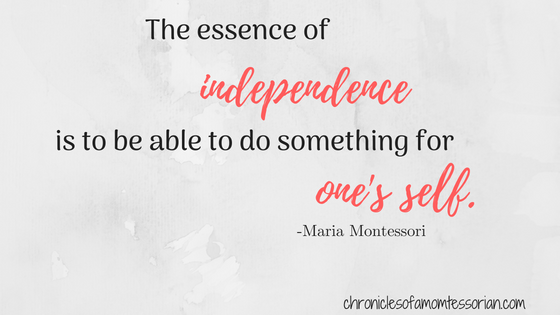 As a mom and a Montessori Teacher & Educator, I understand the importance of teaching children how to be independent. When a child is independent, it makes for easier times for all involved! When they are little, the list of "To Do's" can be never ending…getting them dressed, putting on their jackets, getting them something to drink, getting them something to eat; I could keep going for hours! If you constantly do every little task for your child, you literally wouldn't have time in your day to do anything else. These 5 tips will give you a few ideas on how to instill and promote independence in a preschool aged child, and hopefully shorten your list just a little! The tips below could be used for any classroom or home school setting.
5 tips to raise an independent child
1. Provide as many opportunities as possible for them to dress themselves.
Young children are very capable of getting themselves dressed. It just takes a little time and patience on your end. Starting with something small like letting them put on their shoes or socks can boost their confidence and make it easier when you introduce them to other aspects of dressing themselves.
2. Provide opportunities for them to be able to serve/and or get their own food/drinks.
This is an important one, especially in the classroom. Having a classroom of preschoolers, serving snack can be time consuming and tedious. If possible, have a space available where they can pour their own drinks. Have a child sized pitcher; either glass or plastic, a tray, and child sized cups available. Show them how to properly hold the pitcher with two hands, and watch the magic happen!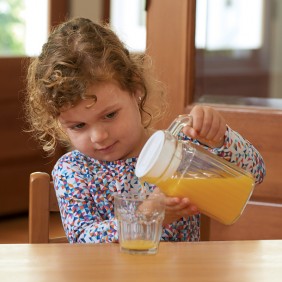 3. Prepare an environment that is "child centered".
An Environment that is child centered has child sized chairs, tables, shelves, etc. Providing an environment that is child centered gives the child a sense of independence; in that they can comfortably maneuver in the environment unassisted. They can reach items, sit without assistance, and feel that it is a space designed for them. This helps in fostering a sense of autonomy. For help finding amazing, child centered items for your home or classroom, check out my post 5 must have Ikea products for your Montessori environment.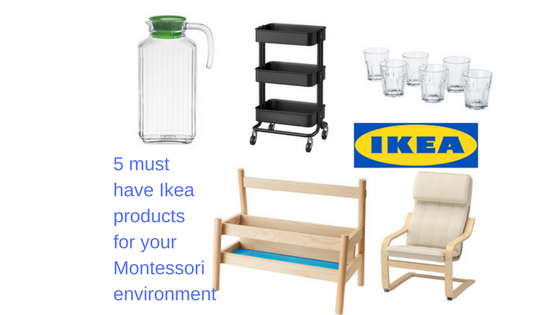 4. Provide opportunities for children to help with cleaning up.
Letting a child help with cleaning can sometimes lead to more of a mess! With the tools, and a few simple ideas, children will enthusiastically want to help clean up. Provide small wash clothes, for wiping tables, find inexpensive, sweeping sets to allow sweeping up small messes. You could even invest in child sized brooms, mops, and dustpans. There are cleaning sets that are child sized and perfect for little hands. Allowing children the opportunity to assist in cleaning their environment instills a sens of pride and responsibility. Trust me, I have an entire classroom of twenty four preschool aged children begging me to wipe the tables everyday!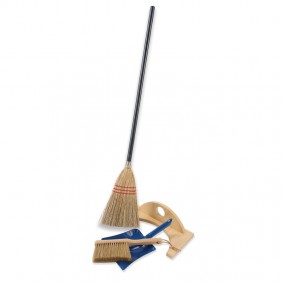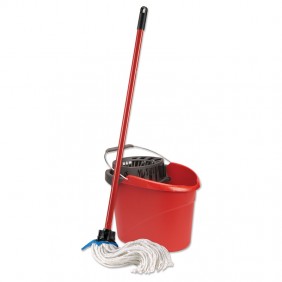 5. Provide choices within limits.
Children are very capable beings. Giving them a choice between two options gives them a feeling that their opinions matter. By making choices, it gives them the sense that they are important and so are their choices. By having the option to choose, they build independence skills that in turns builds confidence. An example of a choice within limits could be that you let them choose between eating their sandwich or fruit first, but expressing that eating the potato chips first is not an option.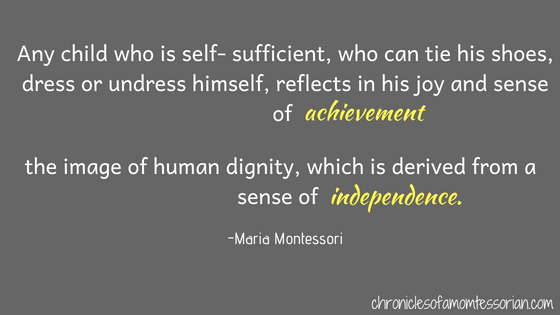 These are just a few ways that you can nurture and stimulate independence for young children on a daily basis. Each of these tips can easily be modified to better accommodate a home school or parent co-op environment. Remember to have fun with whatever exercises you choose to introduce, and keep in mind children are very capable human beings!
Anitra
Save
Save
Save
Save
Save
Save
Save
Save
Save
Save
Save
Save
Save