"You and me, we could light up the sky
If you stay with me girl,
we can rule the world!"
That was definitely the song playing in my head the whole time we were in Nabano No Sato. That half day side trip to Nagoya was EJ's monthsary gift to me. While we were doing the itinerary for our Japan trip, I saw that there was a theme park in Nagoya that had light tunnels! Light tunnels, people! *mindblown*
I told EJ about it and we found out it's actually not that far from Kyoto. It was only a two hour ride via the Shinkansen (bullet train) and if we leave after lunch, we'd arrive just in time for when the theme park opens (it opens at night). So after spending half a day exploring Kyoto, we took the Shinkansen and visited Nagoya.
We had a bit of a trouble figuring out the train transfers from the Shinkansen to the regular trains. It was very confusing and it was a bit of a hassle for us because we didn't understand the system of ticketing. So apparently you need two tickets. And no matter what you do, you have to pay the fare difference when you transfer from the shinkansen to a regular train. The train personnel were very helpful but we did miss our reserved seats on the way back because of it.
Also! Apparently, buses to Nabano no sato aren't available all year round so we ended up taking a taxi. Still, the beauty of the place more than made up for the hassle of the commute:
I wanted to cry the whole time I was there. It was so beautiful! Not only was a fantastic night (no rain and with the full moon!), all the lights just really appealed to me. The light tunnels are the stuff of dreams! I felt I was in space, staring at thousands and thousands of stars!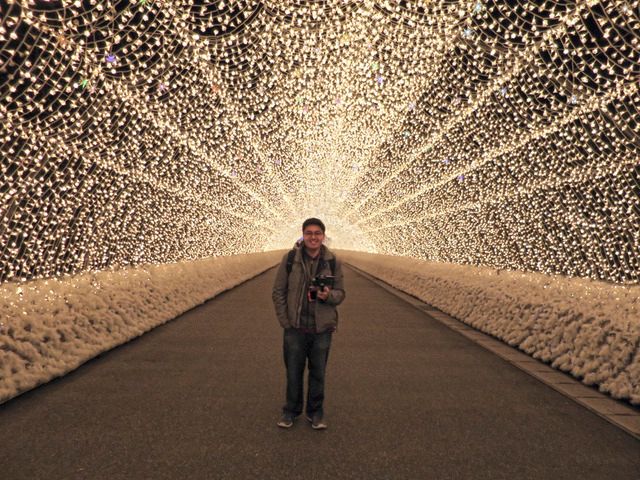 The whole park itself is just so pretty. There were two tunnels, one with the yellow lights and the other with the blue lights. I thought there'd be more but it was okay, cause they also did a light show of Mt. Fuji and illuminations on the water using the plants and trees present there.
The trees' reflection on the water. Straight out of a painting indeed!
Nabano No Sato is just beautiful. There's not much to do there but admire the lights but if you're ever in the area, I do hope you drop by because it is definitely a once-in-a-lifetime experience; something you will remember (and be telling people about) for the rest of your life.
Thank you EJ for making my galactic dreams come true! I felt like I was in the milky way. And it was even better cause I got to spend it with you. A very romantic date indeed ❤︎
Related Posts:
Foodie Friday: Okonomiyaki
NinJay in Japan: NinJay in Japan
Osaka - Best of Osaka
Nara: Nara in a Day
Kyoto: Left my heart in Kyoto
To comment, visit the blog!
This post first appeared on The Nininja, please read the originial post: here