Wine gift baskets are among the most appreciated gift ideas for adults on all occasions. Whether you're trying to impress your boss, a business partner, a friend, a relative, your in-laws, or your significant other, you cannot fail with a good Wine gift basket.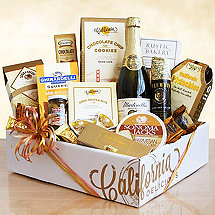 Be it Father's Day, Christmas, Easter, 4th of July, a birthday, an anniversary, or even a wedding, the receiver will love a beautiful and rich basket with one or two bottles of fine wine and an assortment of gourmet foods to accompany the drink(s). Besides looking extraordinarily, wine gift baskets are sure to make an excellent present for several other reasons:
This year's trends when it comes to gifts favor experiences over objects. Wine and gourmet foods offer the best experiences at the most affordable prices.
Wine has numerous and valuable health benefits. A wine basket offered as a gift will suggest that the gift giver cares about the well-being of the receiver.
Even if the receiver does not love wine in particular, they will surely like some of the products in the basket. Finding someone to enjoy the wine with should not be too difficult.
Prices range from under $50 to $500, being accessible to any buyer, no matter their budget limits.
The baskets are easy to personalize with a note or greeting card. It is up to the giver to choose how personal and special or how formal and neutral they want them to be.
The only question that remains is from where to shop for wine gift baskets. While physical stores may be a good idea, you surely don't want something the receiver sees every day at a grocery store. Besides, why bother to drive to a local store and carry the basket around, risking to damage its wrapping or to meet the receiver and spoil the surprise?
It is much easier and more convenient to order the baskets online and have them delivered to your door or directly to the receiver. Because we know that finding the best deals online can be tricky, we did the research for you and identified the retailers that offer them.
10 Best Online Stores for Wine Gift Baskets
1.Wine Basket
If there is a paradise for wine gift baskets, this must be it. Whether you prefer white or red, straw-colored or garnet, light or hearty, domestic or imported varieties, this is where you'll find them. Accompanied by artisanal foods, snacks, fruits, or chocolate, they come in elegant and attractive packages everyone will love.
Their prices range from a few tens to a few hundreds of dollars, but they are low compared to the experience they provide. We like that they allow buyers to shop by price, and to personalize their wine baskets with a custom imprinted ribbon with a message of their choice.
2. Capalbo's
You can think of this store as the big brother or even twin of WineBasket. They offer the same products and similar perks, at comparable prices, but their offer begins with fruit and gourmet baskets, instead of wine gift baskets. Comparing prices for the same products on these two websites is a great way to identify the best deal.
3. Wine.com
This store turns wine and related gift-giving into an art. Their baskets contain some of the finest wine assortments accompanied by matching foods, like artisanal snacks, gourmet cheese, and divine Godiva chocolate, bound to ensure the best experience. We love the instant chat service allowing buyers to consult a wine specialist in order to make the best choice.
4. Gift Tree
This shop ships not only to the U.S., but to Canada as well. They have an impressive selection of wine baskets categorized by content, price, and occasion. We like their focus on keepsake containers, their prompt customer service, and their friendly store interface.
5. Wine Enthusiast
Although their inventory is much poorer than the one of the above stores, we couldn't help fall in love with their Sparkling California & Artisanal Delights Gift Basket. At under $100, it contains carefully selected artisanal treats and a bottle of delicious Martinelli's Sparkling Cider no one can resist.
6. Drizly.com
This is another store for those with fine tastes and love of wine. It doesn't offer too many options, but the ones available cater to all needs and budgets. Think Chalk Hill, Silver Oak, and California Lovers, and you won't be disappointed!
7. Wine Down Box
If you want to impress someone without breaking the bank or spending too much time deciding, a one-, and the receiver will get one bottle of a rare California wine and a delicious mix of artisan cheese, charcuterie, and hand-made crackers, all accompanied by a personalized gift note. It really can't get simpler than this!
8. Amazon.com
Is Amazon your go-to store for online shopping? It won't disappoint you when it comes to wine gift baskets either! Our favorites are the ones from Wine Lovers and Wine Country, but most offers are worth a closer look.
9. Wine of the Month Club
When you want to impress connaisseurs, you don't need fancy gifts baskets with tens of products and lavish decorations. One or two bottles of fine wine will sweep the receiver off their feet. You can find real vintage treasures, in deluxe ready to display cases and at excellent prices at the Wine of the Month Club.
10. Walmart
Why shop for wine gift baskets only, when you can find almost anything you could possibly need, from grocery to electronics, beauty products, and home and garden items, at Walmart? Wine Country Gift Baskets rule their offer, but Alder Creek and Broadway Basketeers products are quite attractive as well.
Which Is Your Favorite Online Store for Wine Gift Baskets?
Now that you've seen several offers, we'd like to know which one catered to your needs best. Do you prefer limited, expert-type offers like those on WineEnthusiast, or do you treasure the variety and freedom of choice ensured by GiftTree, WineBaskets, Amazon, or Walmart? Don't hesitate to share your thoughts in a comment below!
If you find it difficult to make a decision or you find the gift baskets too expensive, perhaps you'll want to consider wine club gift offers. They are affordable, convenient, and they offer unique experiences. If you don't think a wine case is an inspired gift for others, you may want to try the subscription for yourself.
Most wine club subscribers look forward to receiving their wine case each month and taste new varieties. We've already reviewed the Best Wine Club Subscriptions in a previous post, so you only need to make your choice and fill in the membership form. While wine gift baskets are preferable as presents in terms of looks, content, and impression, subscription wine gifts are more affordable and straightforward but surely an option worth considering.
The post Top 10 Online Stores With the Best Wine Gift Baskets appeared first on Top 10 Picks.