One of the most important discoveries regarding the age of America's past was made in Downtown Miami in 1998. The discovery of the Miami Circle sent shockwaves through the academic community, or at least it was supposed to:
Property developer Michael Bauman was in for a real surprise when he purchased a plot of land in downtown Miami in 1998. Bauman's plans for the land were seemingly simple: demolish a 1950-era apartment complex and build a luxury condominium in its place.
During a routine archaeological survey of the site, however, hundreds of mysterious holes were discovered in a layer of Oolitic limestone bedrock and Bauman's development plans immediately came to a halt. Through further investigation, twenty-four of the largest holes comprised a perfect circle, 38 feet (12 m) in diameter, and excavation results found a variety of artifacts ranging from human teeth to ancient tools.
Included in the artifacts were pieces of burnt wood which, after being tested for radiocarbon dating, are believed to be 1800-2000 years old. To date, Miami Circle is the only known evidence in the United States of a prehistoric structure built into bedrock. Evidence from this mysterious prehistoric "footprint" predates other known settlements along the East Coast.
The site is believed to have once been occupied by the Tequesta Indians, a local tribe whose known tools matched some of the shark tooth-related artifacts found during excavation. Theorists have suggested that the holes were structural postholes or part of the foundation for a building. Some believe the building was used for ceremonial purposes, as animal bones and unused tools appeared to be offerings.
Among these tools were two axe-heads made from basalt, a hard stone that is not indigenous to Florida. The finding of these tools contradicts the theory that the site was occupied by the Tequesta, however, as the volcanic rock is believed to have been from a location in Macon, Georgia - some 600 miles (970 km) away from the site.
The mysterious origin of the site has led to its nickname as "America's Stonehenge", (though there are a number of sites nicknamed this) and some critics and conspiracy theorists have offered alternative theories. Aliens, Mayans and septic tanks are among some of the suggested origins for the holes.
The State of Florida eventually purchased the land from Baumann after a series of high-profile disputes between Native American groups, contractors, and historic preservation committees. Miami Circle, otherwise known as Brickell Point or the Miami River Circle, was declared a National Historic Landmark in early 2009 and is currently under a 44-year lease agreement with the Historical Museum of Southern Florida.
Living in Miami during its discovery I was one of the first people to make my way over to the site and view its antique megalithic curiosities. I even returned with the local native tribes and participated in drum circles and chanting sessions until the powers that be sealed off the place making it unaccessible. I was relieved when I heard the news that it had been made into a historic site and would be turned into a park. In 2011, I stopped by to see the park and could not believe my eyes! I didn't care that I was trespassing. My heart sank at what I saw and a great depression overtook my soul. I remained speechless for the rest of the night. Instead of revising our history and admitting everything we have been taught is bullshit, the Powers that be just cover it up, and ignore it. Look for yourself, the Miami circle is being turned into a park alright, with no site of the stone circle to be seen anywhere. Just like our past - covered up and conspired against!!!!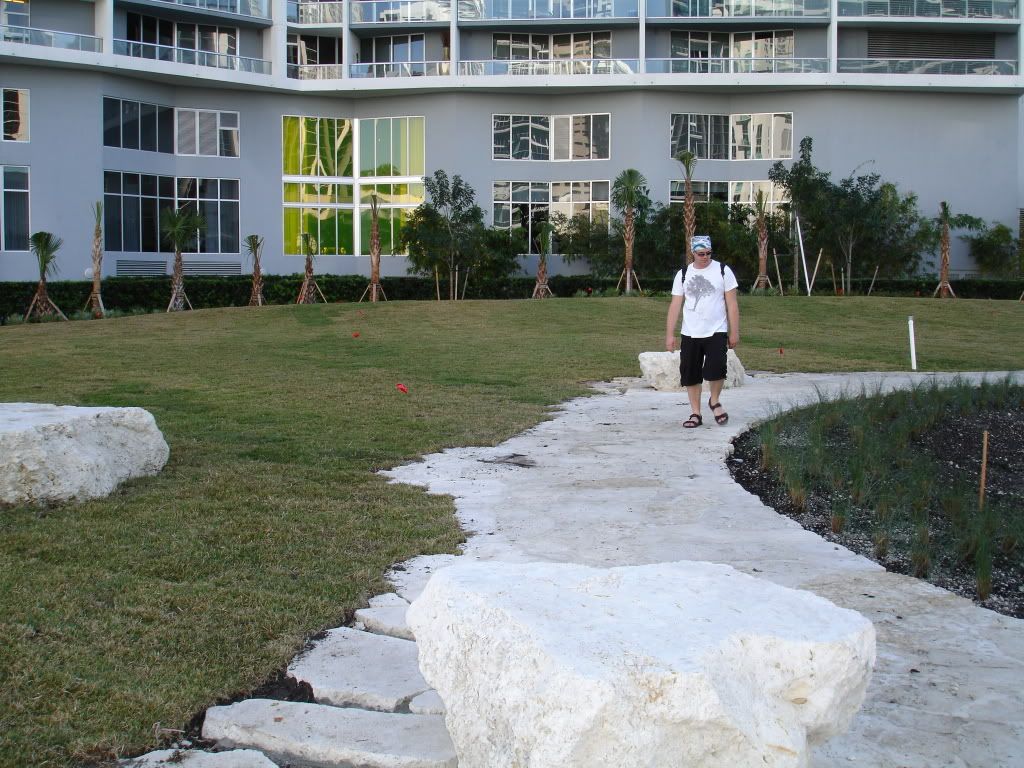 As you can see it's a long ways from looking like it did when first discovered!