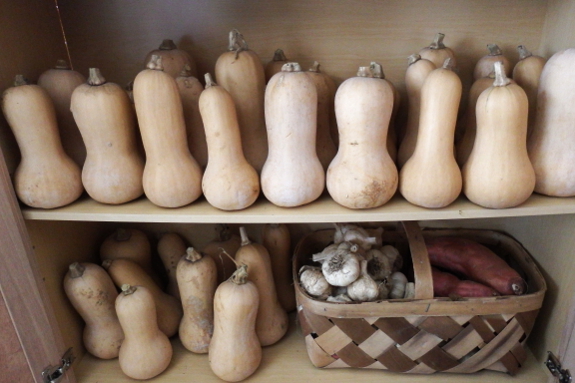 If you Grow a year's supply of storage vegetables --- potatoes, winter Squash, carrots, and so forth --- your job isn't done when you haul them out of the ground, cure them properly, then pack them away under just the right temperature and humidity conditions. Instead, around midwinter, you've got one task left --- checking through your stores to make sure one bad apple doesn't spoil the barrel.

Even though the task is important, though, I don't mark storage-vegetable rotation time on my calendar. Instead, I just keep an eye out during harvest until I notice the first sign of spoilage. At that point, I go through the lot, pulling out fruits and roots that aren't quite 100%. Now that we have Goats, those troubled vegetables are earmarked to turn into animal fodder ASAP, but in previous years I've relegated them to human soups.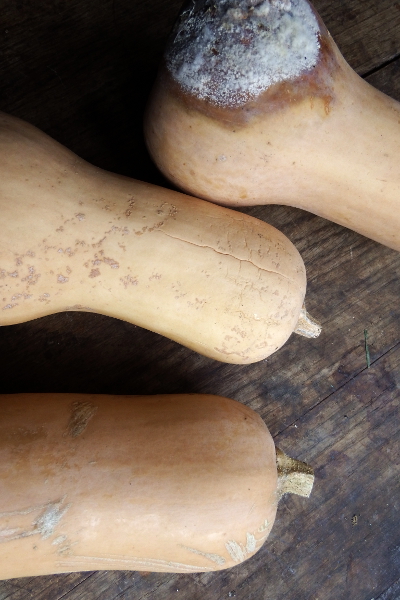 Either way, while you're poking through your stores, you might also decide to change the vegetables' location too. Our Butternut Closet did an awesome job in the fall and early winter. But now that serious cold weather is hitting, the closet is really a little too cold for optimal "warm vegetable" storage. So I moved the butternuts into our new cabinet in the kitchen and filled the closet up with the containers that recently held frozen food. Come summer, those containers will go back into the freezer, leaving the closet space free for the next round of butternuts.

I'll end with an obsessive Anna-count of our butternut stores. We started out the season with about 100 of them, and we certainly haven't been sparing in the interim. I think I've given away about a dozen, the goats have gorged, and we've eaten some too. (Although the warm fall means we haven't actually put many butternuts in our belly --- brussels sprouts and kale and lettuce just seemed more tasty at the time.)

Now that we've passed the inflection point and are heading into spring, how many squash are left? The photo above shows how I made my decisions --- only the bottom butternut passed the test since wrinkled skin is enough to put a squash in the goat category in my book. Using that measurement of quality, we ended up with 50 prime specimens plus another 10 that need to be fed to the goats in the next week or two. Not bad! Looks like we should grow about the same number next year, assuming Mom and Artemesia maintain their taste for the rich, orange flesh.