Two days in New York City – altogether now!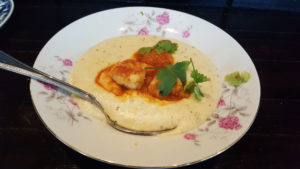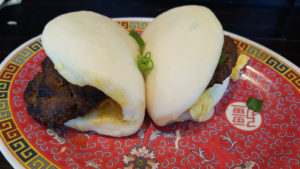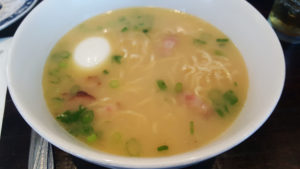 Talde, 369 7th Avenue, Brooklyn – Those of you who are Top Chef fans will remember Dale Talde, the constantly pissed off chef-testant from season 4. He's now got a restaurant in Brooklyn where he's turning out a sort of mashup between Filipino cuisine and American fast food classics, in a laid back kind of setting, pretty much what you might expect to find in Park Slope. In looking for unusual ramen spots, I stumbled across a couple of glowing references to his breakfast ramen, served up at weekend brunches only, with it's "buttered toast broth", bacon and egg. Turned out, that while not terrible or anything, it was the least interesting thing I ate there, my description to friends was, "It tastes like everything wrong with an Egg McMuffin.". The noodles were the only really good part of the dish with limp bacon and relatively insipid broth. Far better at brunch, there's a constant stream of "dim sum" coming out of the kitchen, from a list of 8-9 dishes that just keep getting sent out and circulated around the room, being offered to tables. The fiery sambal spiked shrimp and creamy grits were some of the best shrimp and grits I've had anywhere, while the steamed gua bao filled with housemade spicy loganiza sausage, scrambled egg, and cheese, were like everything right about a Sausage McMuffin. All plates $10-15 apiece.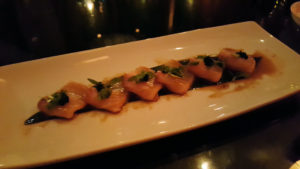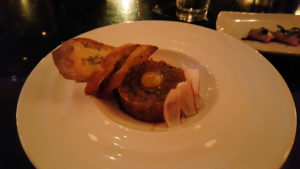 Reserve Cut, 40 Broad Street, Manhattan – Stopped in to see a friend I used to work with, now the v.p. of operations at this very, very upscale kosher steakhouse in the Setai Hotel downtown. Dark, beautifully lit bar, huge restaurant (I think he said 287 seats), and for a Sunday night, hopping, with close on 200 customers expected, most of them already there by the time I left. Sat at the bar and had a "craft cocktail" – jalapeño infused tequila with fresh lemon juice and ginger, delicious. And he ordered up a couple of their signature appetizers, a hamachi carpaccio with citrus ponzu sauce that was light and delicate, and a really great, well seasoned steak tartare with quail egg. Very happy it was "on the house" – appetizers run in the mid to high $20s, while main courses run from $60 to over $100.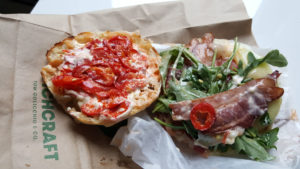 'Wichcraft, 325 Broadway, Manhattan – the latest outpost of this growing chain of sandwich shops from Tom Colicchio, this one just opened across the street from where I'm staying while here. I decided to give it a go yesterday morning for coffee and a breakfast sandwich – aged cheddar, arugula, pickled peppers, organic egg, aioli on an English Muffin, with a couple of strips of bacon added. Not a cheap sandwich, coming in at $8, and a little soggy as a to-go one (might have helped if they'd toasted the English muffin first), because after heating it up, they stick it in a wax paper bag, so it steams, but it hit the spot, and their coffee's excellent.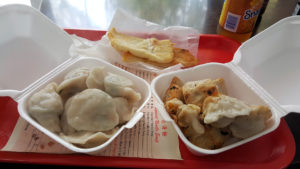 Tasty Dumplings, 42 Mulberry Street, Manhattan – famed as one of the better Beijing style dumpling spots in Chinatown, this tiny spot is mostly takeout, with just four tables for four that are shared by those who want to stay there. Their fame has, perhaps, gone a little to their heads, in various reviews, while they usually come out on top, they're also always a little more expensive than others – and prices have gone up by about 50% since the last time I was there, about five years ago. Still, it's a cheap lunch – as my two orders of dumplings (fried pork and dill, boiled shrimp and chive – both succulent and forcing me to eat each and every one), a scallion pancake that while crispy and golden was lacking in scallions, and a beverage, came in at a mere $11.50. Most people only get one order of dumplings and a drink, for about $6.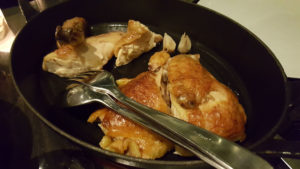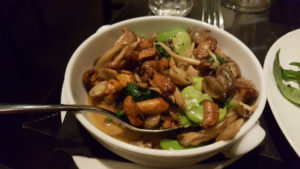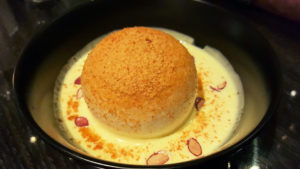 Le Coq Rico, 30 E. 20th St., Manhattan – This wasn't where we planned to go. A night out with one of my best friends here in NYC, and I'd thought it would be a grand idea to head to Cosme, the now award winning spot from the chef behind the elegant, tranquil, Pujol, where I'd had an alcohol-drenched, but spectacular tasting menu in Mexico City a couple of months back. Cosme, it turns out, is anything but elegant and tranquil, being a cavernous space, mostly taken up by a gleaming chrome bar, and on a Monday night the 1st of August, jammed four deep with folk drinking cocktails and carrying on at top din. It just wasn't conducive to an evening of catching up and real conversation, plus we were looking at a 30+ minute wait past our reservation time. So we apologized, cancelled, and headed a block or so away to this new spot that John knew, where a French chef who earned 3 Michelin stars back in Strasbourg, followed by another restaurant in Paris, is specializing in the cooking of poultry.
Whole birds are the name of the game, though a bit too much for our stomachs, thankfully, quarters can be ordered. We started with a lovely, delicate chilled pea soup, and an assortment of different preparations of offal – Chicken hearts on skewers with apple, chicken livers on toasts with horseradish, and more, but then moved on to the star event. Two quarters of chicken, one hind, one fore, to give us a little of everything, perfectly roasted in a cast iron skillet, juicy, flavorful, and accompanied by a creamer filled with their signature house jus, amazing on its own. It comes with a salad, but we also ordered a side of well seasoned, sauteed mixed mushrooms and fava beans. And, while not putting the chicken to shame, we split a dessert of what is easily the best ile flotant I've ever had, speculating on just how he gets the meringue to cook perfectly, and evenly, throughout (we know there's a mold involved, but no more than that), and floating in a nigh on perfect custard. Appetizers and sides run in the mid teens, the quarter chickens are $24 apiece, desserts $10ish, and a bottle of wine (Vincent Girardin Santenay 2013) – all told, about $240 with tip, not cheap, but worth every centime.
---
Copyright © 2016
SaltShaker
. This feed contains copyrighted photos and text from SaltShaker. If you are not reading this material in a feed aggregator or by e-mail subscription, the site you are viewing may be guilty of copyright infringement. Please contact
[email protected]
so that I can take appropriate action.
Plugin by Taragana






This post first appeared on SaltShaker, please read the originial post: here