Still in NYC for a few more days, and more Asian fare! Oh, I miss stuff like this….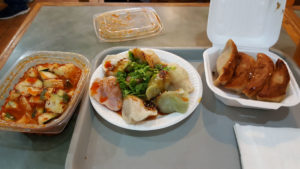 Vanessa's Dumplings, 220 E. 14th Street, Manhattan – Why not compare to yesterday's Dumplings from Tasty? Vanessa's is a small chain of shops, currently three locations around town. It's a bit sleeker and more modern in look, though little different in service and approach – there are limited tables (more of them though), you still stand in line to order your dumplings, and you order by menu item number, not name, and they're abrupt, and they call your order number when ready, and they water down the sriracha and soy sauces (though less so than Tasty does). The dough for the dumplings is noticeably thicker than at Tasty, which turns out to be great for the fried dumplings, as they can really get nice and crispy on a side without burning, and still getting the dumplings cooked through. On the other hand, less successful for the boiled ones, which seem a bit chewy. I ordered chicken and basil fried ones, delicious, and the assortment of boiled (2 each vegetable, shrimp, chicken, pork) with spicy sauce. Save yourself a buck, the spicy sauce is just a few spoonfuls of chili flake oil, which is neither as hot, nor as good, as the sriracha on the table – just get the assorted without sauce and do them up yourself. I asked and paid for a side of kimchi, but that turned into an argument between the cooks and the counter woman, because they claimed they told her there was none left and she insisted they never had. They gave me sweet and sour cucumbers instead, not what I wanted, but it wasn't worth the fight to get back the $2. Total for these, with an iced tea, $14 and change.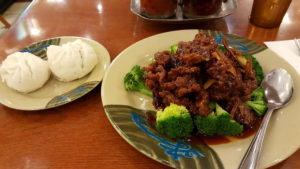 H.K. Wonton Garden, 79 Mulberry Street, Manhattan – There are a lot of things that have faded in my memory being away from New York and fewer and further between visits. How unrelentingly noisy it is with sirens, horns, construction work, road repair, and, well, loud people. How weird people look at you when you say good morning in situations that don't absolutely require it. And how, despite the view of New Yorkers themselves, this is not a city that never sleeps. Oh sure, there are things to do all night long, and you can always find something to eat, but on the whole, most restaurants here tend to open by 5 or 6 p.m. for dinner and close up by 10 or 11 p.m. I found myself at 10:30 after a long blackbelt class and ceremony (I physically received my 3rd dan blackbelt and certificate in kenpo, though I'd actually achieved the rank back in February), hungry, and, it turned out, the friends I'd planned to meet had left messages bailing because they decided it was too late. The place I planned to go, a small Japanese spot serving really unusual dishes, on the Lower East Side, was supposed to be open until 11, but was closed up – as was virtually everything else in the 'hood – people were there still drinking and/or finishing eating, but all the kitchens were closed. So, I headed down towards Chinatown, knowing that at least a few places would be open, and be more interesting than the pizza, jamaican meat patty fare of the late night East Village.
I went really basic – although H.K. is, unsurprisingly, known for their wonton soups, particularly their beef soup packed with extra wontons, I just wasn't in the mood, having had my fill of dumplings already for the day. A couple of steamed roast pork buns hit the spot, especially doused in chili and soy sauces. And hey, it may not (or maybe it is) be all that traditional in classic Chinese cooking, but in Chinese-American cooking, what's not to like about a whopping platter of sticky, sweet, and fiery Spicy Orange Beef? Hit the spot. Happy. $20 with a tip.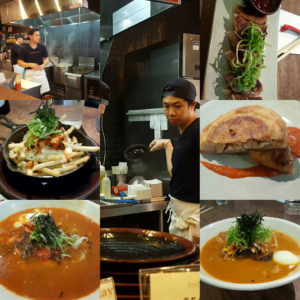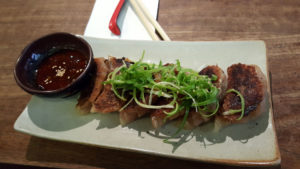 mokbar, inside Chelsea Markets, Manhattan – From their website, you'd never know that mokbar was just a counter with some stools, stuck in a corner of Chelsea Markets, unless you read it all carefully. Certainly their photography doesn't make it seem like that, even their address is just listed as 79 9th Ave on their site. So, that was our first surprise. My friend David is down from Boston for a few days, someone needs to help me power through all this grazing! Described as a Korean ramen bar, where traditional Korean soups meet traditional Japanese noodles, it sounded like a fun start to our first day (well, really only a half day, as he came in in the early afternoon). Honestly, we weren't that impressed with the ramen (and didn't even finish half of either the classic or the spicy), nor most of the food, basically just finding it lacked in seasoning and definitely in spice. I mean, kimchi should have a punch, it shouldn't taste like my grandmother's boiled cabbage, right? Best thing we tried were the fried dumplings with their vinegar dipping sauce, but even those weren't enough to put the place on my radar for a return. With tip, just over $20 apiece for dumplings, pancakes, kimchi fries, two ramens, and a couple of beers.
Off to the movies to see Star Trek Beyond in 3D, great fun! Drinks with friends at The Lamb's Club, pre-dinner…. Great catching up, atmosphere, service, cocktails, nibbles, and music! No photos!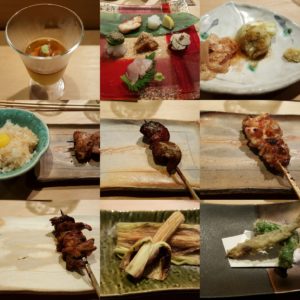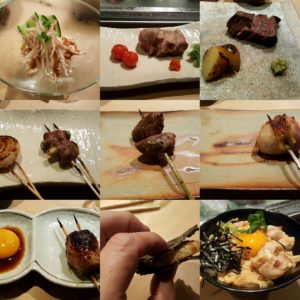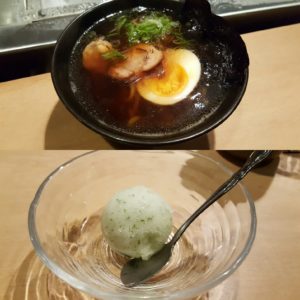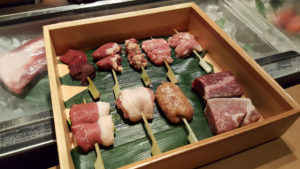 Torishin, 362 W. 53rd St., Manhattan – I don't even know where to begin with this one. Quite simply, the best Japanese meal I've had in New York, anywhere, anytime. We sat at the yakitori bar, chatted with the chefs, and for a flat $140 omakase price, we just ate, and ate, everything from a sublime asparagus gelée with uni and thickened dashi, to the final spoonfuls of shiso sorbet, it was one near perfect course after another. The meal is centered around ten different skewers of grilled meats, punctuated with sauces, sides, and interleaving courses of other dishes (total of 20 dishes, they're in order in the composite pictures, which, reminder, you can click on and blow up to large size). We've debated and can't pick a favorite course for either of us, let alone one we agree on. If you sit in the main dining room there's an a la carte menu that includes some, but not all, of the same dishes, but more regular sized, rather than tasting menu. It was a lot of food, but all so delicious, and really, light, even the meat courses, that we didn't feel stuffed afterwards. A few different sakes added to the enjoyment. No question it adds up – with tip dinner came in at $239 each, far beyond what I would normally pay for a meal (even when I used to live in Manhattan and have an income that could afford it), but totally, completely, worth it. My one real splurge for the week in NYC. I think. There are still more days left….
---
Copyright © 2016
SaltShaker
. This feed contains copyrighted photos and text from SaltShaker. If you are not reading this material in a feed aggregator or by e-mail subscription, the site you are viewing may be guilty of copyright infringement. Please contact
[email protected]
so that I can take appropriate action.
Plugin by Taragana






This post first appeared on SaltShaker, please read the originial post: here