It was Dim Sum Day, that's what we knew when we started out the door. At least that was sort of, kind of, the plan. We'd decided on a trio, or quartet, of spots that are currently touted as the best spots to eat dim sum in the city. And that was just for lunch. Then it was to be off to Flushing, Queens, for dinner, and a bit of bopping around sampling a dish at each of several places – those sort of dishes that foodies have written up as, "this is the only (or best) place to try…". But, best laid plans and all that.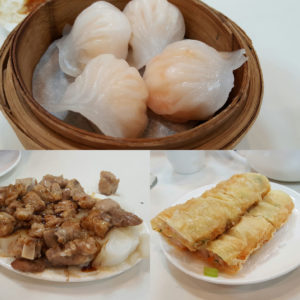 Joy Luck Palace, 98 Mott Street, Chinatown – Big, cavernous, huge television screen covering one wall silently showing karaoke, which seems to defeat the reason for the genre's existence. Opens at 8:30 in the morning for those who are ready to dig into chicken feet and other delicacies muy temprano. We got stuck in a corner and more or less ignored for about 15 minutes. Eventually we managed to get a couple of pass-bys of the carts and picked some beancurd skin wrapped shrimp rolls, and some rolled rice noodles with stewed beef, and asked for and got brought to us some of the place's famous shrimp har gao. The latter were the best of the three, but all in all pretty underwhelming, basically just really bland. Really? This is one of the city's best these days?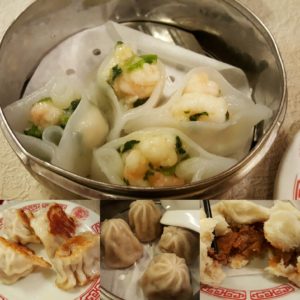 Nom Wah Tea Parlor, 13 Doyers Street, Chinatown – This is old-school, or at least that's the theory, it's getting close on being open a century now (1920). It's the kind of place where you expect wizened old men and women to shuffle around slowly serving you, rather than a trio of young, toned waiters zipping around handling it all with aplomb. A true "tea house", with a selection of well selected leaves to suit a variety of tastes, and the dim sum is ordered off of a checkbox menu rather than from carts. Decent roast pork bun, slightly heavy and near broth-less soup dumplings, quite good pork and chive potstickers, but I think the winner for us, other than that they were all stuck together and to the container, making them difficult to separate and get out to eat, the shrimp and snowpea leaf open dumplings. Rather good all around, but still, this is not the level of dim sum that resides in my memory from days spent in Chinatown when I lived here. These places weren't even as good as what I had in Costa Rica, or here, and they don't even have a real Chinatown. There's got to be better out there.
Maybe it was just the disappointment of the first two spots, maybe it was just not feeling like a walk from Chinatown to Chelsea, or maybe it was just that the soup dumplings at Nom Wah had been so mediocre, but we decided to give a shot at a search for "best soup dumplings". I have my old stand-by favorites, but why not try something new. So we headed into the East Village to The Bao, 13 St. Marks. This is more sort of hipster dim sum and soup dumplings, and we decided on just two trays of the latter – one of their classic "kung fu" xao long bao (soup dumplings), and one of their wasabi spiked. Both excellent, and the latter with a real hit of wasabi inside each. Bulging with broth, thin wrappers just barely holding together, really quite good, and made up for the earlier mediocrity.
Could we have kept going? Yes. Did we? No. We decided it was time for another movie, so it was off to the new Jason Bourne film. A little disappointing, lots of close in shots, and the fight scenes lacked all the sort of cool moves Bourne demonstrated in the earlier ones, here it was a lot of just plain slug-fest punching.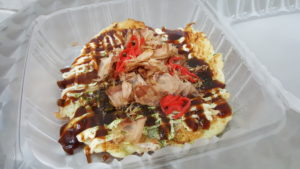 We wandered into Essex Market, geez do I wish it had existed when I lived here in the East Village – it's the kind of place I'd have shopped in nearly every day. Plus, food stands, including Osaka Grub, where we grabbed an okonomiyaki, the traditional Japanese "pancake" topped with "stuff". A bit too sweet for our tastes, and the pancake wasn't cooked enough, so we just had a few bites.
Now, the question was, do we still head to Flushing? We decided against it. Combo of getting there (not difficult, just tedious), and although the various dishes we wanted to try all sounded delicious, they were all also heavier, full dinner kind of things. We decided to go light, and, I suddenly thought of the place I'd wanted to go two nights earlier that had closed up early, for Japanese bar snacks.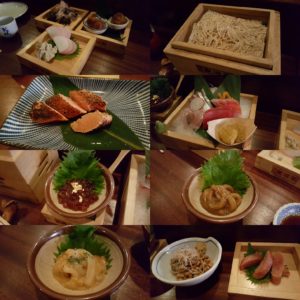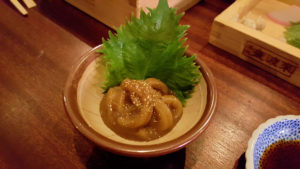 Yopparai, 151 Rivington Street, Lower East Side – Yes, they have sashimi, and we had a little combo of some delightfully fresh pieces of four different fish plus sea urchin and salmon roe (house cured and flavored). And they have an assortment of various noodle and rice dishes that we're all familiar with. But the fun thing stuff here is on the chinmi menu, the bar snacks, and we happily dug into little dishes with homemade natto (fermented soybeans), crispy baby sardine crackers, roasted, and smoked, versions of mentaiko (cod roe), slivers of calamari in a sauce made from sea urchin, chopped fresh wasabi root mixed with sake lees, and, the star of the array, shiokara, ribbons of calamari in a spicy, salty, mouthwatering slurry of, okay, don't go ewww, salted and fermented squid guts. Yes, you read that right. It's a delicacy I've only read about, and hey, you only live once. We loved it.
---
Copyright © 2016
SaltShaker
. This feed contains copyrighted photos and text from SaltShaker. If you are not reading this material in a feed aggregator or by e-mail subscription, the site you are viewing may be guilty of copyright infringement. Please contact
[email protected]
so that I can take appropriate action.
Plugin by Taragana






This post first appeared on SaltShaker, please read the originial post: here