How many of you can point to Brunei on a map? Me neither, until now. How many even have a clue in what part of the world it is? I mean it sounds like something African, or Middle Eastern, or… well, it's Southeast Asian….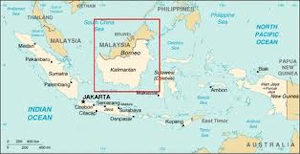 In the midst of Indonesia, is the island of Borneo. We've heard of that – it shows up in films as some sort of jungle island – which is partially true…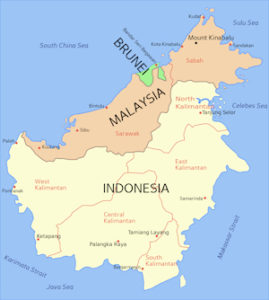 Three different countries occupy different parts of the island – most of it is part of Indonesia, but the north is part of Malaysia, and then there's…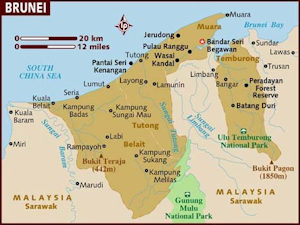 The sultanate of Brunei. At one time, the Bruneian Empire encompassed pretty much the whole island – back in the 15th century and on. It fought a war against the Spanish, and Britain, and gradually ceded parts of itself to become other territories, and on, until in the last 19th century it became a British protectorate, which it remained until 1984, when it became independent. Because of the vagaries of tribal lands, it is divided into two pieces and travel between them requires either entering Malaysia and going through both borders, or going around via water. The western part is where the majority of the population of 450,000 or so live, primarily in cities, including the capital of Bandar Seri Begawan, yeah I'll bet you didn't know that one either. The eastern part is primarily wilderness and indigenous villages. It is ruled by a Sultan, who decreed Sharia Law in 2014. And for my folk, it's no longer a place to visit, as the mere fact of being LGBT became subject to death by stoning as of this year, 2019.
soto, a soup found throughout the region, Soto Kawin, or "married soto". And for our bread, we return to a lovely filled bread, with a Bruneian Curry Puff. There's a lot to do here, so let's get cracking.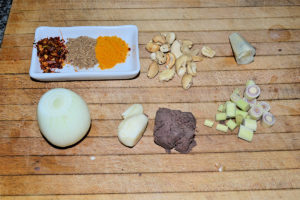 First we have to make our rempah, our curry paste, for the filling. We have one teaspoon each of chili, coriander, and turmeric (in retrospect and a little more research, I should have used a yellow chili powder, which here, I would have had to use ají amarillo from Peru), some cashews, a small piece of ginger, a small onion, a couple of cloves of garlic, about a tablespoon of shrimp paste, and some chopped lemongrass. All of that went into a blender with just enough oil to smooth it out – about the texture of chunky peanut butter. I'm not going to illustrate every step or this will get interminably long.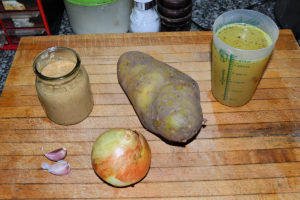 That's it, in the upper left, we're not going to use all of it, just a couple of tablespoons, along with a large potato, some chicken stock, a couple of garlic cloves, and a small onion. I have no idea what I'm going to do with the rest of the rempah.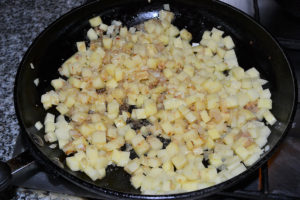 Chop and saute the onions and garlic in a little oil, add a couple of tablespoons of the rempah and cook for a couple of minutes, then add diced potato and cook until lightly colored. then add the stock, bring to a simmer, and cook until the liquid is absorbed and the potato is soft – if you need to, add a splash more water or stock until cooked through.
Put the cooked filling aside and let it cool
This is a complicated dough, sort of. It's more or less what's called German puff pastry, though not exactly…
Sidebar: There are three main types of puff pastry. French, basically you make a dough, wrap it around a layer of butter and seal it, and then keep rolling it out, folding it, and rolling it again (there's also an inverted French where the butter is on the outside, but we're not going there). Dutch, or "rough puff", you cut the butter in chunks into flour and just roll it out and fold it a few times – kind of like a pie dough, but with chunkier butter. And German, you make two doughs, one of which contains butter, one is usually just flour and water, and you layer them.
… Here we make one that's just flour and butter, almost like a paste, and then a very soft dough of flour, oil, water, and sugar.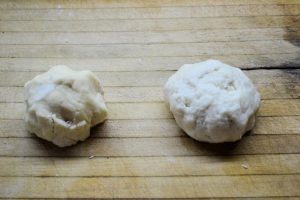 Da! (That's German for Voilà!)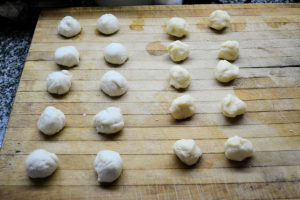 Divide each into ten equal balls.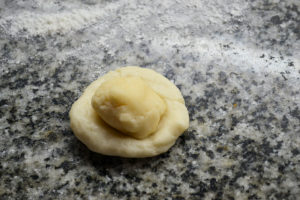 Flatten the oil dough and wrap it around the butter paste…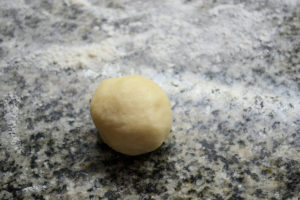 …until it's completely enclosed.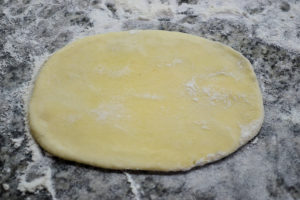 Roll it out into a, more or less, rectangle, 4″ x 6″ – doesn't need to be exact at this point.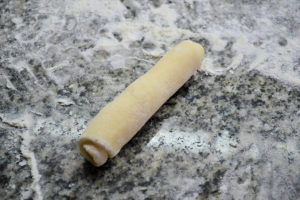 Roll it up from the end, like "Swiss roll", my we're all over the European continent. Then repeat – flatten that a bit and roll it out again into a rectangle the other direction (1/4 turn, i.e., what was the short side is now the long side), roll it up again from the end, and this time…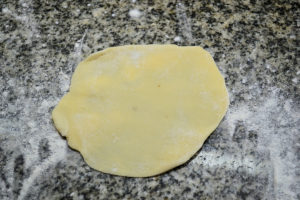 …roll it out into more or less a circle that's just over 4″ across… note you can still see how the butter dough is encased and creates little pockets, which is what will create the flakiness in the dough.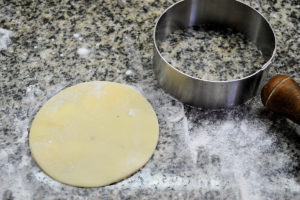 Use a ring cutter to cut nice round circles (or not, you can leave it raggedy, it's going to get folded over anyway). Put a small scoop of filling (now cooled) in the middle, fold it over into a half moon, and crimp the edges.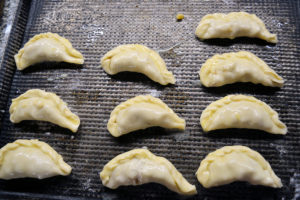 Repeat ten times (I recommend doing all the rolling out first, then fill them all at once, etc.). Refrigerate until about half an hour before you want to eat them. Brush with egg wash (1 egg beaten with 1 tablespoon of water), put in a hot oven (190C/375F) for 20-25 minutes until…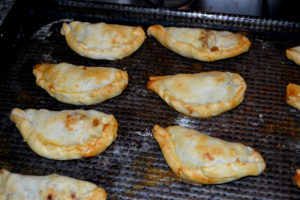 …golden brown.
Whew! Roughly 1000 words and I haven't even gotten to the soup. One moment while I finish my morning coffee….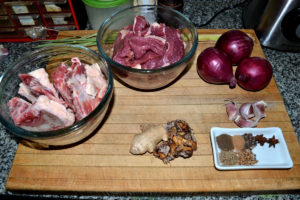 So, on to the soto broth. Just the broth mind you. There's more to come. We have half a kilo (a pound) each of beef bones and beef rump, a big stalk of lemongrass, some red onions, garlic, ginger, galangal, and a half teaspoon each of cinnamon, cloves, cardamom, cumin, coriander, and a couple of star anise. I didn't have quantities in the recipe I was able to find, so it was guess work. I'd probably go for more of everything except the meat for this quantity if I made it again, just to really get a more intense flavor.
Another Sidebar:

Ginger versus galangal. Two roots. Not the same plant. Not interchangeable. You all probably know ginger, kind of spicy, fresh, and just a hint of sweetness. Galangal has a deep, almost pine tree aroma, and kind of citrusy, like a mix of orange and lemon zest.

Very different inside too – ginger is fibrous, whereas galangal is almost like a piece of soft wood.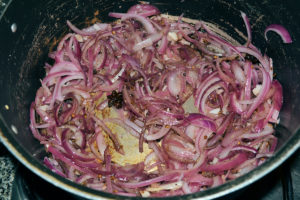 Slice the red onions and chop the garlic and saute in oil until getting slightly golden. Then add all the spices and cook, stirring constantly, to kind of toast them, for about two minutes.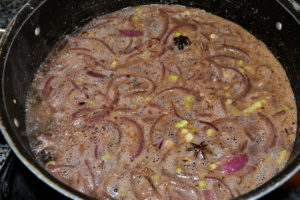 Then add the chopped lemongrass and some water, bring to a boil. Add the beef bones, and the beef (sliced into bite sized pieces), bring back to a boil, reduce heat to a simmer, and cook for three hours. Yes, three hours.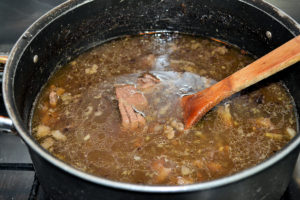 Remove the bones and the rest is ready to go. I have the feeling that the description of how it's made that I found may have been slightly off. Further reading in non-Bruneian versions suggests that what you do is actually leave the piece of beef whole rather than slice it up, and at this point, strain the whole thing, getting out all the solids. Pick out the piece of beef and slice it, and lay the slices into the bowls that we're about to make, but that the broth is left as just a broth with all the bits and pieces of spices, ginger, and galangal, onions, etc., strained out. And that kind of makes sense for this type of soup. Ah well. I had bits and pieces.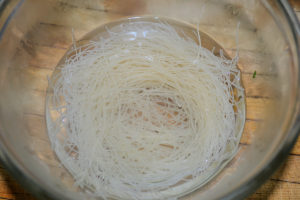 The "married" version of soto uses two types of noodles – a white, rice vermicelli, and a yellow, wheat-egg noodle. If you've never prepared rice vermicelli before, you don't boil them in water, they'll just turn into a gummy mess. Put them in a heatproof bowl and pour boiling water over them. Let them sit for 3 minutes, then strain them, rinse them in cold water to stop the cooking, and they're ready to use. The egg noodles you cook like you would spaghetti, just drain them and rinse them as well when cooked.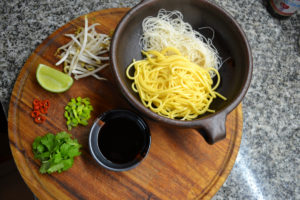 And, here's our presentation, prior to ladling the soup over it. The two noodles side by side in the bowl. Here's where I'd probably lay pieces of beef into there artistically. On the side, condiments left up to each individual diner – some beansprouts, a wedge of lime, some chopped chilies, green onion, cilantro leaves (celery leaves were also suggested, but I didn't have any in the house and didn't feel like running out to get a head of celery at this point), and a mix of soy sauce and vinegar.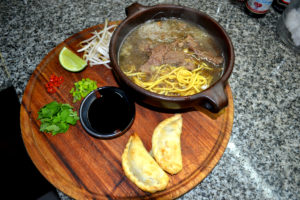 Ladle the soup over the top. Put a couple of curry puffs on the side, and you're ready to serve this to guests!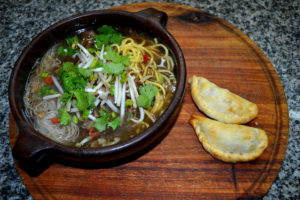 Here's how it turns out with all the trimmings added in.
Very tasty. Again, I'd probably both intensify the broth with more aromatics, and later strain it completely and separate out the meat. Maybe even clarify the broth just to make it pretty. And have a few celery leaves on hand. And that's our Curry Puffs and Soto Kawin from Brunei!
Next time, Bulgaria.
---
Copyright © 2019
SaltShaker
. This feed contains copyrighted photos and text from SaltShaker. If you are not reading this material in a feed aggregator or by e-mail subscription, the site you are viewing may be guilty of copyright infringement. Please contact
[email protected]
so that I can take appropriate action.
Plugin by Taragana






This post first appeared on SaltShaker, please read the originial post: here