I know, I know. I keep saying I'm going to get this project back on track more regularly, and then not doing it. I do have the best of intentions when I say it, I'm just not good with the follow-through…. So hey, instead of a roughly four-year project as envisioned at the beginning, with one entry per week, this'll be more like, oh, 25-30 years…. Just bear with me.
So… where are we at in the alphabet? Still the Bs… British Virgin Islands this time. A British Overseas Territory in the Caribbean consisting of 50+ islands, the biggest and most well known of which is probably Tortola. Only "about 16" of them are inhabited (I use the quotations because it's a weird way of saying it on Wikipedia… do we not know if it's, 15, 16, or 17?) Total population is just shy of 36,000, two-thirds of whom live on Tortola. The population is roughly 84% African descent. Interestingly, only a little over a third of the population of the islands is native born – the majority are either long or short term immigrants – 50% of the labor force are migrant workers from other Caribbean islands. Almost a third of the population work for the B.V.I. government! On the food front, not surprisingly given the population make-up, it's an amalgam of many different cultures.
So, for the Bread, I went with what's called Dumb Bread. Specifically a Coconut Dumb Bread.
"Dumb bread is a rich, round loaf that takes its name from the very clever way in which it traditionally was made. The word "dumb" is derived from the "dum" style of baking that traveled to the Caribbean from India with indentured workers brought to the region following the emancipation of slaves."
That clever style is not exactly what I'm doing, because I'm not digging a fire pit in my garden. Traditionally, the bread, which is a baking powder or soda bread, is pressed into a round, heavy mold and then the mold is nestled into hot coals. I'm using my oven, but setting the mold that I used on the floor of the oven, so it gets extra heat from below.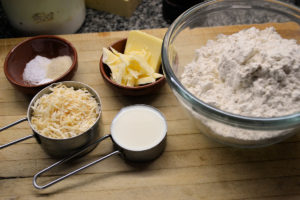 We have… 2 cups of bread flour, a ½ teaspoon each of baking powder and salt, and a ½ tablespoon of sugar; 1½ tablespoons each of butter and shortening, a ½ cup of shredded coconut, and ¼ cup of milk (though I found I needed about another 2 tablespoons of milk to get it to all come together – that may depend on the type of flour and shortening you use).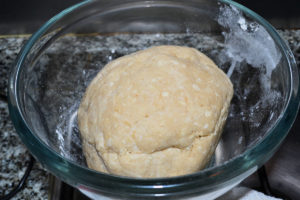 Mix the dry ingredients together, then work in the butter and shortening until well distributed, then add the milk to bring it all together – a splash more if needed, as I found. Set it aside to rest.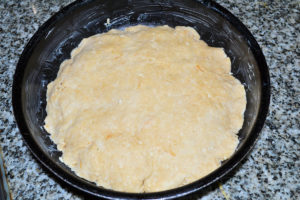 Press into a greased, heavy, round mold or pan.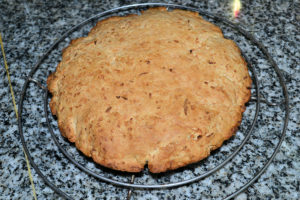 Bake in a hot oven until golden brown. Keep an eye on the bottom so that it doesn't burn. I found that after about 20 minutes the bottom looked like it was getting very dark, so I moved the pan up onto a rack to finish baking for another 10 minutes.
Now, for the Soup, it came down to two, and Callaloo, which I first was considering, is so ubiquitous to various island groups that I thought I'd leave it until another one of them down the line. Particular, it seems, to Tortola and the B.V.I. (though probably there are versions in other places) is Red Peas Soup. Plus it sounded more interesting to make.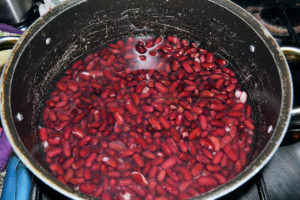 First off, the "red peas", which are actually red beans. Soak a ½ kg or 1 lb bag of them over night and then par boil them until the skins are just starting to split – about an hour and a half. Or, if you want to speed this one up, use some well rinsed cans of red beans.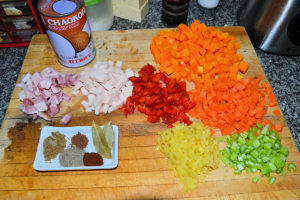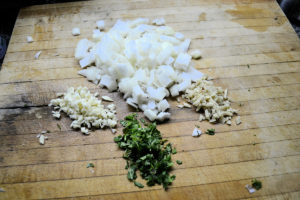 There's a lot that goes into this one… all chopped or diced – an onion, several garlic cloves, a knob of ginger, some cilantro, a carrot, a celery stalk, a small red bell pepper, a couple of "seasoning peppers" (these are sweet peppers in the same family as scotch bonnets or habaneros – we don't have them here, so I used a couple of Italian frying peppers as the closest thing I could think of), some bacon and some smoked turkey (traditionally, it's smoked turkey neck, but we have a hard enough time getting any turkey here at all, so I used some smoked turkey breast), coconut milk, bay leaf, ½ tsp cumin, ¼ tsp nutmeg, ½ tsp black pepper, and just a little habanero chili powder (you can always add more, but this stuff is powerful, use with care – I started with 1/8 tsp in the pot, and that was enough). And salt, not pictured, added later on, because our beans aren't yet fully cooked.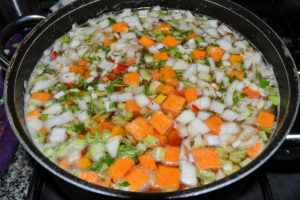 Add everything but the coconut milk to the pot and top up with more water. Bring to a boil and reduce to low to medium heat and cook at a slow boil for another hour. While that's cooking….
…make the dumplings! 1½ cups of pastry/cake flour, 2 tablespoons of semolina, a ½ teaspoon of salt, ¼ teaspoon of black pepper, ½ teaspoon of baking powder, 1 tablespoon of shredded coconut, and 2 tablespoons of butter.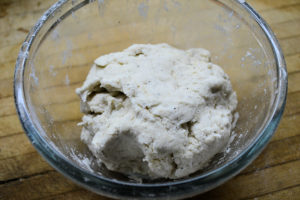 Mix them all together well and then add enough water to form a soft but not sticky dough. Set aside for about half an hour.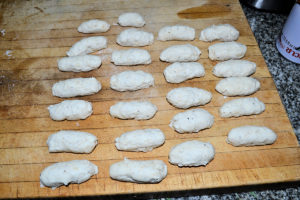 Form into oblong dumplings, you'll get about two dozen of them out of this.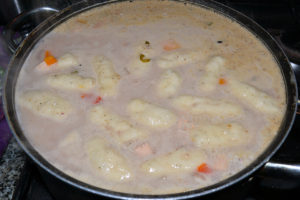 Once the soup has boiled for an hour, add the coconut milk and the dumplings, also time to add in the salt – I started with two teaspoons, bring back to a boil, reduce heat again and let boil slowly for yet one more hour! Stir it occasionally, so that the dumplings, which will float, flip over a bit – otherwise they cook unevenly. Or that's the theory, I'm not sure that's true after an hour of boiling away.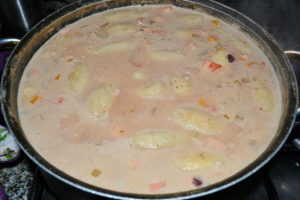 And that's the soup – just adjust the salt – I found it needed almost another teaspoon to be absolutely delicious.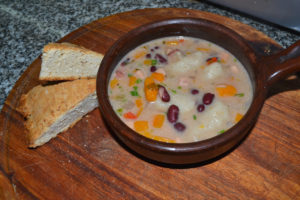 Invite some friends, ladle it up, cut the bread into wedges, and enjoy! That's my version of Coconut Dumb Bread & Red Peas Soup.
Next time, we're on to Brunei.
---
Copyright © 2019
SaltShaker
. This feed contains copyrighted photos and text from SaltShaker. If you are not reading this material in a feed aggregator or by e-mail subscription, the site you are viewing may be guilty of copyright infringement. Please contact
[email protected]
so that I can take appropriate action.
Plugin by Taragana






This post first appeared on SaltShaker, please read the originial post: here