Whose Recipe is the right one? This is always an issue with older recipes in particular, but I find it time and again when I'm researching various unusual pastas. Who has the right info? I was flipping through The Encyclopedia of Pasta, a U of California translation of a meticulously researched Italian work, and randomly picked out a pasta to explore, picchiettini. The entry specified a short pasta, from Umbria, made with "special wheat" flour (not specified), eggs, and water, and talked about the quirky method of forming them. I went back to the book a few days later, when I was starting to write this up, and discovered that there's also a second entry for picchiettini, listing it as the Umbrian name for a pasta from Lazio, manfricoli. The process described is basically the same, though specifies the use of semolina, which, perhaps is the previously mentioned "special wheat", but it's interesting that in neither entry in the encyclopedia does the author, Oretta Zanini de Vita, connect the two to each other. Stepping outside the encyclopedia, I found various recipes, and a single youtube video with an older Umbrian woman making it, and being quite clear that eggs are never used in the making of the pasta – flour and water only. It looks to be semolina that she's using in the video. I like her, so I'm going with her version.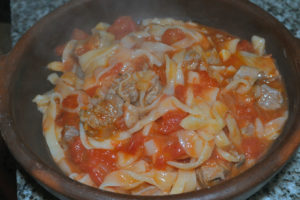 Let's start, as always, with our finished dish, Picchiettini con ragú de agnello, or with lamb ragout. Picchiettini are, according to the various sources, either used in soup, or sauced with a plain tomato sauce, or (according to the encyclopedia) served with a lamb ragout and plenty of Umbrian black truffles. Given that it's a "peasant dish", I doubt truffles were a mainstay in many households. I'm going with a classic Umbrian lamb sauce, sans truffles, which I have no access to anyway. I suppose I could have put a few drops of truffle oil or sprinkled with some truffle salt, which I do have, but I didn't.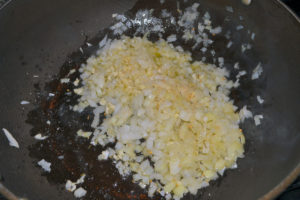 Let's get our sauce simmering on a back burner. Saute some chopped onion, garlic, and pepperoncino in a little olive oil until soft and translucent.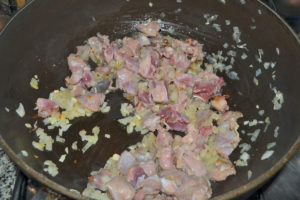 Add some diced lamb and brown it.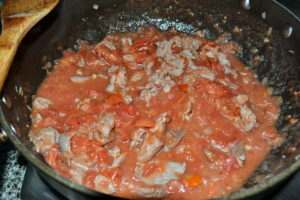 Add chopped or crushed tomatoes (I used a couple of cans of diced plum tomatoes), and some finely chopped rosemary, bring to a simmer, cover, and let cook over lowest heat while you make the pasta.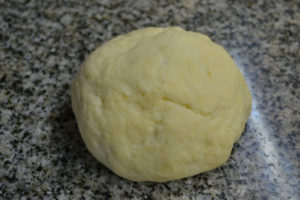 Just a quick semolina and water dough, nothing fancy. As I said, I went with the non-egg version.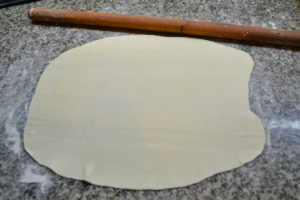 Separate into smaller, workable balls of dough and roll out until it's about 1/16″, just under 2 mm, thick.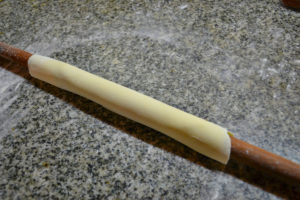 Now comes the quirky part. Flour the dough well, and roll it up around your rolling pin.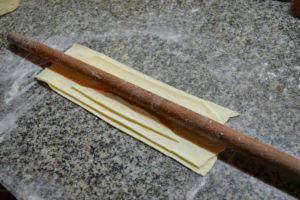 With a sharp knife, cut lengthwise along the top of the pin and you end up with "the perfect size". Of course, everyone's rolling pin is a different size – mine is a section of a broomstick. Only one recipe I found specified that the width of these rectangles (which will become the length of the pasta), should end up around 2″, or 5 cm. Mine end up just a shade over 4 cm, so I'm fine with that.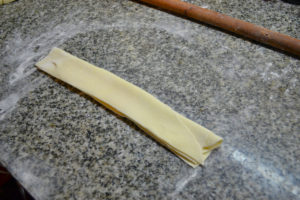 Fold the pasta over lengthwise. I'm not sure why this is necessary, other than maybe it just makes it easier to control getting even cuts in the next step.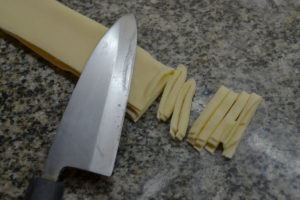 And then cut into thin "matchsticks". Different recipes specified anywhere from that the width should be equal to the thickness of the dough, i.e., 2 mm, to roughly 3 mm wide. I'm somewhere in there.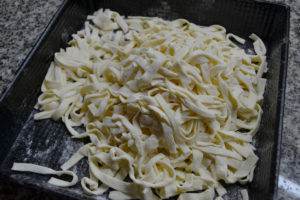 Toss with some flour and make sure they open up, so they're not doubled over any longer. Virtually every recipe suggested that they should be cooked immediately, rather than left to rest, or dry.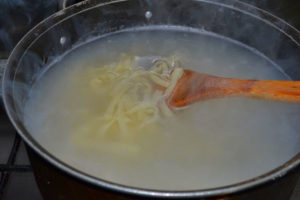 So, straight into boiling salted water. These are so thin that by the time the water came back up to a boil, roughly 2½ minutes, they were already cooked.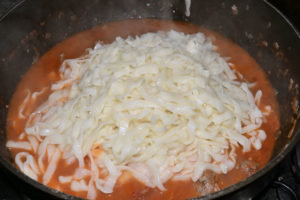 In order to get a bit of the pasta water into the sauce, which helps thicken it, I used a "spider" and scooped out the pasta direct from the boiling water, still dripping wet, and without draining it, plopped it right into the sauce.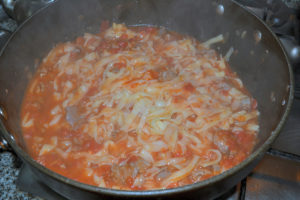 Tossed it all together over the heat just to thicken it up and let the pasta absorb a little sauce. These are so delicate that you really have to toss the pan to do this rather than using something like a wooden spoon to mix it all together, which will probably just break the pasta up. This, I suppose, would be the moment to have also shaved in some black truffles, or added a few drops of the truffle oil.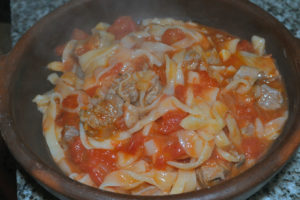 And, we're back to steaming bowls of delicious Picchiettini con ragú de agnello!
---
Copyright © 2018
SaltShaker
. This feed contains copyrighted photos and text from SaltShaker. If you are not reading this material in a feed aggregator or by e-mail subscription, the site you are viewing may be guilty of copyright infringement. Please contact
[email protected]
so that I can take appropriate action.
Plugin by Taragana






This post first appeared on SaltShaker, please read the originial post: here