A couple of spots that were in the hopper from before I left on vacation, and a couple tried since returning…. We've got vegetarian sandwiches, burgers, a fantastic mustard Sauce, and even some relatively decent Sushi.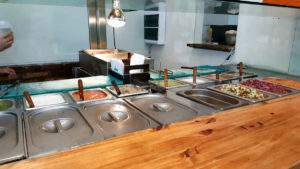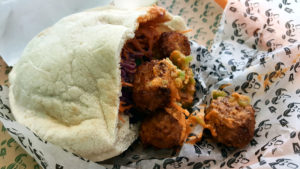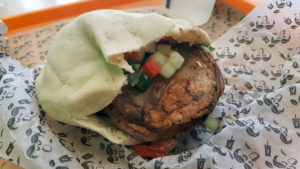 Veggie Medio Oriente, Suipacha 532, Microcentro – Fast food, albeit ostensibly better for you than the typical burger, pizza, or fried chicken. That may or may not be true – it is all vegetarian, but it's also all deep fried. Basically, you get to stuff a pita with either falafel or slices of eggplant (sabij), and then add in your choice of sauces and garnishes – various fresh vegetables, middle eastern salads, etc. And, if you need more fried, you can get your sandwich with french fries. It's not bad, it's not good – both the falafel and eggplant are pretty dry – they're not fried to order, they're pre-made and kept under heat lamps, the garnishes are the best part. Want to make it really healthy, just get a pita stuffed with those. Inexpensive at 90 pesos a sandwich.
---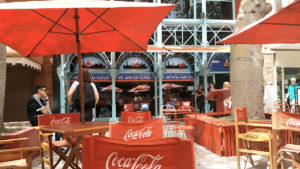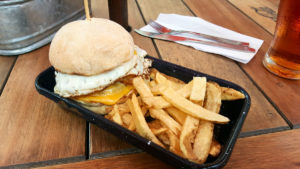 The American Burger, Pres. Roberto M. Ortiz 1865, Recoleta – The Embers is no more. At least the one that opened up here in Recoleta in late 2016. It closed up shop at the end of this last year and has been replaced by the Red, White, and Blue Americana of this paean to tourism. For the moment, much of the menu remains the same because, according to my waiter, "we don't have a chef yet, just some cooks who used to work at The Embers, and it's what they know how to make". I was informed that several items weren't available (like the chili for the chili burger that was my go-to reason at The Embers), and the menu is gradually shrinking, but soon, they will have their own, bright, shining, new one. As it stands, however, it was a mediocre, over-cooked burger with plastic cheese, a well done fried egg, chewy, semi-cold unsalted fries, and a choice of Quilmes or Patagonia Amber on tap. I can't find the receipt, but I think the burger was 190 pesos. Oh, and they don't take credit cards like The Embers did. Meh. Maybe I'll recheck it out after they "find a chef"…
---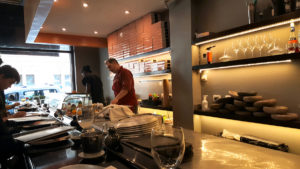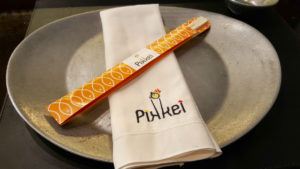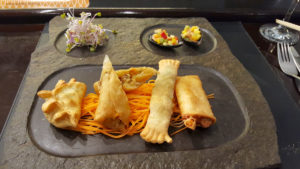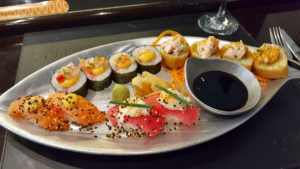 Pikkei, Montevideo 1061, Recoleta – It's probably unfair of me to pop into this place just a day or so after returning from Lima, where I had amazing sushi and fantastic nikkei creations, because, let's face it, no one in Buenos Aires has, to date, even remotely approached that level of sushi quality, and that includes the offshoots of Lima-based groups, like La Mar and Osaka. Let alone the gouging level of prices here versus there. But, I happened to walk by this spot (which took over the space that Dashi vacated at the end of last October), and thought I'd give it a try.
It's a comfortable room. Service is friendly. The guy behind the sushi counter has the look of someone right out of central casting for the chef at some diner called Mom's. But he can roll a mean maki. I'd have to say, not bad overall. The little appetizer sampler that turned out to be all fried items wasn't quite what I expected – the idea being a selection of Peruvian and Japanese delicacies – the "gyoza" at the left was really just a small empanada, "geishas", too, are not normally deep-fried. The harumaki and the tequeño, were more dead-on. Each had a different filling – they could have used some sort of dipping sauce, other than just soy sauce that was there for the sushi. And a bit scant for 235 pesos.
My second biggest peeve in relation to sushi here in BA, after the over-use of cream cheese, is that nigiri are almost always served in fives. In pretty much the entire rest of the world, they come in ones or twos. What I mean is, if you've got a bunch of different fish, in most places you can order one piece of each, or often, like I found in Lima, two. Here, almost universally, it's five. So if you want to try half a dozen different kinds of nigiri, you'd end up with 30 pieces of sushi in front of you. It's ridiculous, and stupid. Then again, few places here offer more than salmon, one type of white fish, shrimp, and octopus, so it's rare that you have much variety to choose from (pet peeve #3 in regard to sushi here).
And, the same holds true of Pikkei, other than that they offer two items, special nikkei versions of the salmon and red tuna, in twos. So I got those, and they do allow you to order half-makis, so I was able to try two different types – their Trés Mares, with salmon, tuna, and sole and a yellow chili sauce, and a Tsukiji with salmon, prawns, and avocado and a ginger-passionfruit sauce. All good. Honestly, not as good as places like La Mar or Osaka here, and not even on the same playing field as the places I tried in Lima, but good. A step above the usual sushi bars here, both in quality and creativity, at the least. Moderately expensive, not over the top – all of the above plus a bottle of water and an espresso after, for a shade under 800 pesos, or about $38 at the current exchange rate.
---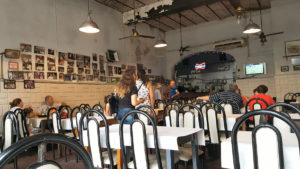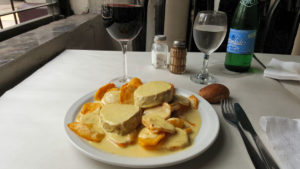 Cantina Pantaleón, Carlos Calvo 4249, Boedo – Another entry in the "Bald Charlie" series of spots for meat. Seriously, I have to come up with a good title and make it a chapter for a book about the search for meaning and the secrets to life over a plate of carne on the streets of Buenos Aires. This place isn't a steakhouse, it's more of a bodegón, a mix of classic local dishes, served up cheaply and cheerfully. There's no decor to speak of – just a lot of futbol photos mounted on the wall. The hours the place is open seem to be haphazard – I'd tried twice before when I was in the area during hours they claim to be open, only to find them shuttered. But, first one in the door on a weekend afternoon and there it was. Clearly a place for "regulars", as everyone else who came in were obviously friends with manager/owner, waiter, etc.
I'd been clued in that the dish to order was the peceto a la mostaza – top round medallions in a mustard sauce, and when I asked the waiter, his response was, "How do you know about that? Who told you? That's our best kept secret." Come on, it's on your menu under "specialties of the house", even if sandwiched by a dozen other dishes. The kitchen, a bit slow – I don't know if that was because I was the first customer of the day, or if they're always slow, but it took almost 40 minutes to get the dish. Two generous medallions of meat, a little overcooked for my tastes. A mound of souffle potatoes, perfectly crispy on the outside and soft and creamy inside. And, smothered in a dead-on, classic mustard sauce – white wine and shallot reduction, decent mustard (not the usual sweet mustard so many places here use), finished with a good dollop of cream, and seasoned right. I'd happily eat that again, any time. And at 180 pesos, under $9, it's a steal. Even the house wine, a Finca de las Moras Malbec, at 70 pesos a glass, was a good choice, and the pour was nearly half a bottle!
---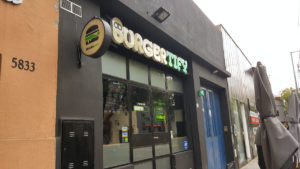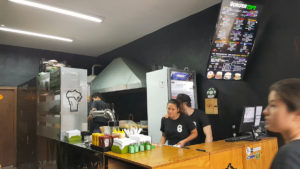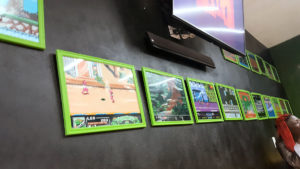 Burgertify, Costa Rica 5827, Palermo – A couple of guys, Kevin and Gerardo, fleeing the economic collapse of Venezuela, came to Argentina last year with suitcases in hand, a few bucks, and the dream of opening a virtual reality company. Non-virtual reality, i.e., the real thing, turned out to make that little more than a dream, and somehow, mutated to opening up a small hamburger joint, fused with their love of old 8-bit video games (Pacman, Mario Brothers, etc.). The latter form the decor of the place – also, though I didn't look, I gather that in the back, they actually have player consoles for those who want to play the games, or maybe it's just for themselves.
The burgers are pretty straightforward – various combos of cheeseburgers (named after classic video games) – with a choice of cheddar, blue, or "palmita" cheese, the last is basically fresh farmer's cheese in small slabs, crispy bacon, grilled or crisp onions, lettuce, tomato, and a trio of sauces, nothing all that "out there". Brioche buns. Triple cooked fries. And a penchant for height. The burgers aren't any bigger than anywhere else, coming in at 200 grams, or just over 6 ounces, but they don't do them in single patties on a classic sized bun (traditionally 4 to 4½", 10-12 cm), but are more around 3″, or 8 cm, and they split the meat into two patties of 100 gm each and stack them. It makes them particularly Instagram-able, especially if you order a double or triple, where you end up with either 4 or 6 patties. And that's a the geek, tech touch that they're going for. Everyone Instagrams these.
So I ordered the Jefe Final, coming with lettuce, tomato, grilled onions, grilled palmita cheese, and cilantro mayo (190 pesos). I added bacon to the order (extra 15 pesos). I didn't realize until most of the way through that they hadn't put any bacon, nor onions on it. That's usually not something I'd miss catching. The patties are well seasoned, though for me over-cooked, definitely into the medium well territory – with patties this size, the 10-15 minutes on the grill is overkill. I can't say if the bacon is nice and crispy, as they claim, as I didn't have any. They were criticized early on for blending ground bacon into the beef to give it some fat, but not telling people, which upset some folk who don't eat pork, and they now say they don't do that anymore. The bun is tasty, but it falls apart a little too quickly. The fries are excellent.
Oh, the one burger, or at least presentation, that's a little out there, at least for BA? The Donkey Donut, which, not surprisingly, comes sandwiched on two glazed doughnuts. No, I'm not going back and trying that one for you.
So, is it the best burger in town, or even in Palermo? No. It might make it into my top 5 for Palermo proper, but not even in my top 10 for all of BA. Still, I'd go back. And in this age of style over substance, perhaps it's more important for many folk that it's all very photogenic.
---
Copyright © 2018
SaltShaker
. This feed contains copyrighted photos and text from SaltShaker. If you are not reading this material in a feed aggregator or by e-mail subscription, the site you are viewing may be guilty of copyright infringement. Please contact
[email protected]
so that I can take appropriate action.
Plugin by Taragana






This post first appeared on SaltShaker, please read the originial post: here