March 16 – 2018 – 16 de Marzo
A couple of new dishes inspired by my trip this last couple of weeks in Peru. Apologies for the photos – I realized at last minute my regular camera wasn't charged and these are photos from my phone.
Unos platos nuevos inspirados por mi viaje a Perú durante las últimas semanas. Disculpas por las fotos – realizé al último momenot que mi camera regular no estaba cargado y estas fotos estan de mi celu.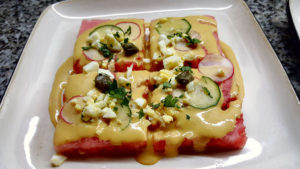 Watermelon Tonnato – sliced watermelon, lightly salted; spicy sauce of mayonnaise, tuna, anchovy, caper, yellow chili; salted cucumber and radish slices; hard boiled egg; capers; parsley. (Inspired by the grilled watermelon salad at Malabar)
Sandía Thoné – sandía rebanada, salada ligeramente; salsa picante de mayonesa, atún, anchoa, alcaparra, ají amarillo; laminas de pepino y rabanito, salados; huevo duro; alcapparas; perejíl. (Inspirado por la ensalada de sandía a la plancha en Malabar)
Alma Mora Extra Brut, San Juan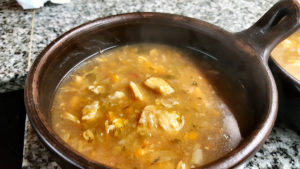 Seafood Soup with Rum & Spicy Sherry – fish, shrimp, and cockle chowder with a tomato base – direct from my recent Bread & Soup Project entry for Bermuda.
Sopa de Frutos del Mar con Rón y Jeréz Picante – sopa de pescado, camarones, y berberechos con un fondo de tomates – direct de mi apunte recién del Proyecto de Pan y Sopa para Bermuda.
De Mono Rojo MRV 2016, Valle de Uco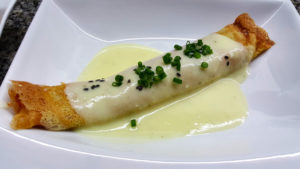 Eggplant / Lemon / Chickpea – chickpea and scallion crepes filled with puree of charred eggplant, garlic, mint, thyme, tahini, merquén, sesame and olive oils; lemon egg yolk sauce; chives, pink sea salt, black sesame.
Berenjena / Limón / Garbanzo – panqueques de garbanzo y verdeo relleno con puré de berenjena quemada, ajo, menta, tomillo, tahini, merquén, aceites de sésamo y oliva; salsa de limón y yemas; ciboulette, sal de mar rosado, sésamo negro.
Sophenia "AltoSur" Malbec Rosé 2017, Tupungato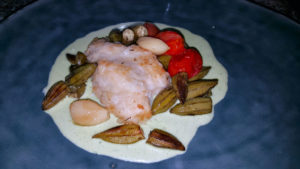 Pan-Fried Chicken with Okra, Cilantro Velouté – chicken breast marinated in lime juice, salt and pepper, dusted in flour, and pan-fried; roasted okra, cherry tomatoes, garlic cloves; sauce of bechamel, concentrated chicken stock, green chili, cilantro.
Pollo Frito al Sartén con Bamía, Velouté de Cilantro – pechuga de pollo marinada en jugo de lima, sal y pimienta, espolvoreada con harina y fritada en un sartén; bamía, cherys, y dentes de ajo asados; salsa blanca, caldo de pollo concentrado, ají verde, cilantro.
Durigutti Cabernet Franc Reserva 2011, Luján de Cuyo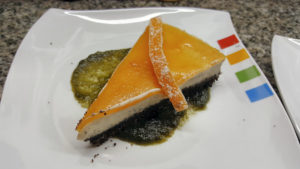 Lapsang Souchong Tea Cheesecake with Orange & Basil – smoked cocoa cookie crust; homemade cream cheese filling infused with Lapsang Souchong Tea; pureed orange marmalade; candied orange peel; basil fluid gel. (Inspired by the iced tea at Pan Sal Aire)
Cheesecake de Té Lapsang Souchong con Naranja y Albahaca – masa de galletas ahumadas de cacao; relleno de queso crema casero infusado con té lapsang souchong; puré de mermalada de naranja; cascara de naranja acaramelizada; gel fluido de albahaca. (Inspirado por el té helado en Pan Sal Aire)
Zuccardi "Malamado" Viognier, Mendoza
---
Copyright © 2018
SaltShaker
. This feed contains copyrighted photos and text from SaltShaker. If you are not reading this material in a feed aggregator or by e-mail subscription, the site you are viewing may be guilty of copyright infringement. Please contact
[email protected]
so that I can take appropriate action.
Plugin by Taragana






This post first appeared on SaltShaker, please read the originial post: here