March 22-24 – 2018 – 22-24 de Marzo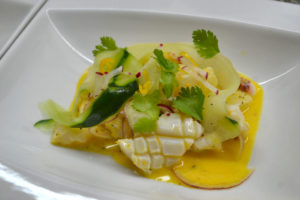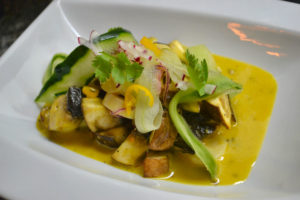 Sole & Calamari Ceviche – sole and calamari in an emulsified cure of grapefruit, lemon, and lime juices, olive oil, yellow chili, ginger, passionfruit, salt and pepper; brined cucumber strips and radish threads, red onion, limo chilies, cilantro. Vegetarian option with diced portobello and sliced palm hearts.
Ceviche de Lenguado y Calamár – lenguado y calamár curado en emulsificación de jugos de pomelo, limón, y lima, aceitte de oliva, ají amarillo, jengibre, maracuyá, sal y pimienta; tiras de pepino y hebras de rabanito en salmuero, cebolla morada, ají limo, cilantro. Opción vegetariana con daditos de portobelos y rodajas de palmitos.
Alma Mora Extra Brut, San Juan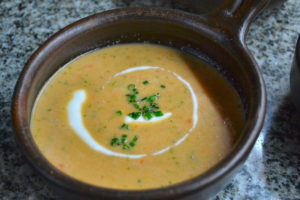 Watermelon Gazpacho – pureed soup of watermelon, tomato, cucumber, red chilies, garlic, olive oil, red wine vinegar, salt and pepper; fine dice of red and green bell peppers; salted yogurt, chives.
Gazpacho de Sandía – sopa en puré de sandía, tomate, pepino, aji rojo, ajo, aceite de oliva, vinagre de vino tinto, sal y pimienta; picada de morrones rojos y verdes; yogúr salado, ciboulette.
Onofri "Alma Gemela" Pedro Ximenez 2017, Mendoza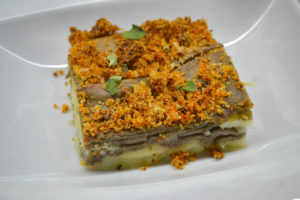 Pizzocherri di Teglio – layered presentation of this Valtellina classic – alternating layers of cabbage, potato, and buckwheat-rye flat noodles with plenty of toma and fontina cheese, butter and garlic; topping of panko breadcrumbs, parmesan, garlic, butter, and smoked chili; oregano.
Pizzocherri di Teglio – presentación en capas de este clásico de Valtelina – capas alternas de repollo, papa, y fideos planos de saraceno y centeno con mucho queso toma y fontina, manteca y ajo; cubierta de migas de panko, parmesano, ajo, manteca, y aji ahumado; orégano.
Sophenia "Alto Sur" Malbec Rose 2017, Tupungato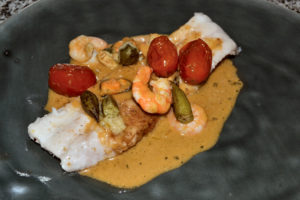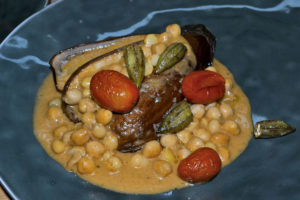 Broiled Smooth-Hound in "Chupe" Reduction – fillet of narrownose smooth-hound (type of dogfish) brushed with mushroom oil and broiled, finished with dried tomato salt; reduction sauce of vegetable stock, tomato, rocoto, mirasol and panka chilies, oregano, cilantro, parsley, onion, leek, carrot, celery, garlic, smoked paprika, white wine, soy sauce, miso, cream, milk; sauteed mussels and shrimp; roasted okra, cherry tomatoes, and garlic. Vegetarian option with sliced roasted eggplant in mushroom oil, and sauteed chickpeas.
Chupe Reducción de Gatuzo Asado – filete de gatuzo cepillado con aceite de hongos, y asado, terminado con sal de tomate seco; salsa reducción de caldo de verduras, tomate, rocoto, ajies mirasól y panca, orégano, cilantro, perejíl, cebolla, puerro, zanahoría, apio, ajo, pimienta ahumada, vino blanco, salsa de soja, miso, crema, leche; mejillones y camarones saltados; bamía, cherys, y ajo asado. Opción vegetariana con berenjena rebanada y asada in aceite de hongos, y garbanzos saltados.
Trapiche "Costa y Pampa" Pinot Noir 2015, Buenos Aires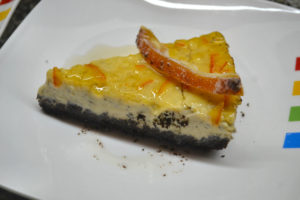 Lapsang Souchong Tea Cheesecake with Orange & Basil – smoked cocoa cookie crust; homemade cream cheese filling infused with Lapsang Souchong Tea; pureed orange marmalade; candied orange peel; basil syrup.
Cheesecake de Té Lapsang Souchong con Naranja y Albahaca – masa de galletas ahumadas de cacao; relleno de queso crema casero infusado con té lapsang souchong; puré de mermalada de naranja; cascara de naranja acaramelizada; jarabe de albahaca.
Bodega Piedra Negra "Pasitea" Pinot Gris Dulce Natural 2012, Mendoza
---
Copyright © 2018
SaltShaker
. This feed contains copyrighted photos and text from SaltShaker. If you are not reading this material in a feed aggregator or by e-mail subscription, the site you are viewing may be guilty of copyright infringement. Please contact
[email protected]
so that I can take appropriate action.
Plugin by Taragana






This post first appeared on SaltShaker, please read the originial post: here