I'm a child of the 60s. You say, "Félix Clásico", and my mind goes here…
…but, here, among the self-proclaimed food cognoscenti, the mind is apparently to go here…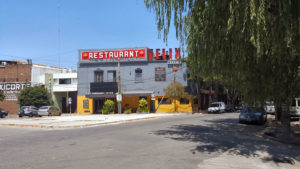 …to Félix Clásico, José María Freire 794, in Piñiero, a suburb just south of the city. I've been hearing about this place for more than a decade. At some point it apparently had closed up, and I recall a friend of mine long ago telling me that he'd heard it had reopened and we should go. He was shocked I didn't know the place (I'd been here for something like a year at that point), claiming it was the most famous seafood spot in all of Buenos Aires province. Somehow, we never went, he'd said it was a place we needed a car to get to, so I'd stuck it on my list of places to check out someday, but never made a big effort. I've seen other claims for both the fame of the place and for how amazingly good it is. It also must have closed and reopened again, as when I was looking online, I saw a note in a local paper about it reopening just over a year ago in December 2016.
The Roving Ravenous Horde needed a spot to go to for our 18th outing, and the one person I knew was confirmed in advance had told me he'd really love a seafood place. I spotted it on my map, and thought I'd see if it was workable to get there without private transit. Sure enough, it turns out it's actually pretty easy, for me, a straight shot on the #37 bus (Google and Moovit thought it would take, respectively, an 70 minutes and 50 minutes – it actually took 35). So I put up the announcement, and in swift order, we had seven of us confirmed for lunch, with two maybes. The morning of, two folk cancelled due to food poisoning, two more for another illness, and then last minute, the two maybes bowed out. So, three of us for lunch!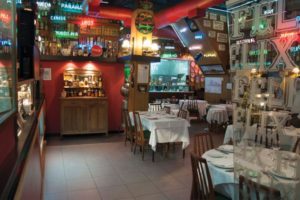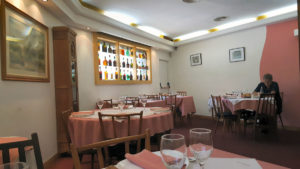 First off, the space is in the middle of an industrial zone – literally. It's surrounded by warehouses, trucking companies, and a factory or two. Very strange location, but I imagine it was cheap to get the property, and being suburban, most folk probably come by car. It has two rooms – a large bar that's festooned with neon signs touting names of various countries of the world, and a more staid, albeit very salmon pink room to the other side of the kitchen. Friendly waiter, and the owner as well, who came to check on us a couple of times.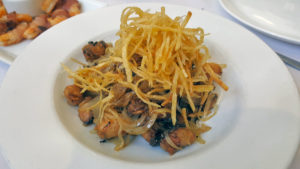 We decided to split a couple of appetizers and then order individual main courses. First up, an order of calamarettes a la leonesa, baby squid done Léon style – sauteed in a white wine and onion sauce, here with a hint of soy added, and then topped with papas pailles, or, shoestring potatoes. We loved the flavors, though the calamarettes were a trifle overcooked – it's hard with these tiny baby squid, you either just barely poach them in the sauce, for under 30 seconds, or you have to stew them for about 20 minutes. These were probably sauteed in the sauce for about 2-3 minutes and ended up a touch chewy. 270 pesos ($13).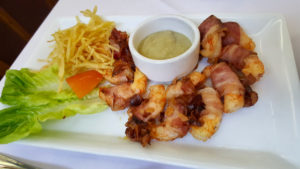 Bacon wrapped prawns with a smoked eggplant puree and lightly brushed with a reduced balsamic vinegar. Again, great flavors, and again, just a trifle overcooked. The puree was a nice touch, and echoed the smokiness of the bacon. Maybe a bit small of a portion at 260 pesos (just under $13), especially when touted as an appetizer big enough for the table to share.
Sometime while we were eating our appetizers the power went out in the place. It wasn't an issue for lighting (other than in the kitchen, where we could see they were using flashlights to help see things well, but it did start to get a little warm and humid over the next 45 minutes or so while we were still there.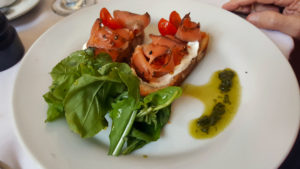 On to the main courses – one of our number wanted something light and ordered another appetizer instead, the house herb-cured salmon gravlax on bruschetta with an herb olive oil and a bit of cream cheese. Really nicely done gravlax, I'm not sure I've had better here in BA. However, two gravlax bruschetta for 240 pesos (just shy of $12) seems a bit pricey. Then again, salmon is imported here from Chile and is expensive to buy – these days running over 400 pesos/kilo, before filleting.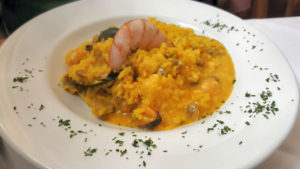 A very tasty shellfish risotto, with a good mix of fruits of the sea, and a lovely golden saffron color and the flavor of the real thing. The texture was a little off, first, slightly undercooked, maybe just by 2-3 minutes, but enough to still have the grains be a little more than al dente, and second, it was missing that creamy, starchiness of real risotto rice, and looking closely at the photo, I have the feeling they use a straightforward long grain rice rather than risotto rice. 330 pesos (roughly $16).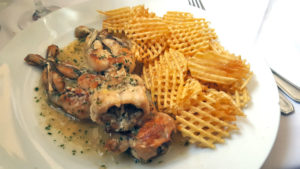 And, I rarely see frog's legs on menus here, and they're a personal favorite. In fact, the only place I've seen them (where they actually had them – I've seen them a few other times but they never had them actually available) is La Bourgogne. Here, they're more than legs, they're basically the entire frog except the head, and two of them, so a generous portion, done provençal style, with garlic and parsley, and absolutely delicious. Still, a minor disappointment here, too, they were supposed to be served with papas noisette, which are those little golden-brown spheres of potato in brown butter, but instead came with waffle chips. Given the power outage and it was clear they were really trying hard to make sure everyone was fed, I decided to let it pass. 370 pesos (roughly $18).
Overall, impressed. Really good food, despite the missteps. Is it the most amazing seafood place in Buenos Aires, city or province? No. You can eat as well or better at any number of places. But between service and food, it's certainly recommendable, and really not at all difficult to get to – for most of us in the city, probably no harder than going to somewhere in La Boca, and I've certainly taken the lunch group on harder to get to outings. It's expensive, but then, so are pretty much any seafood places here, and it's certainly not out of line with other good spots, maybe even slightly less.
They hit you a little harder on the "extras" – a 50 pesos/person cubierto charge, 50 pesos per bottle of water, 100 pesos for a glass of house wine. With tip, for three of us, we came in at 2200 pesos, or just shy of $110, which isn't bad for 3 for a quite good seafood lunch, though keeping in mind we had 3 appetizers and 2 main courses, rather than the other way around. Oh, and kudos for the fact that without power, they still let us use a credit card, just snapping a quick photo of it and charging it later when they had power back – and for the correct amount.
I'd go back again – they do offer a parrillada de mar, a mixed seafood grill, of a shareable size, and I wouldn't mind giving that a try one day.
---
Copyright © 2018
SaltShaker
. This feed contains copyrighted photos and text from SaltShaker. If you are not reading this material in a feed aggregator or by e-mail subscription, the site you are viewing may be guilty of copyright infringement. Please contact
[email protected]
so that I can take appropriate action.
Plugin by Taragana






This post first appeared on SaltShaker, please read the originial post: here