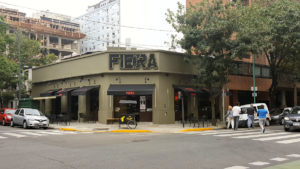 What's in a name? What's in a word? One of the things that is often frustrating for visitors and expats here (as well as many locals) is the use of lunfardo, the street slang of Argentina. What makes it frustrating is that it's not really codified, as street slang generally isn't, making it hard to find out what things mean, and, probably more, that it differs from place to place.
Enter Fiera, a steakhouse with two locations here in town, and a visit last weekend with my regular Sunday lunch companion Steven and another friend. We went to the Belgrano location, at Av. Monroe 1599. Now, what's in that name? According to Rena, who had picked the place, calling someone a fiera is an affectionate term to apply to someone who's basically a lazy bum, a couch potato… sort of "get your ass out of bed you fiera and let's go do something today". Rena's from Jujuy, in the far northwest of the country, and apparently, up there, that's what the word means.
My paperback lunfardo dictionary doesn't include the word. A Google search, just clicking on the links that popped up on the first page, yields definitions that range from amicable to not. According to the site que-significa, it refers to a person who is an evil genius, and/or of evil character and violent. The todo tango site says it refers to a bold, daring person, someone outstanding and capable, and/or also to a woman particularly known for her sensuality. The neo-lunfardo web page says it's a word meaning friendly treatment. Oscar Conde's etymological dictionary of lunfardo says it's a filler word you use when you can't quite remember someone's name, sort of like, hey big guy. He also includes a note that it can be used to denote a person of bad character.
See how much fun this can be trying to know what to say? No wonder I sometimes get looked at like I'm insane when I use lunfardo words. I generally try to avoid them. On to the steakhouse!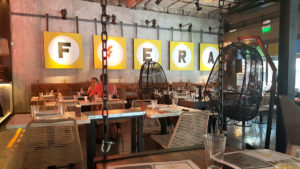 The space is a sort of industrial chic, with bare concrete walls, interesting cow related artwork, and lots of chains. Lots of chains. For a parrilla, the air is remarkably smoke-odor free, which may mean they have really good kitchen ventilation, or, it may mean they're using a gas grill….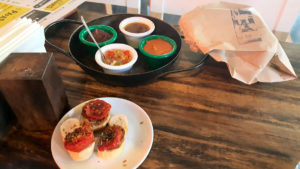 Every table gets a little paper bag of different kinds of dinner rolls, some vaguely bruschetta-ish pieces of sliced bread with a dried tomato on top, and a quartet of sauces. The latter turn out to be quite good – a very good chimichurri and salsa criolla, a surprisingly not sweet but rather tangy barbecue sauce, and a really good hot sauce with an actual kick to it.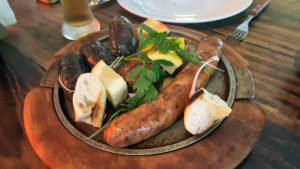 We ordered up a Menage a trois, according to the menu. A decent, albeit really dense chorizo, three small and very good morcillas, and four coiled and grilled chinchulines (chitlins as we might call them), which could have been a little more crisply grilled for my tastes, but were still delicious. 215 pesos.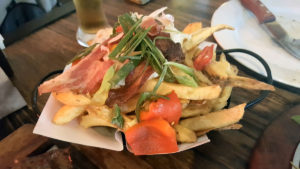 An order of their house french fries – actually Cooked right, with a crisp exterior and soft interior. I like the idea of the bacon, egg, peppers, and green onion, but they'd have been better had the bacon been a bit more crocante and perhaps chopped up and distributed, rather than one big slice across the top. Same with the peppers. The fried egg, cooked just right. 110 pesos.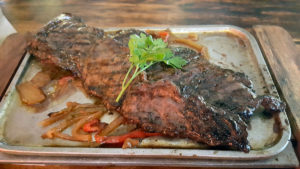 We decided to split two steaks, as the portions are fairly big. An entraña, or hanger steak, cooked to somewhere just on the line between rare and medium rare (we'd ordered rare, as, surprisingly, was recommended by our waitress). 310 pesos.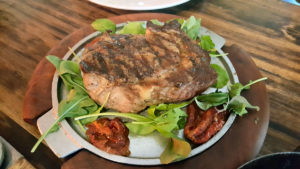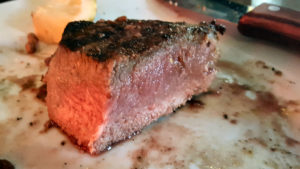 And, a 20-day dry aged ribeye that was not only melt in the mouth tender, but another pretty much perfect rare. 310 pesos.
Now, that all looks really good and sounds really good. And, we happily ate everything. But, two "cons". First, everything was completely unseasoned. No salt, nada. Sure, we could add the salt at the table, but it's not the same. And second, despite lovely grill marks and lightly charred exteriors, neither steak has any flavor of smoke, of grilling, which kind of led us back to the lack of that same aroma in the restaurant. I don't know, we didn't ask, but it really seems like they may just be using a gas grill in the kitchen, which would be unusual for BA, but certainly not unheard of. But that aroma and flavor were definitely missing.
Overall? Like the space and ambiance. Kind of fun music – it was all 70s, 80s, and 90s pop hits. Service was friendly and reasonably attentive. The food rates a good or a touch above. I mean, I really want to go above that simply for the properly cooked steaks and the great sauces, but the lack of seasoning and grill flavoring just tamps down my enthusiasm. They do offer beer on tap, a plus, but, it's Quilmes, Stella Artois, and Patagonia, and all of them lighter style beers, though they did have Quilmes stout available by the bottle. A little pricey at 80 pesos for an exactingly poured 310 ml glass (there's a fill line on the glasses) which is actually smaller than a standard sized beer bottle by 20 ml. An okay wine list, but nothing out of the ordinary.
I'd consider them as an option for a steak in that part of Belgrano, but then I'd note that just a couple of blocks away is El Pobre Luis, which I'd certainly pick over and above them. In fact, given that it's been nine years since I wrote up my review for them, and Luis passed away about two years ago, I think that's a place to revisit and give a more detailed review of. I'll just put it into the upcoming selections for places for the Roving Ravenous Horde lunches.
---
Copyright © 2018
SaltShaker
. This feed contains copyrighted photos and text from SaltShaker. If you are not reading this material in a feed aggregator or by e-mail subscription, the site you are viewing may be guilty of copyright infringement. Please contact
[email protected]
so that I can take appropriate action.
Plugin by Taragana






This post first appeared on SaltShaker, please read the originial post: here