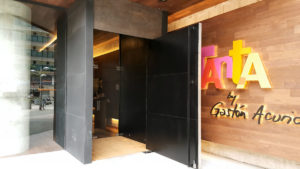 The Gaston Acurio empire keeps expanding around the world. First there were the Astrid & Gaston restaurants, featuring revamped, modern versions of traditional Peruvian, and Nikkei cooking. Then there were the La Mar series, focusing on Peruvian seafood dishes. There was a café, there was a sandwich shop chain, and there was more. There was T'anta, a Quechua word meaning "meeting", which was originally a pastry shop and café, but expanded into a sort of empire of small, casual eateries in various parts of Lima, which were places to come, have a nibble – mostly casual, small bite plates, almost like Peruvian tapas, of classic "mom and grandmom" dishes.
And somewhere along the line, T'anta became Tanta (which in Spanish means, more or less, "so much") and while the focus on dishes of mom and grandmom stayed the same, it suddenly went very upscale, at least in pricing. And, in mid-December, they opened a branch here in Buenos Aires (only the second outside of Peru, and almost Lima, as there's only one in Arequipa beyond the capital), after opening a couple of years ago in Chicago. The one here is located at Esmeralda 938, corner of Paraguay, in the Torre Bellini, downtown.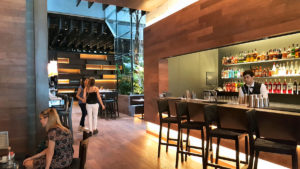 This is no casual looking space… prepare to pry open your wallets.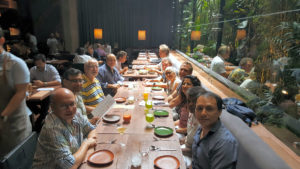 The biggest gathering we've had so far of the Roving Ravenous Horde – a whopping ten of us (two visitors from outside who came with someone in the group) gathered on a recent weekday to dig in. So let's start with initial impressions:
Beautiful room, with lots of natural wood and greenery. Decoration is a bit sparse, in fact there's an entire wall of shelves with little pinspots in them but nothing on the shelves. An impressively stocked bar.
Service is attentive, friendly, and a bit rushed. Then again, it's lunch hour in downtown Buenos Aires, and while we're there to relax and enjoy, it's clear that many are there to come in, have a bite, and get back to work. Smartly, our waiter gets that quickly and slows his pace around our table. Only negative as regards service is that Tanta doesn't take reservations, regardless of small or large groups – and when I talked to them, they suggested we either come early at the start of lunch service, as it was likely the only way we'd get ten of us seated together, or plan to wait. I can understand given the business model not taking reservations for small parties of 2-4, there are a whole lot of tables in the restaurant, but if you know you have a big group coming… do some planning to make it workable for them.
The menu is divided into multiple sections. There's all the small plate stuff, which is basically tapas and mini sandwiches and mini versions of appetizers – all set up on a long bar that you can go up to and point and someone will put them on a plate and deliver to your table. Almost nothing on there is what I'd consider Peruvian food – it's fairly Argentine/Spanish. Then there's a list of regular appetizers, or really, as they put it, piqueos, things to pick at – which are modernized versions of Peruvian dishes. There are sections for salads, sandwiches, and pastas, virtually none of which have anything to do with Peruvian cooking, but seem to be a simple nod to the business lunch crowd. And then there are main courses, most of which are, at the least, inspired by that background idea of mom and grandmom fare.
Notable, immediately, as our two visitors in the group were vegetarian-pescetarian, was that other than a ceviche and a tiradito in the appetizer section, there's not a single other seafood dish on the menu. Nor, other than two of the salads and some spaghetti with tomato sauce, is there any vegetarian fare. That's pretty surprising given the fairly lengthy menu, and even given Argentina's penchant for meat.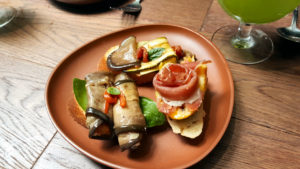 A trio of the montaditos, the Spanish style tapas on bread, from the bar.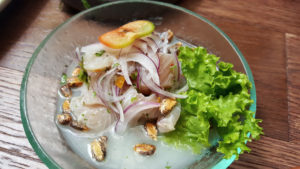 A rather good ceviche – well balanced and fresh, though at least for Henry and I, lacking in spice. On the other hand, an excellent and fiery hot sauce brought to the table on request fixed that right up.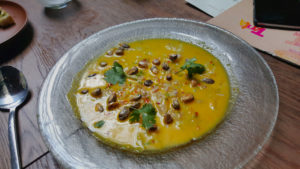 The tiradito, the only other seafood dish on the menu. Very flavorful and pretty, though a bit light on the quantity of fish on the plate – maybe half of what's on the ceviche dish.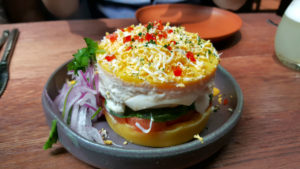 A chicken causa, gorgeous presentation, and with a decent hit of spice in it. A touch more salt would have been in order.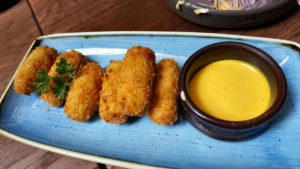 A creative and absolutely delicious take on ají de gallina, turning it into deep-fried croquettes with a chili dipping sauce. I could just sit at the bar and eat these with a cocktail in the other hand.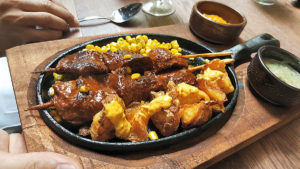 Beautifully spiced and perfectly cooked anticuchos de corazón, strips of marinated beef heart off the grill. Easily the most substantial appetizer to hit the table.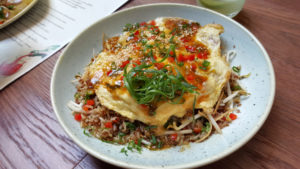 The closest main course we could come to a vegetarian-pescetarian one, essentially a Peruvian style fried rice, with a mix of shellfish, chicken and meat, and then a sort of lacy omelette over the top. Luckily our guests weren't strident on their dietary approach and were able to just pick around things they didn't want to eat.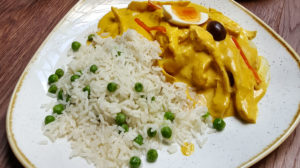 The same excellent ají de gallina, in non-croquette form, with the traditional potatoes underneath and rice and peas on the side.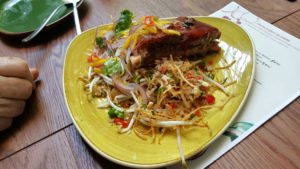 Not particularly Peruvian, but rather good barbecued spareribs in a mango sauce with fried rice underneath.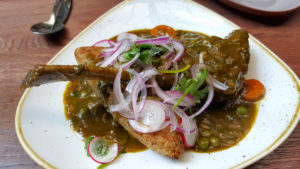 A tasty, but peculiar version of seco de carne. The sauce was dead-on, but the meat hadn't been braised in it, so it wasn't falling apart tender, it was more or less just a small veal chop with the sauce ladled over it. The tacu-tacu accompanying it was one of the better ones I've had.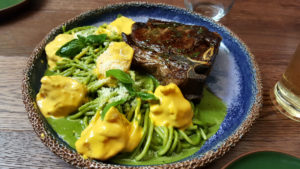 And, a take on another Peruvian chifa classic, tallarines verdes, essentially linguini in a basil-spinach pesto, accompanied by papas a la huancaina (usually served side by side, as the latter is a cold dish, so this was a little strange – albeit pretty presentation, to have refrigerator cold potatoes and sauce sitting atop hot pasta), and accompanied by a steak. The pasta and potatoes were absolute winners. The steak, honestly, meh. It was cooked properly to my requested medium rare, but it was kind of tasteless – even passing it around, we finished off all of the former, and left, easily, half the steak. Interestingly, we also left about half the veal chop above and just ate the tacu-tacu and the sauce.
Tanta is pricey, though not ridiculous. Cocktails run roughly 180 pesos, soft drinks run between 50-100, depending on if they're straightforward bottled, or something blended by the house. The montadito selection runs 30 pesos per piece. Appetizers come in anywhere from 120-220 pesos each. Main courses from a low of 360 to a high of 490 pesos. All told, with tip, we spent 700 pesos apiece, but we also ordered a lot for sharing, so there weren't, for example, 10 appetizers and 10 main courses on the table. We had a few plates of the tapas, 8 appetizers, and 7 main courses shared around the table.
Overall, I'd highly recommend the place, though for me, I'd probably just stop in and get cocktails and a plate or two of something smaller to nibble on and then move on elsewhere for a meal, but that's not a reflection on the quality, more of one on the range of what's available (particularly the lack of seafood). Certainly, there's no one in the Microcentro area offering better Peruvian fare, in fact, I think the only other Peruvian restaurant in that part of town is Coya, which is good quality homestyle cooking.
---
Copyright © 2018
SaltShaker
. This feed contains copyrighted photos and text from SaltShaker. If you are not reading this material in a feed aggregator or by e-mail subscription, the site you are viewing may be guilty of copyright infringement. Please contact
[email protected]
so that I can take appropriate action.
Plugin by Taragana






This post first appeared on SaltShaker, please read the originial post: here