December 22-23 – 2017 – 22-23 de Diciembre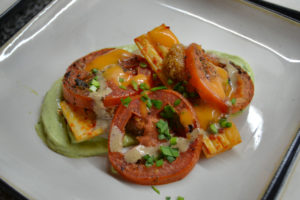 Amazon Salad – tomatoes Roasted with basil and Olive Oil; palm hearts lightly charred with chili oil; amaranth; spicy avocado puree; black garlic mayonnaise; tomato, lemon and shallot vinaigrette.
Ensalada Amazónica – tomates asados con albahaca y aceite de oliva; palmitos ligeramente quemado con aceite de ají; amaranta; puré de palta picante; mayonesa de ajo negro; vinagreta de tomate, limón, y echalote.
Codorniú "María" Extra Brut, Mendoza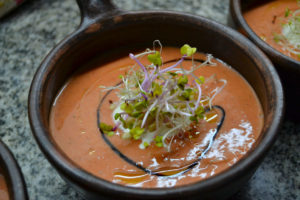 Strawberry Gazpacho – puree of strawberries, cucumbers, piquillo peppers, red onion, garlic, balsamic vinegar, salt and pepper; bay leaf infused whipped cream; toasted pinenuts; olive oil; balsamic reduction; mixed sprouts.
Gazpacho de Frutillas – puré de frutillas, pepinos, pimientónes piquillos, cebolla morada, ajo, vinagre balsámico, sal y pimienta; crema batida infusada con laurél; piñones tostados; aceite de oliva, reducción de balsámico; brotes mixtos.
Salentein "Killka" Sauvignon Blanc 2017, Valle de Uco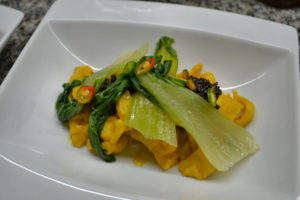 Stradette with Roasted Carrot Sauce, Fig Jam – homemade stradette (polenta based pasta); puree of roasted carrots with cumin, smoked chili, butter; dried black figs rehydrated in balsamic vinegar and pureed; sauteed bok choy; limo chilies.
Stradette con Salsa de Zanahorias Asadas, Mermelada de Higos – stradette casero (pasta hecho de polenta); puré de zanahorias asadas con cómino, merquén, manteca; puré de higos negros secos rehidratados en vinagre de balsámico; bok choy saltado; ají limos.
Bodega Santa Julia Syrah Rosé 2017, Maipú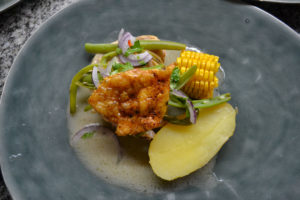 Chicken Ceviche – chicken thighs cooked in chicken stock, lemon and orange juices, ginger, garlic, red onions, rocoto chilies; the skin separately roasted until crisp; roasted corn on the cob, olive oil baked potato; sauteed green beans; red onion and cilantro salad; cooking juices emulsified.
Ceviche de Pollo – muslos de pollo cocido en caldo de pollo, jugos de limón y naranja, jengibre, ajo, cebolla morada, rocotos; el piél asado aparte hasta esta crocante; choclo asado; papa asada con aceite de oliva; chauchas saltadas; ensaladita de cebolla morada y cilantro; los jugos de la cocina emulsificados.
Vallisto Extremo Barbera 2017, Valle de Cafayate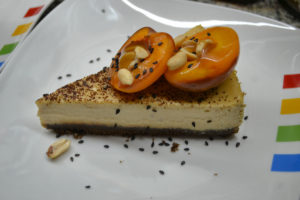 Halva Cheesecake – chocolate cookie crust; filling of homemade cream cheese, peanut butter, tahini, honey, miso, eggs; dusted with cocoa; honey-roasted apricots; toasted peanuts, black sesame seeds, soy caramel.
Cheesecake de Halva – masa de galletitas de chocolate; relleno de queso crema casero, pasta de maní, pasta de sésamo, miél, miso, huevos; enpolveado con cacao; damascos asados con miél; maní tostado, semillas de sésamo negro; salsa caramelo de soja.
Crotta "Mistela d'Oro" 5 Años Roble Anejo, San Martín
---
Copyright © 2018
SaltShaker
. This feed contains copyrighted photos and text from SaltShaker. If you are not reading this material in a feed aggregator or by e-mail subscription, the site you are viewing may be guilty of copyright infringement. Please contact
[email protected]
so that I can take appropriate action.
Plugin by Taragana






The post 2017 Menu #45 appeared first on SaltShaker.
This post first appeared on SaltShaker, please read the originial post: here