December 26-27 – 2017 – 26-27 de Diciembre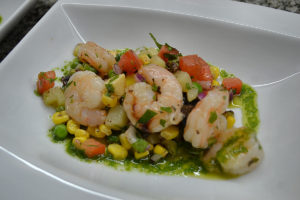 "Lonely" Shrimp – salad of potato, peas, corn, tomato, black olives, red onion, rocoto chili, parsley, oregano, gouda, and shrimp in a dressing of shrimp stock, black vinegar, lemon juice, Olive Oil, salt and pepper; arugula oil.
Solterito con Camarones – ensalada de papas, arvejas, maíz, tomate, aceitunas negras, cebolla morada, rocoto, perejíl, orégano, gouda, y camarones en aderezo de caldo de camarones, vinagre negro, jugo de limón, aceite de oliva, sal y pimienta; aceite de rúcula.
Philippe Caraguel Extra Brut Rosé, Tupungato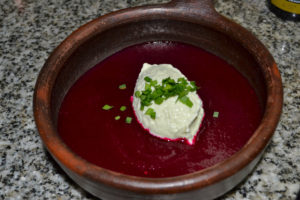 Chilled Beet Soup, Chili Scallion Gelato – chilled, pureed soup of roasted beets and onions, cumin, smoked chili, parsley, lemon juice and rind, tamarind, salt and pepper; gelato of cream, milk, sugar, sal, green chilies, scallions; chopped chives.
Sopa Fría de Remolacha, Helado de Ají y Verdeo – sopa fría en puré de remolachas y cebollas asadas, cómino, merquén, perejíl, jugo y cascara de limón, tamarindo, sal y pimienta; helado de crema, leche, azucar, sal, ajíes verdes chinos, verdeos; ciboulette picada.
Clara Benegas Chardonnay 2015, Luján de Cuyo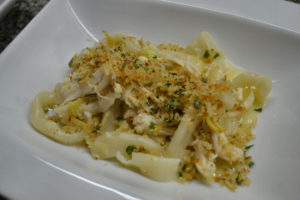 Strozzapreti with Chicken Leek Cream Sauce – handrolled semolina strozzapreti; leeks, garlic, and pepperoncino cooked in olive oil, then cream, goat's milk camembert, and chicken stock added and cooked down until creamy, then added shredded poached chicken breast, salt and white pepper; panko crumbs sauteed with lemon peel, black pepper, garlic, parsley, limo chilies.
Strozzapreti con Crema de Puerros y Pollo – strozzapreti de semolín hecho a mano; puerros, ajo, y pepperoncino cocido en aceite de olive, luego agrego crema, camembert de cabra, y caldo de pollo y cocino hasta se espesa, después agrego pechuga de pollo pochado en hebras, sal y pimienta blanca; migas de panko saltado con cascara de limón, pimienta negra, ajo, perejíl, y aji limo.
Hunetala Wines "Hotel Rosé" 2016, Valle de Uco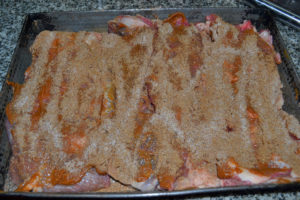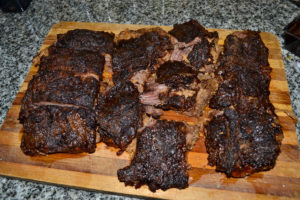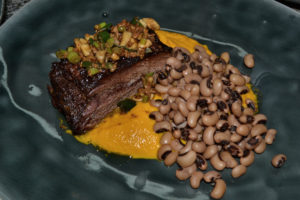 Milk Braised Brisket, Black Eyed Peas – brisket coated in miso, espresso, cumin, smoked chili, black pepper, salt, then braised in milk for 6 hours; saute of green onions and cashews with roasting juices and soy sauce; roasted carrot, chipotle, and cumin puree; black eyed peas cooked in beef stock.
Vacio Braseado en Leche, Porotos Tapes – vacio rociado en miso, espresso, cómino, merquén, pimienta negra, sal, luego braseado durante 6 horas en leche; saltado de verdeos y cajues con los jugos del braseado y salsa de soja; puré de zanahorias asadas con chipotle y cómino; porotos tapes cocido en caldo de rés.
Finca Las Moras "Black Cabernet" 2016, San Juan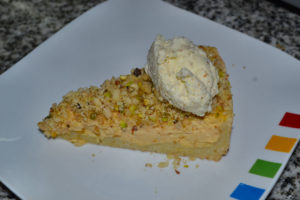 Apricot Cheescake – sugar, flour, and butter crust; filling of homemade cream cheese with pureed apricots; topping of chopped, toasted pistachios, almonds, and walnuts; whipped cream with olive oil, baharat, and white chocolate.
Cheesecake de Damascos – masa de harina, manteca, y azucar; relleno de queso crema casero con puré de damascos; encima picada de pistachos, almendras, y nueces picadas; crema batida con aceite de oliva, baharat, y chocolate blanco.
Amalaya Blanco Dulce de Corte 2017, Valle Calchaquí
---
Copyright © 2018
SaltShaker
. This feed contains copyrighted photos and text from SaltShaker. If you are not reading this material in a feed aggregator or by e-mail subscription, the site you are viewing may be guilty of copyright infringement. Please contact
[email protected]
so that I can take appropriate action.
Plugin by Taragana






The post 2017 Menu #46 appeared first on SaltShaker.
This post first appeared on SaltShaker, please read the originial post: here