It was time for planning future outings of the Roving Ravenous Horde, and over lunch at La Malbequeria, the idea of trying out "that restaurant out on the dock on the river" came up. Many years ago, when I first moved to BA, I'd mentioned the place, it was a restaurant called Muelle del Plata, in the Club del Pescadores building. I'd not heard good things about it, and so hadn't ever put it on a list to try, because it seemed that other than the location, it had little to offer.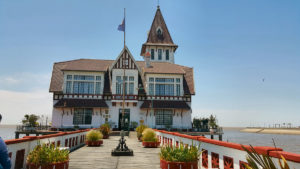 But delving into it a bit, I realized that it's a different restaurant now, simply called El Muelle, Av. Costanera y Av. Sarmiento, Palermo, which just recently celebrated its 7th anniversary. A little more research and I found that in general, it's getting quite good reviews, so onto the schedule it went for outing #13!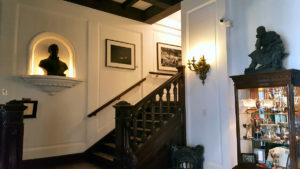 We entered through the "club", which is a membership only fishermen's club, that allows access to the long dock out back for fishing, as well as classes and events. The restaurant is upstairs and in the back…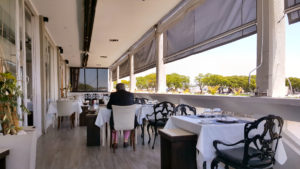 …and has a great terrace out along the water, with a lovely view out over the river.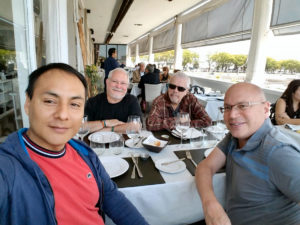 Our happy group set about considering the menu, which features a lot of quite delicious and many quite creative sounding fish and shellfish dishes, plus a few poultry and beef dishes for those who simply must.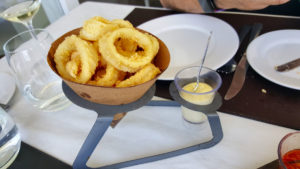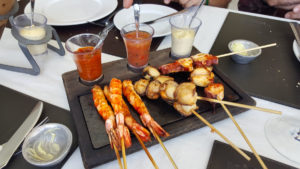 The pricing is fairly high, and given that, our hope was that the various dishes would be plenty large enough to share. In general, I think we found that they're not – although two appetizer plates and three main courses was a satisfactory sized lunch. Still, for example, shelling out 270 Pesos ($15) for a small paper cone of rabas, or fried calamari rings, delicious as they were, seems a bit hefty. More reasonably given what's involved, but still pricey, the eight skewers that make up the pinchos platter – with four rather small prawns, eight scallops and four medallions of octopus, along with a trio of sauces – tartare, "romesco" (which was not romesco, but a simple salsa criolla), and "diavola" which was only modestly picante. We happily ate it all, but at 354 pesos, or roughly $20….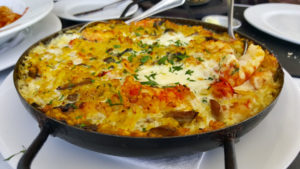 A substantial full portion of their arroz horneado, or "baked rice", laden with prawns, crab, and mushrooms, was probably the best value we had, even at 630 pesos ($36) for a full portion (420 for a half ($24), or individual portion), mostly just because of how good it was. Although, towards the end, Henry found a long hair baked into a helping on his plate. Pointing it out to the waiter yielded nothing more than him taking a trip to the kitchen and then letting us know that no one working at the moment had long hair like that – which means nothing if these are pre-prepared by prep cooks in advance.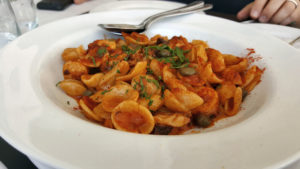 Decent orecchiete with a stewed octopus and tomato sauce was also a winner that we'd happily eat again, and, for the price (450 peso, or about $26), probably the heftiest portion.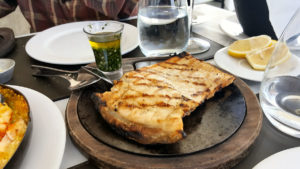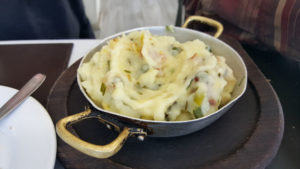 And a perfectly grilled fillet of pacú, one of my favorite river fish, with an excellent parsley and garlic oil ("provencale"), and a side of excellent mashed potatoes with crispy bits of prosciutto and a swirl of green onion puree through it. Certainly at 306 pesos ($17), a far better value than the 350 peso version at La Malbequeria (albeit that one was bigger, it just wasn't as good, and the mashed potatoes and sauce with it were just plain weird).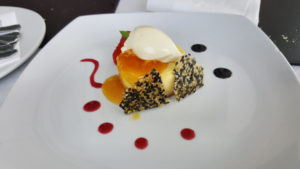 As an apology for the stray hair, our waiter brought us an excellent little dessert of a lime cheesecake on a coconut cookie base, topped with frozen yogurt, citrus reduction sauce, and a couple of sesame brittle tuiles.
All told, other than the hair incident, we were very happy, and were we a bit wealthier, this might be a regular spot to visit. Even so, it certainly wasn't as expensive as some seafood places in the city are, and the food was uniformly very good to excellent. Service, while a little bit inattentive, especially given how few people were there and the number of staff on duty, was friendly and helpful. For the five plates we ordered, plus a couple of bottles of water, and a bottle of wine (a great value actually, of San Pedro de Yacachuyo Torrontes for only 320 pesos – given that it runs 300 pesos or more retail), and a tip, the tab came to 2900 pesos, or 725 pesos apiece ($41). For a special occasion, and certainly the location, especially on a beautiful day when you can sit outside, makes it a worthwhile visit.
---
Copyright © 2017
SaltShaker
. This feed contains copyrighted photos and text from SaltShaker. If you are not reading this material in a feed aggregator or by e-mail subscription, the site you are viewing may be guilty of copyright infringement. Please contact
[email protected]
so that I can take appropriate action.
Plugin by Taragana






This post first appeared on SaltShaker, please read the originial post: here