Henry needed to go out to Colegiales to pick something up and asked me to come along, since he doesn't know the area. I agreed, conditional on picking the place to eat. I decided on the well reviewed Centro Montañes, Av. Jorge Newbery 2818, the cultural center for the Cantabrian (north central Spain) community here in BA.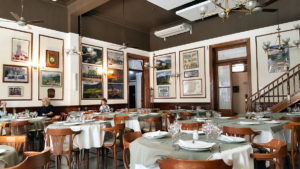 Huge dining room, plus a second room and bar off to the side. Almost no one there. A Couple just leaving when we arrived around 1:30pm, two women who'd just started to eat, and a bit later, after the women had left, a couple came in for lunch. I hope they get busy at other times! Two waiters plus a couple of cooks was certainly more staff than were needed for lunchtime that day.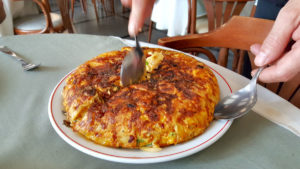 Rumor had it that their tortillas are among the best in the city. There are several choices, we went with a classic tortilla española. Damn that looks good. And it's huge as an appetizer for two. We ended up bringing half of it home. 250 pesos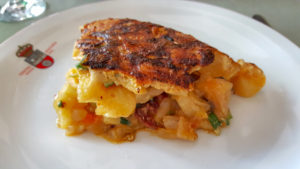 And, it's not just a pretty shell – it really is, I'm fairly certain, the best tortilla española I've ever had. It's packed with not quite set egg (optionally, you can ask for it well cooked through – they ask your preference when you order), perfectly cooked potatoes, peas, green onions, and cantimpalo sausage. We'd have both been happy just splitting that for lunch and calling it a day.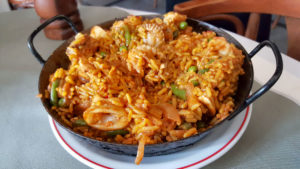 Our waiter had very nicely let us know that all the portions are huge and that even just ordering the tortilla and one main course was likely more than we could finish. He was right – as I said, we took half the tortilla home, and this shellfish rice, unlike so many of them here that are all rice and a few scattered bits of shellfish, was jam packed with calamari, scallops, mussels, and shrimp. We ate a little over half of it as is, and then picked out all the rest of the shellfish. I guess we could have left it as is and brought half of it home too! 380 pesos.
A couple of bottles of water, two coffees, and a tip, lunch came in at 880 pesos, or just under $50 for two. And truly, had we brought what was left of each dish home, we'd have another entire meal. Easily, those two dishes could have been shared by three or four people. Great service. Great space. I immediately thought… I should pick this for the Roving Ravenous Horde to come to….
And so, the following week found three of us back there – another three people had to cancel at more or less last minute – so we were limited in how much we ordered once again.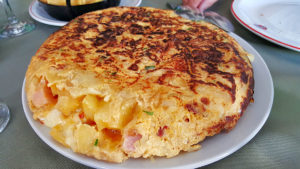 This time, a different one of the tortillas, the house "Centro Montañes" – packed with potatoes, onions, garlic, bacon, cured chorizo, and mozzarella.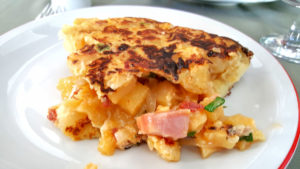 It was good, but for my tastes, not near as good as the Española the week before. I think there was just "too much going on" in it. It also wasn't cooked quite as perfectly as the previous one. It also costs a lot more, coming in at 400 pesos.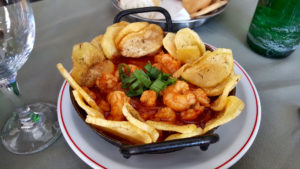 And, although our waitress asserted that the main course of gambas al ajillo was a large portion for sharing (and given the tortilla was certainly sufficient food for three of us), this was more an individual sized main course, or, perhaps, a shareable appetizer. Quite well made, the prawns maybe a trifle overcooked, but that tends to happen when you're stewing them in a sauce. The sauce, garlicky and spicy, and all that it should have been. An excellent version. 270 pesos.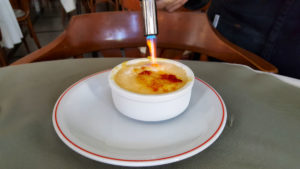 We decided to brave a couple of desserts. One of our party ordered a natillas, more or less a creme brulee, for himself, with the crackling top fired right at the table. It looked good, he said it was! 80 pesos.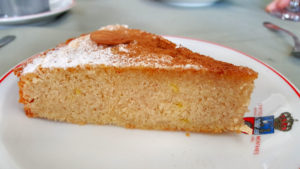 And for the table we shared a tarta de Santiago, a traditional Cantabrian dessert of almond flour, eggs, sugar, lemon zest, and cinnamon, dusted with icing sugar. The cake/tart traces back to its earliest recorded history as a royal preparation in 1577. Its form and composition have changed some over the years, and in 1924 it was codified into an official recipe with status as part of the heritage of the region. Soft, spongy, moist, with clear flavors of almond, cinnamon, and lemon. I found myself wanting some sort of sweet wine of the region to accompany it. 80 pesos.
Overall, a really enjoyable place for lunch if you're out in Colegiales, and worth the trip if you're not. Very happily recommended.
---
Copyright © 2017
SaltShaker
. This feed contains copyrighted photos and text from SaltShaker. If you are not reading this material in a feed aggregator or by e-mail subscription, the site you are viewing may be guilty of copyright infringement. Please contact
[email protected]
so that I can take appropriate action.
Plugin by Taragana






This post first appeared on SaltShaker, please read the originial post: here